Hi everyone! Today I have a gorgeous Halloween duo from
Pahlish
called the
Dark Carnival Duo
. As soon as Shannon posted pictures of this one I knew I had to have it. I love dark green and also most all glitters with Halloween colors so this combo was perfect for me.
Tom Fury
is "a deep olive green jelly with a mixture of red, charcoal, and taupe shimmering flakes". The base is really dark but most definitely green looking on the nail (not black looking like some dark green jellies tend to look). The shimmer in this one is insane! I preferred to use three coats, but you could get away with two with careful application. I thought 3 coats gave it more depth. I did find the formula a tad thick at first, but I used just a touch of thinner and it was perfect. You can see the colors of the flakes really well in real life, but I feel like they got washed out a little bit in my photos.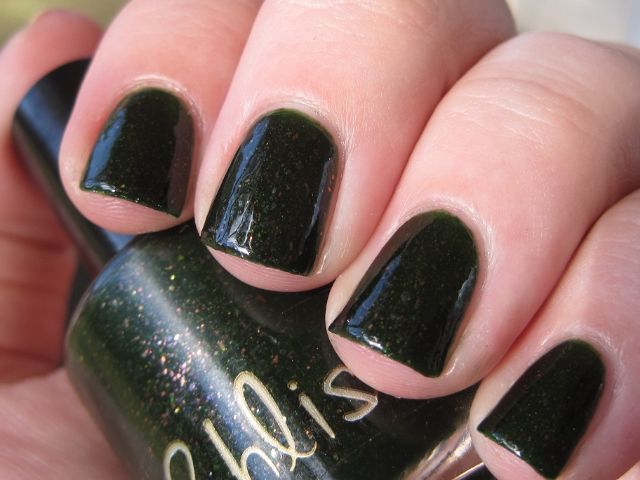 The Dust Witch
is "a clear based glitter topper with a mix of orange, olive, purple, and melon green glitters including purple squares and melon green dots." This color combo embodies the Halloween theme and looks gorgeous over the coordinating base. I used 2 coats over Tom Fury for this mani. The formula is very smooth and free flowing with good glitter spread and coverage.
The
Dark Carnival Duo
is available in Pahlish's
Big Cartel Shop
only until the end of October, so be sure to get it while you can. Be sure to follow Pahlish on
Facebook
for details about restocks and new polishes. Pahlish is also available from
Llarowe
,
Overall Beauty
,
Rainbow Connection
, and
Edgy Polish
. Thanks for looking everyone!