Hi everyone! Sorry for being a bit absent, but I have had a nasty cold this week. I've actually been wearing the same polish since last Saturday (which is some sort of record for me). I will share that one with you next. Today I have
CrowsToes Chess!...You Dog!
from the
One Mad, Crazy Summer Collection
. This is a clear based glitter polish with a mixture of royal blue, blue, and turquoise glitter (some metallic and some holographic) with a sprinkling of black diamonds. There are even some large turquoise circle glitters which are fantastic! I always love a good CrowsToes glitter bomb. Lauri has made some gorgeous polishes in all different finishes as CrowsToes has grown, but the glitter bombs always hearken back to old school CrowsToes for me (so I adore them). The formula on this polish was very easy to work with and the glitters spread nicely. I did do a bit of placing with the large dot glitters (personal preference, I like them more in the center of the nail), but there was no fishing necessary to get them on the nail. This is coats (maybe 1.5...if ya know what I mean) over OPI Road House Blues. The darker base doesn't highlight the black glitters as much, but I love the way it looks.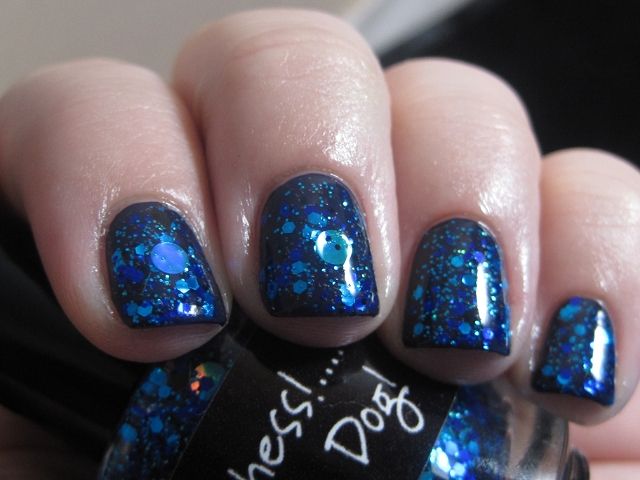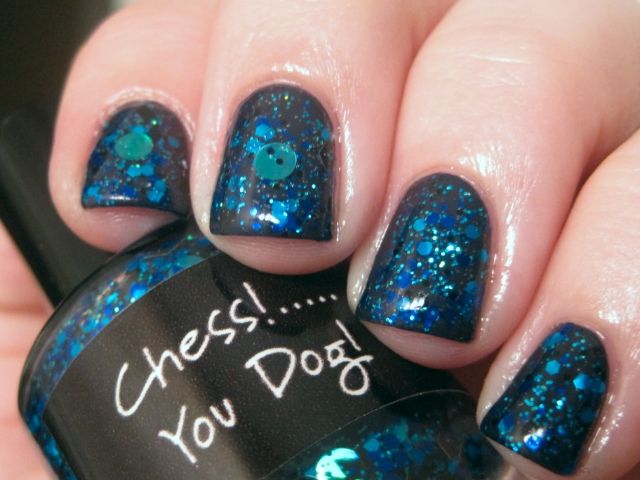 CrowsToes
polishes are available at
Llarowe
. Be sure to follow CrowsToes on Facebook for updates and details about new collections. Pay extra close attention on October 30th for the reveal of a new CrowsToes collection!. Lauri has already given a sneak peak on her Facebook and Blog, and they look amazing so far so I can't wait to see the entire collection! Thanks for looking everyone!