Hi everyone! Ok, today I have a polish that I have heard nothing but absolute raves about all of the
MakeupAlley Nail Board.
Now I do adore greens like this as well as holo microglitter, so I figured it was a must have.
Orly Sparkling Garbage
is a sheer jade green jelly base with loads of silver holo microglitter. Now, for me personally, I'm never going to wear a polish like this on its on. The jelly base is just too sheer for my tastes and I don't think it would ever be built up to enough opacity for me to like it as is. Now over a similar base color, I'm all for it. I layered 2 coats over
Orly Ancient Jade
for my mani. Now this, to me, is what I wanted it to look like when I saw it in the bottle. BUT...I feel like I could get pretty much the same look if I layered
China Glaze Fairy Dust
(or most any other holo microglitter in a clear base) over Orly Ancient Jade. Does that mean I love my mani any less? Absolutely not! I enjoyed the heck out of it. Do I think that
Sparkling Garbage
is a must have? Only if you don't have Fairy Dust or something similar to layer over a jade green of this nature.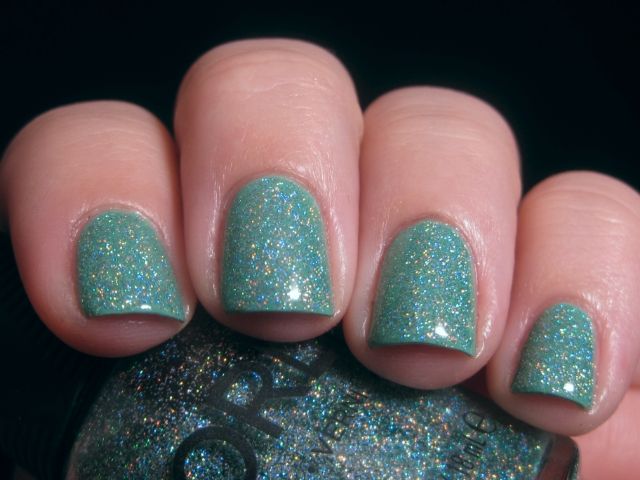 So I guess the source of my conflicted feelings about this polish are: why the hype? It isn't like Orly reinvented the wheel with this polish. Is it pretty? Yes. Is there anything wrong with it? Absolutely not. But did it live up the hype? I think you know how I feel about that already. What are your thoughts on Orly Sparkling Garbage? Thanks for looking everyone!