I guess today is the day for new indies for me. KBShimmer has been around for a while, but for some reason I have only recently picked up a few of their polishes. I guess it was the irresistible draw of their lovely pastel spring shades. My KBShimmer wish list is now quite large...
Spring Training is a creamy pastel green with various sizes of multicolored glitter floating around. It looks like lovely spring flowers. And to add to the flowery appeal, it has a mild freesia scent added to the base so your nails smell nice as well (yes...even after they are dry!). I did not find the scent super powerful or overwhelming, so no worries there, but do be aware that it is scented before you buy if you are sensitive to that sort of thing. I used 3 coats for my mani. The formula was very nice and smooth on this one (and on the others I have swatched).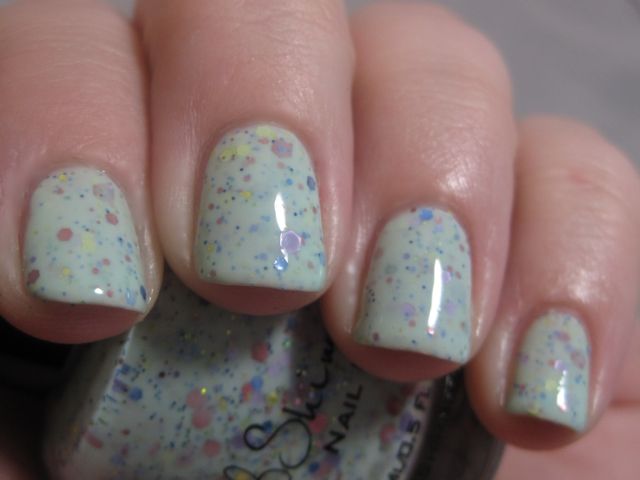 KBShimmer polishes are available from their
website
and they also carry lots of bath and body products in addition to polishes. They always seem to be stocked so that is great for those of you who get tired of stalking indies for restocks. The quality of the polish and professional presentation of this company impressed me as well, so be sure to check them out if you don't have any KBShimmers yet. Thanks for looking!