I just got a few CrowsToes in the mail and I could not wait to put this baby on. It is simply breathtaking (and one of the blingiest glitterbombs that I have worn in awhile). I figured it was just what I needed to get through a boring work weekend.
Frog's Breath is from CrowsToes Halloween collection. This is 1 coat of Frog's Breath over Pretty Serious VT100. It is a really dense glitter with all sizes and shades of green hexes (some holo) with some holo gold hexes thrown in to really give it some dimension. I used 2 coats of Gelous and 1 coat of NYC Grand Central Station to get it smooth. The formula on this one was in between the older CrowsToes and the other ones from her Halloween collection (due to the glitter density of this one) as far as thickness and workability. For the most part, it went on pretty smoothly with a little glitter placement necessary here and there on some of my nails. One of my co-workers told me that this looked perfect for St Patrick's Day and I have to agree...I will be wearing it again for my green March mani madness!!!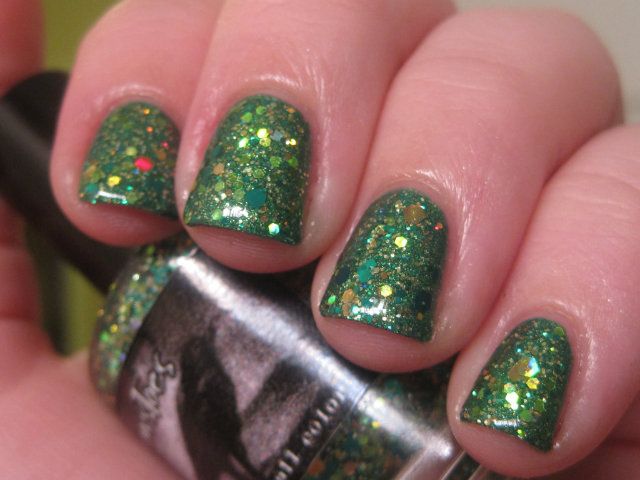 CrowsToes polishes are available from
Llarowe
and
Overall Beauty
. Lauri, the creator of CrowsToes, said that the polishes from her Halloween collection are not limited edition, but will remain a part of her core line (which I don't believe is true of the upcoming Christmas collection...so be sure to pick those up while you can when they are released). Thanks for looking everyone!