You got an hour back today...so why not have an extra blog post to celebrate? Right? So this fall, I have seen a lot of fall and harvest themed polishes around but when I saw Oopsie Daisies Apple Picking, I knew I had to have it immediately. I have had it for awhile now, but I wanted to wait until November to wear it so it wouldn't be mixed in with all of the Halloween manis.
Then I had another vision...the perfect BASE. I think I have discussed this on my blog before but I am not much of a yellow polish person. Actually, until last week, I owned zero yellow cremes. When I saw this polish...I wanted a buttery pale yellow creme to layer it over and I went on the search for the perfect one. I had heard that American Apparel Butter was a great one, but when I ordered some American Apparel polishes it was out of stock (and I don't have a store nearby). So when I went to Ulta, I happened upon Revlon Colorstay Buttercup and it was absolutely perfect! The yellow I had been searching for! It has a nice formula and was opaque in two coats with no streaking AND it compliments my skin tone (which is hard for a yellow to do...though they may try). I'm pleased as punch with my find and if any of you are looking for a nice yellow...pick this one up!
So on to the mani! I thought the combination of glitters in the polish was so fresh and fun for fall and not necessarily your typical fall mix of brown/red/orange. I think the addition of the green in it really makes the polish special. It truly makes me think of a bucket of apples as well as fall leaves. the formula was very nice and free flowing and the glitter was very easy to work with. This is 2 coats of Apple Picking over Revlon Colorstay Buttercup.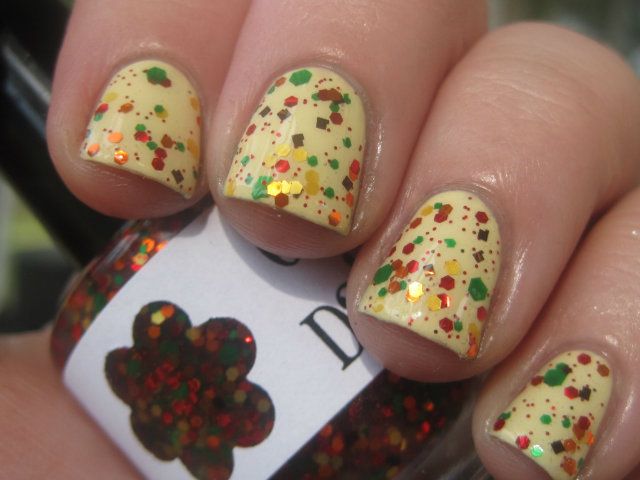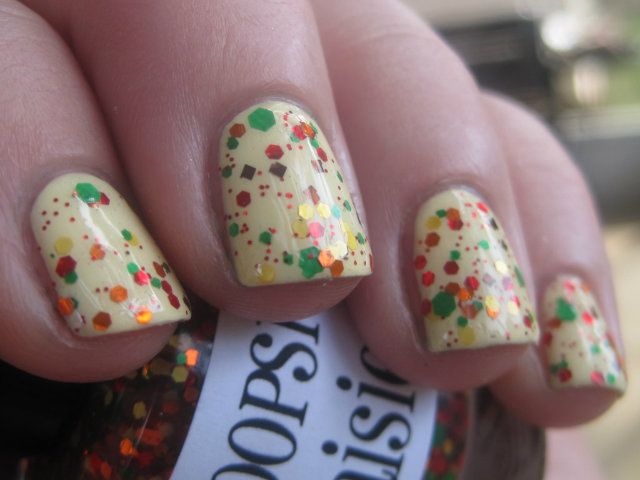 Oopsie Daisies polishes are available from owner Cathryn's
Etsy store
. She has been closed for about a week due to Hurricaine Sandy but is now open for business again as of today and is premiering a new collection (which I may or may not have already ordered some of...hmmmm). Also for updates on Oopsie Daisies you can check out her
blog
and her
Facebook page
. Thanks for looking!