Hi everyone! Today I have some swatches for you from Girly Bits' holiday collection, Season of Sparkle. Pam sent these pretties to me to swatch and review and I had a blast finding fun layering combinations with them.
First up we have You're a Mean One. This polish was inspired by none other than the Grinch! It has a classic red and green Christmas color scheme with the addition black glitter and of course black hearts to represent the Grinch's black heart. First I layered it (2 coats) over a "grinchy" green, Sally Hansen Hard as Nails Limestone. This combo really highlighted all of the glitters in the polish. If you want more hearts, they are pretty easy to get on your brush, but I chose just to do one as an accent.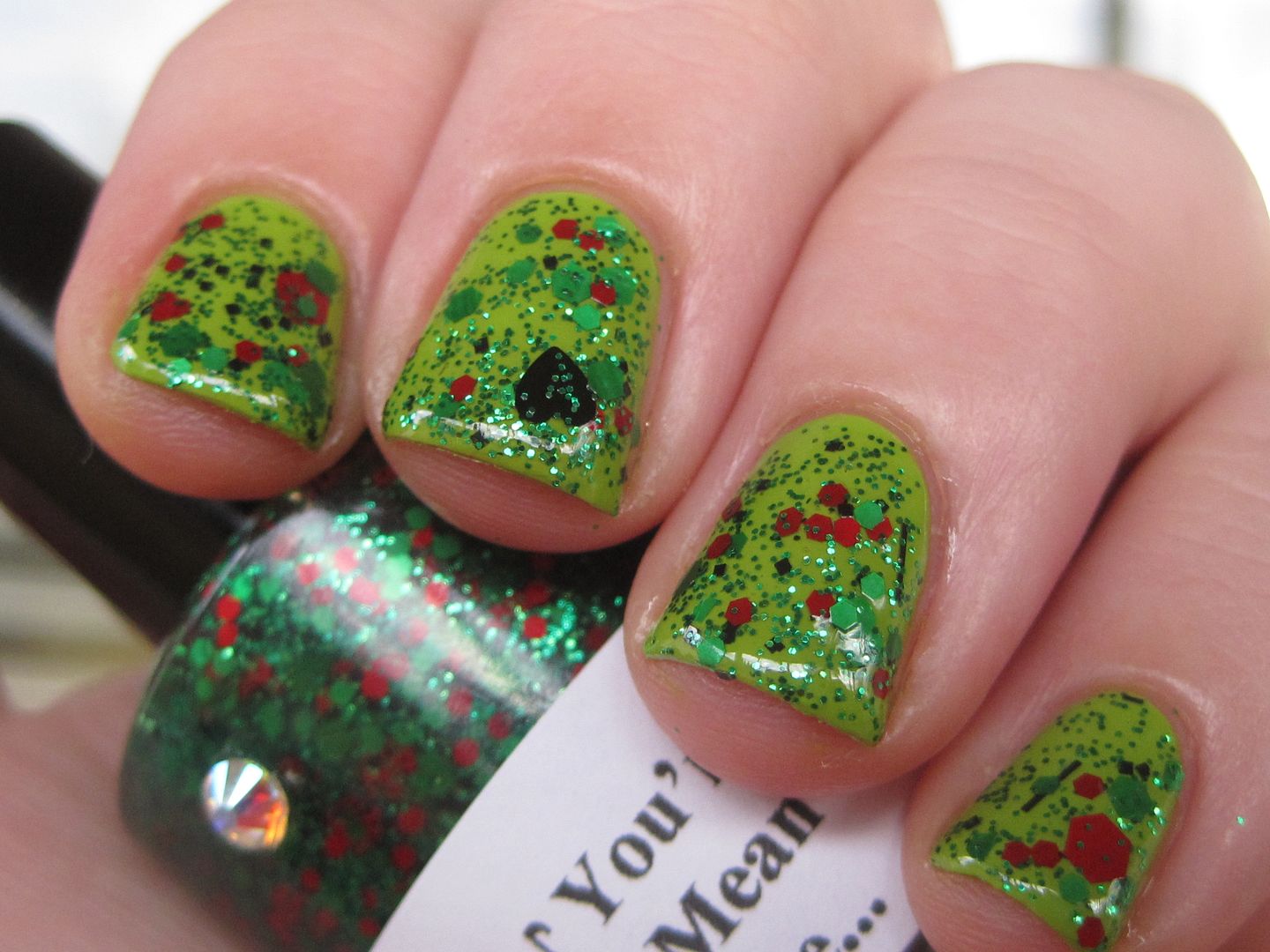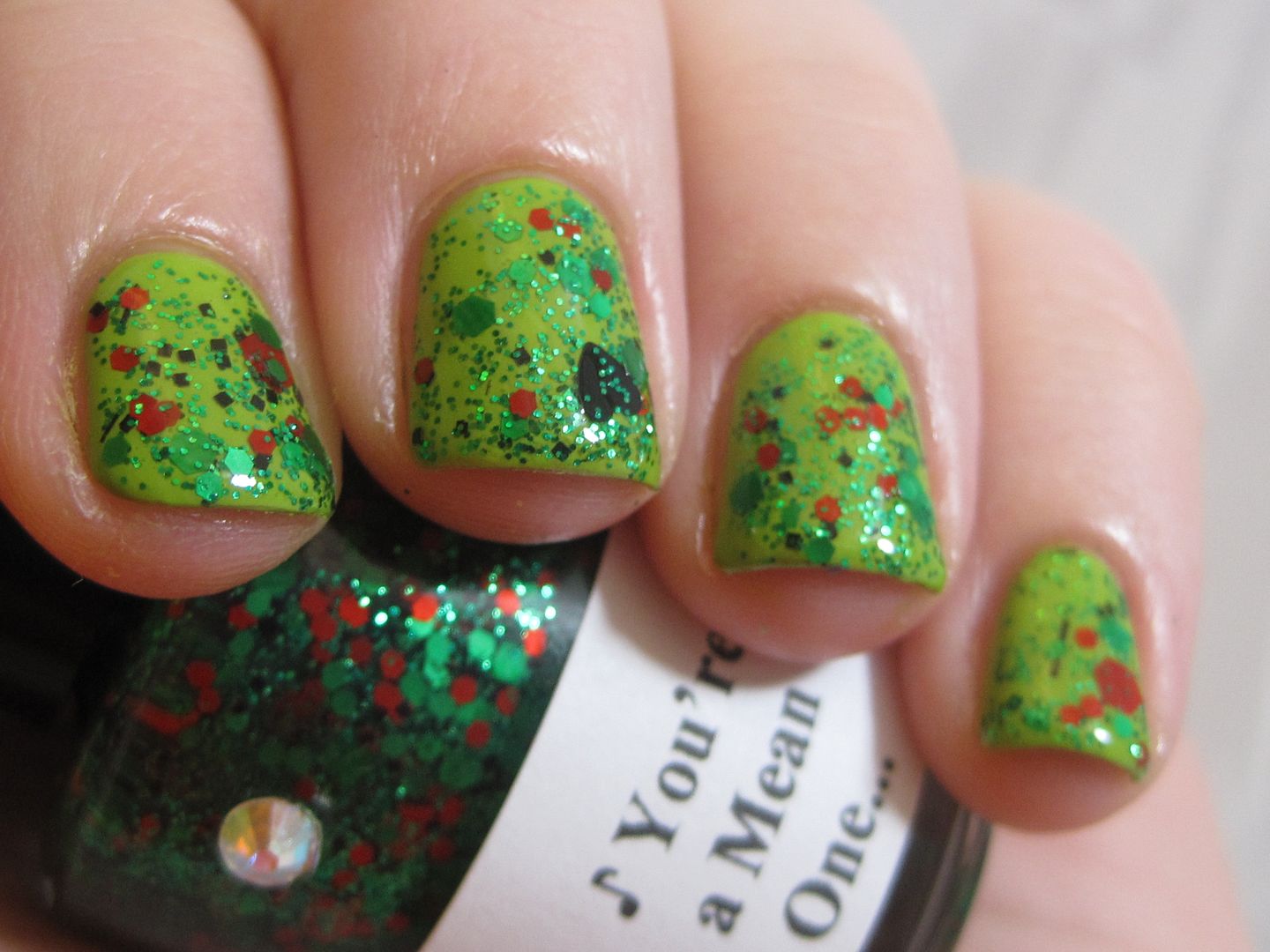 Next I decided to see what it would look like over a darker green. I layered 2 coats over Illamasqua Rampage. This really transformed the polish and it looks totally Christmasy now...without any added Grinchy-ness. So if you have a day where you are truly in the Christmas spirit, you can wear it this way as well. Gotta love versatility!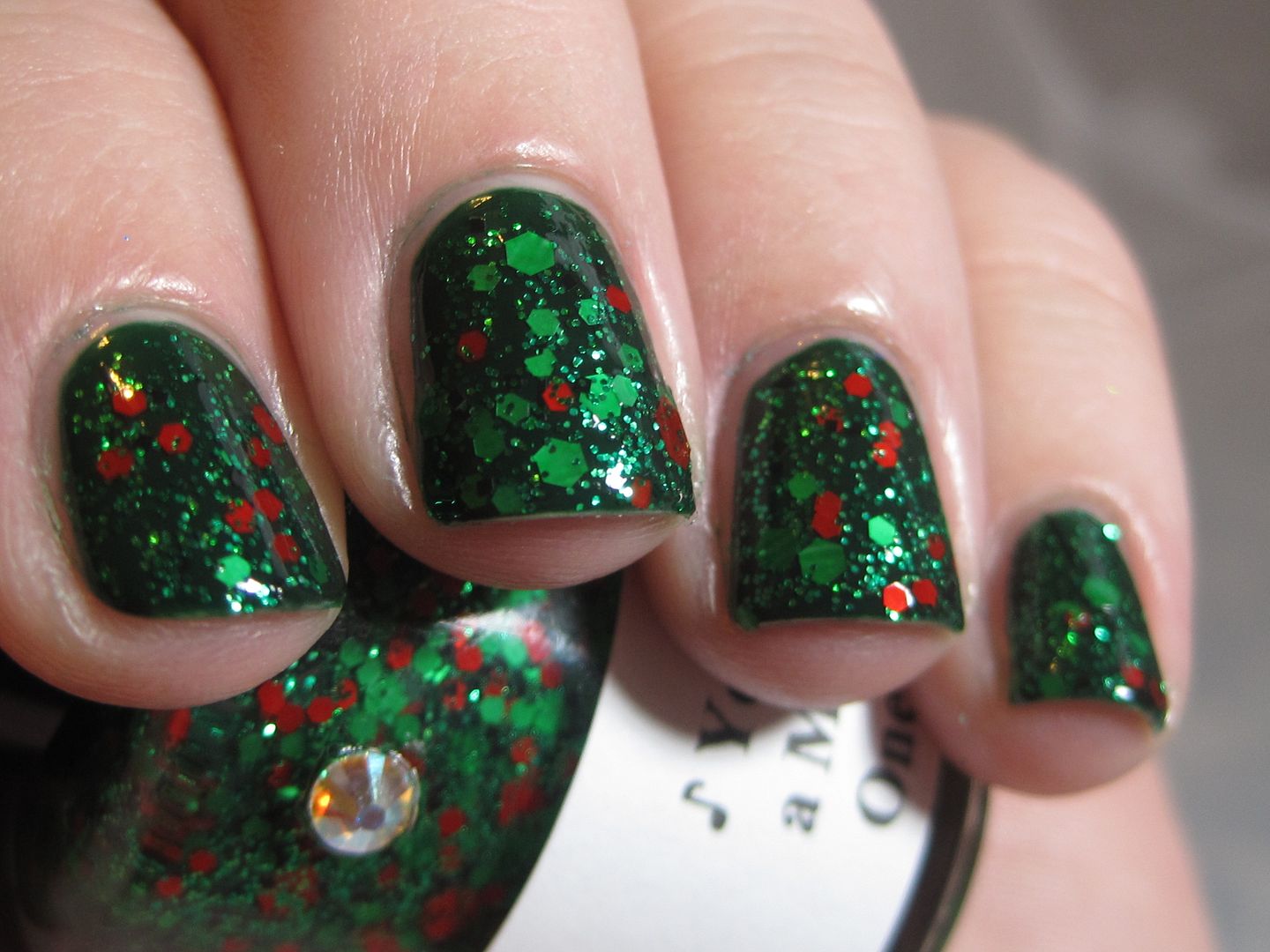 The next polish I have is Eight Crazy Nights, which is of course inspired by Hanukkah. This is a super blingy blue and silver glitter polish with holo glitter sprinkled throughout. There are even a few diamond shaped glitters in there. Up first, I layered 2 coats over a lighter blue, Linda Johansen Bikini Bottom.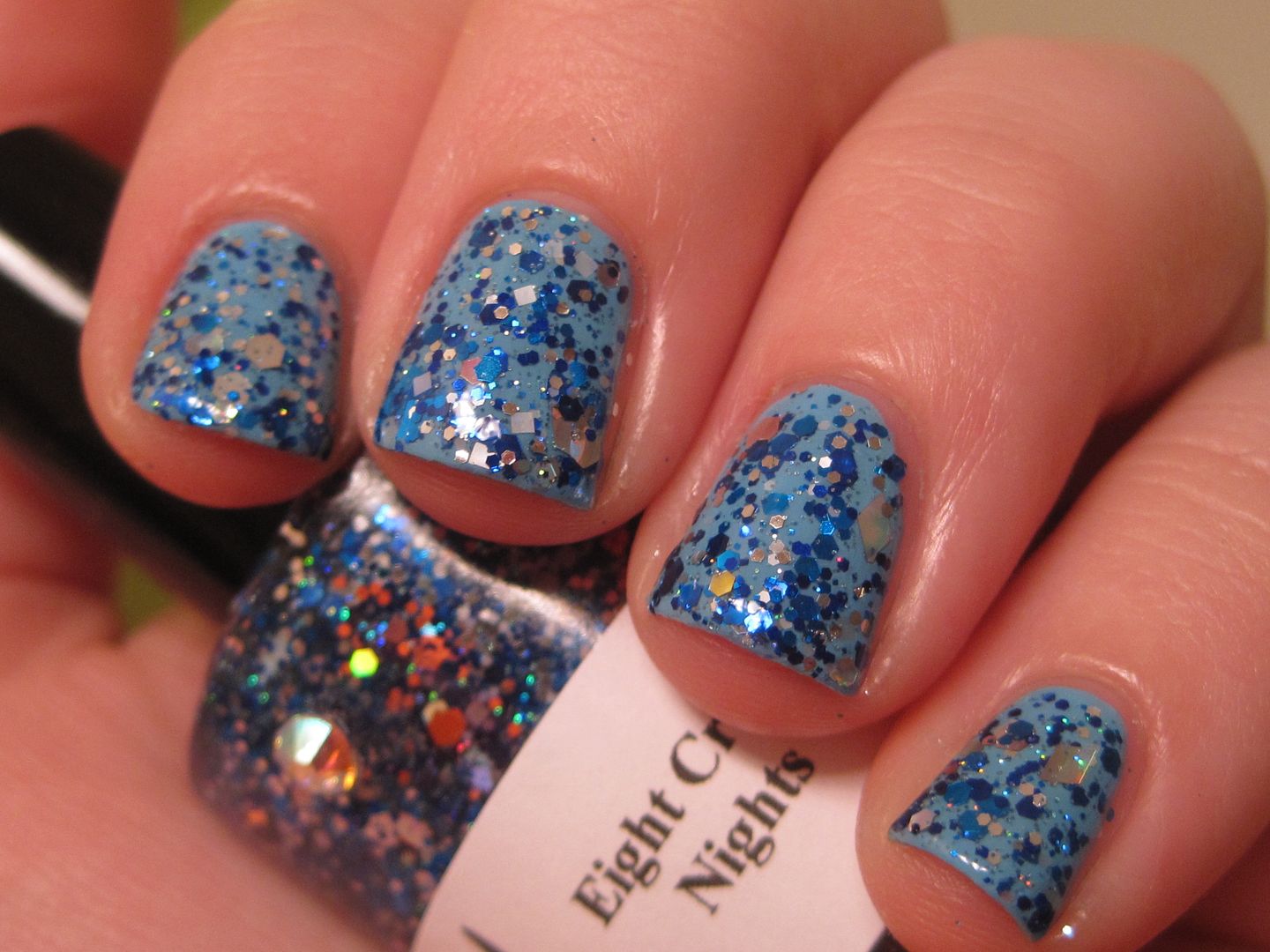 Next I layered it over Barry M Cobalt. I LOVED this combo. It really showcased the holo sparkles throughout the polish. This is 2 coats over Barry M Cobalt.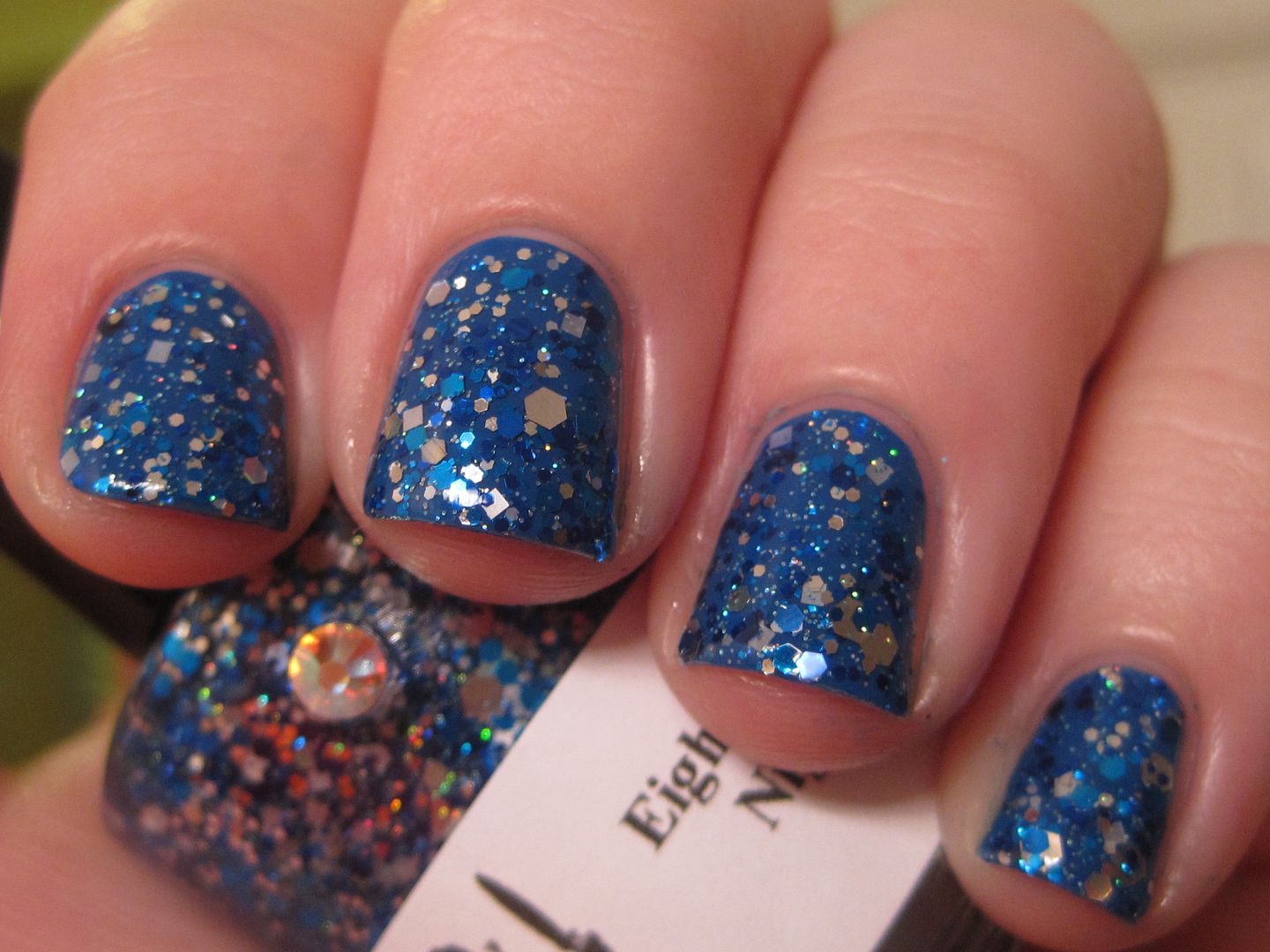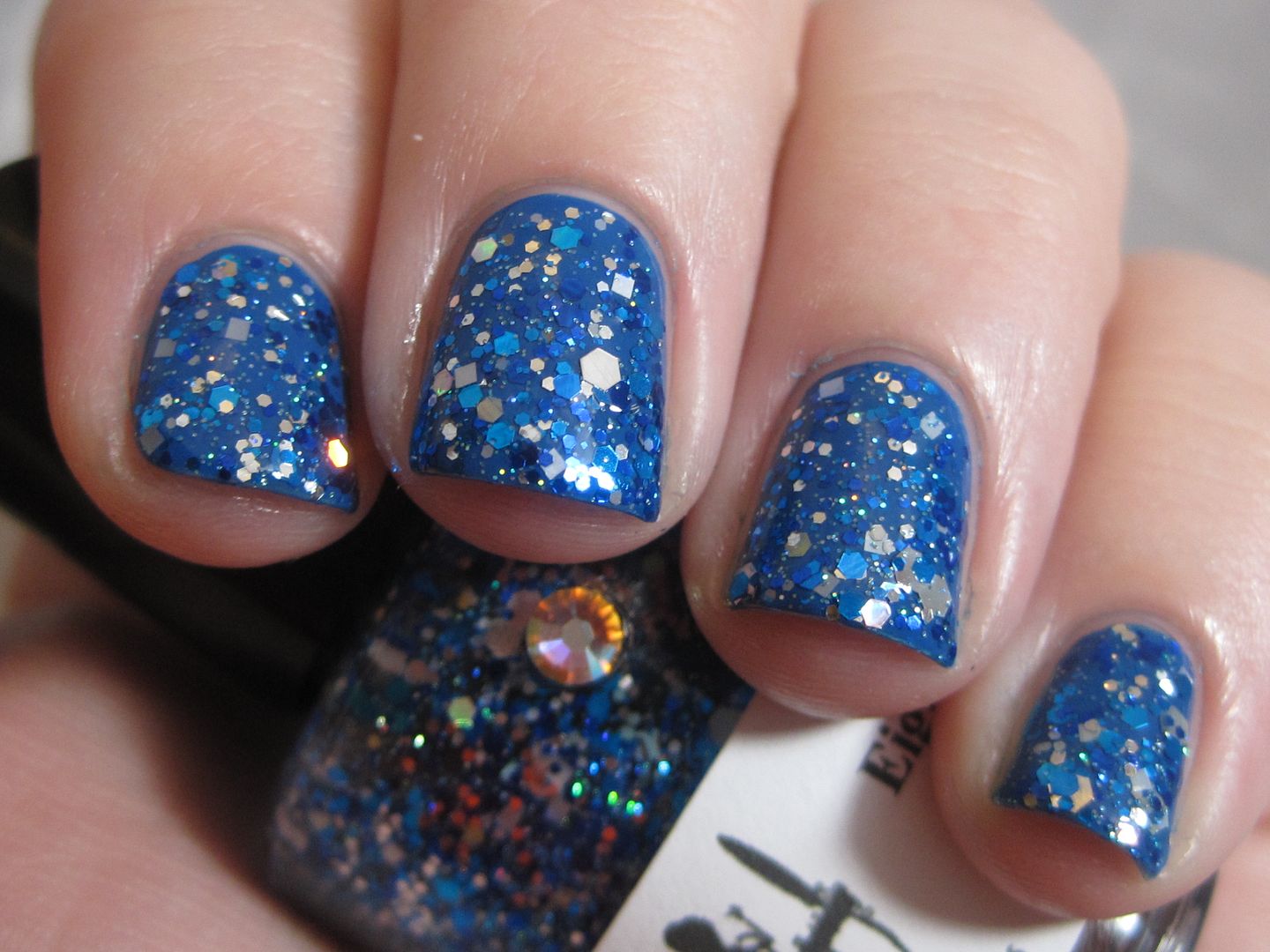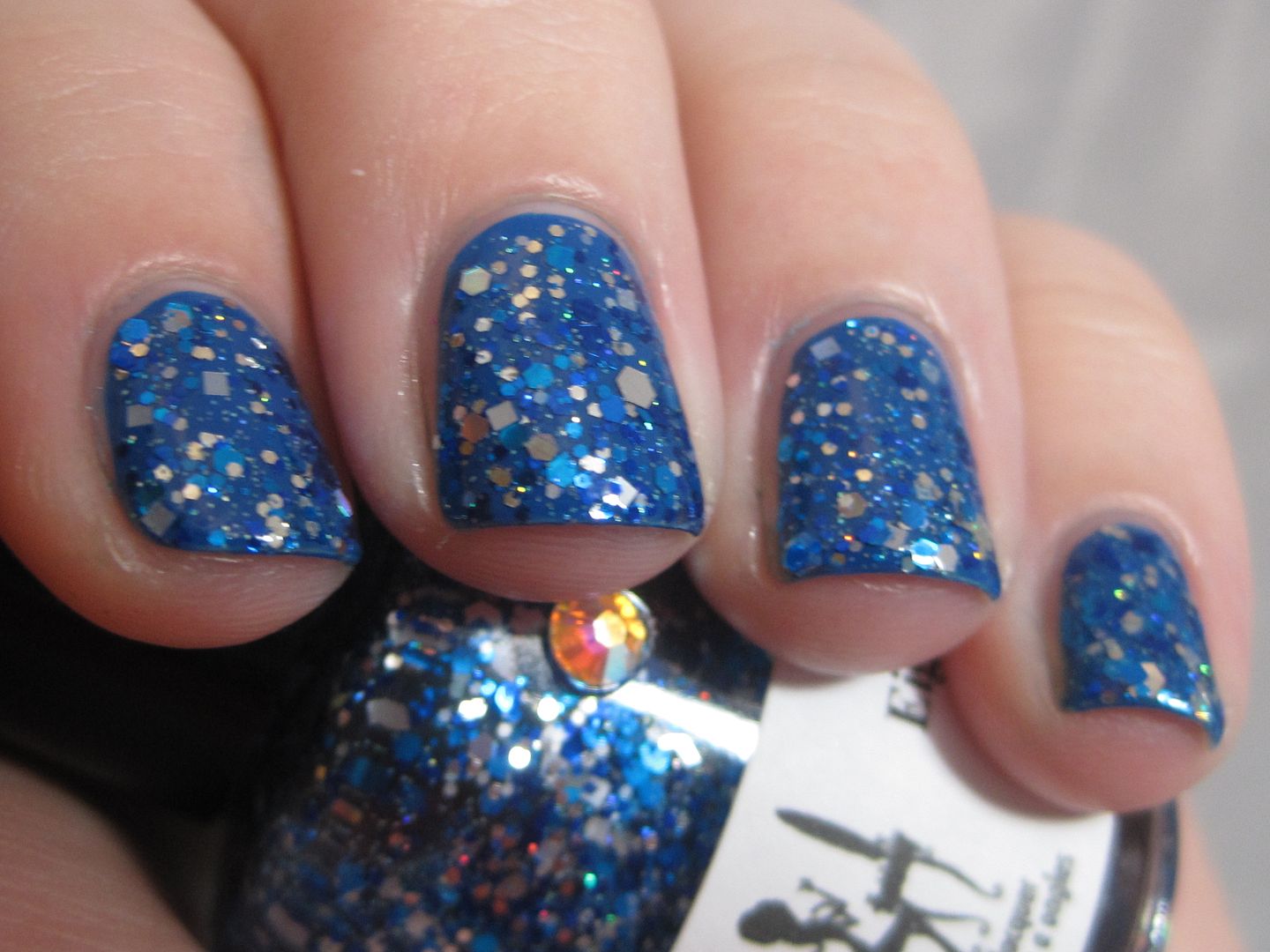 The final polish I have for you is Ornamental My Dear Watson. This polish is a glitter bomb with many different colors to represent ornaments on the Christmas tree. The colors of this one are so beautiful together. Up first I layered 1 coat over Illamasqua Noble. Of the three polishes, this one probably requires the most glitter "dabbing" to get good glitter placement during application, but it is still very easy to work with. It is also the densest of the 3 glitters.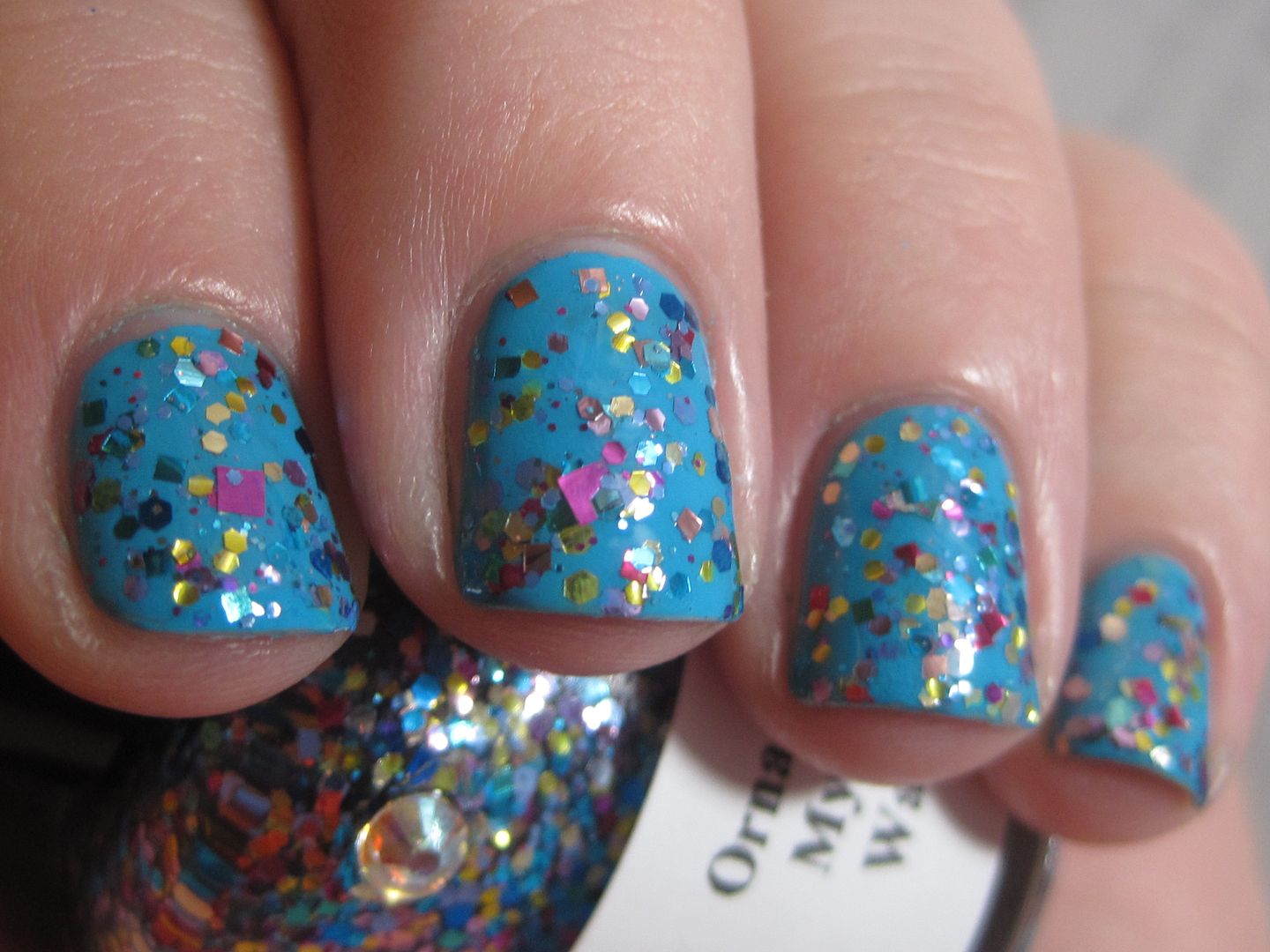 With this polish I was immediately inspired to do some jelly sandwiches with the glitter because I thought it would look really cool. I was pleased with the results. First I layered 1 thin coat of American Apparel Redondo Beach over the mani from above. It was so pretty!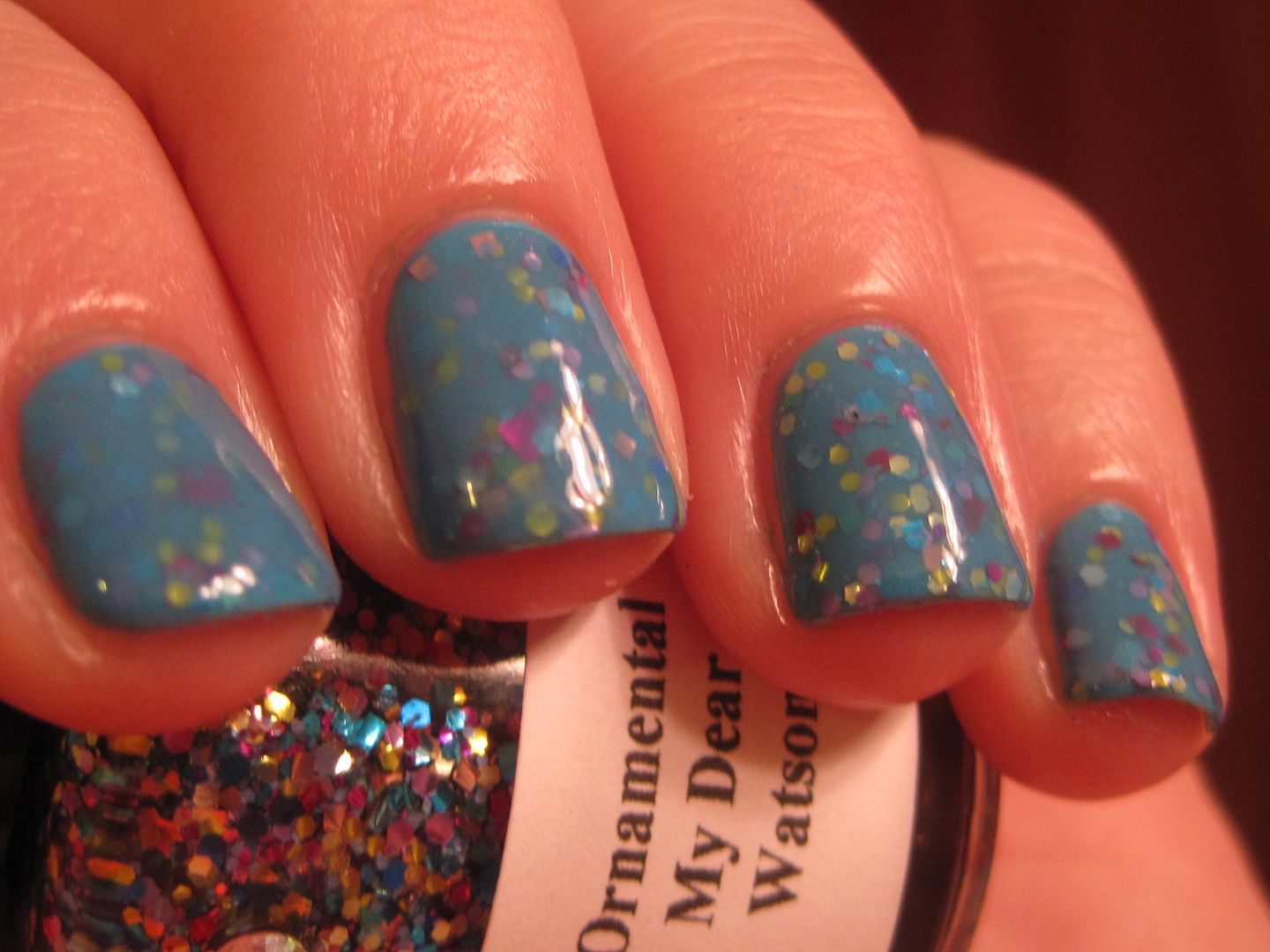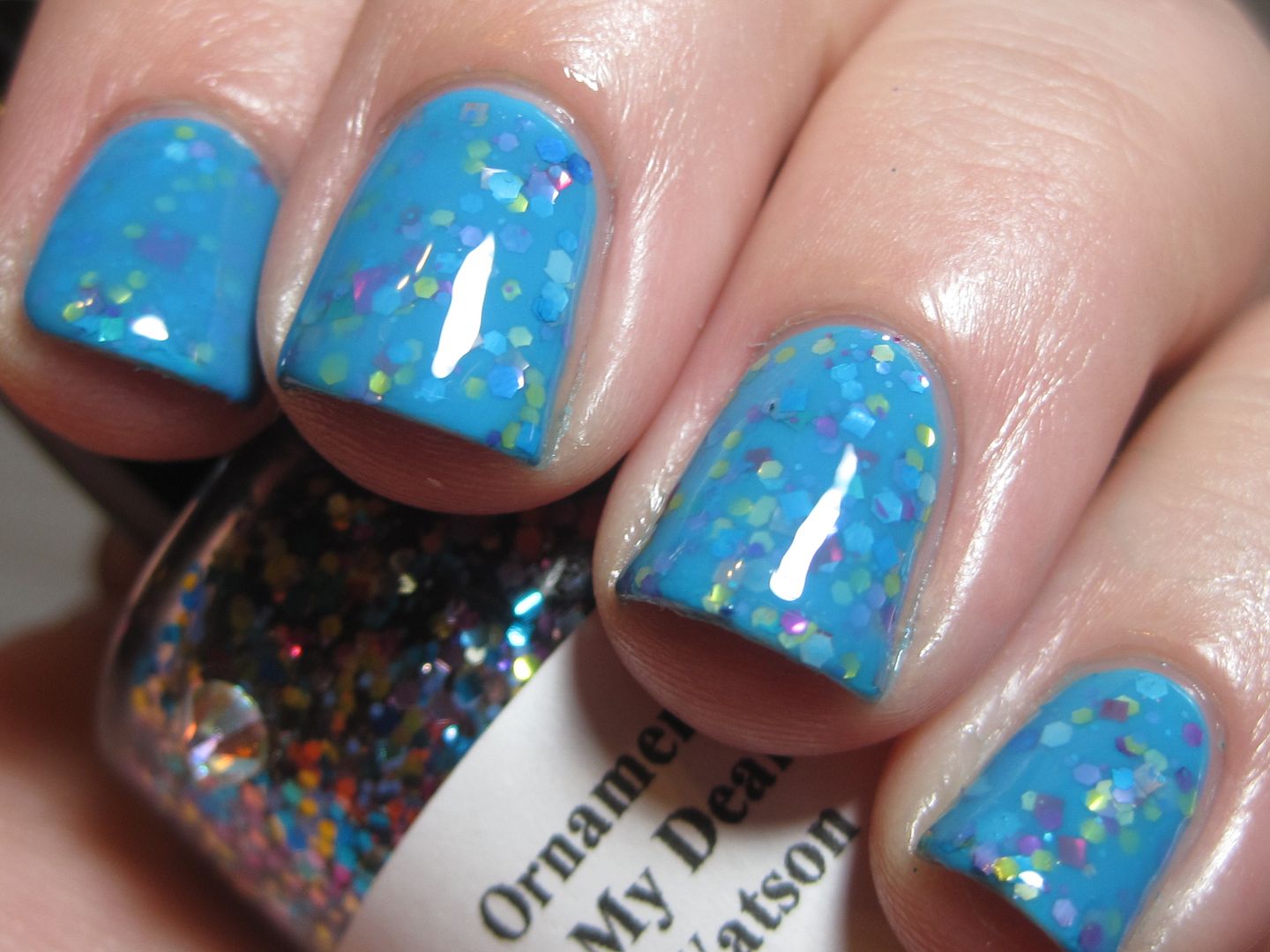 Next, I did a jelly sandwich with OPI Don't Touch My Tutu and Ornamental My Dear Watson. I used 2 coats of the OPI as a base, 1 coat of glitter, and two coats of the OPI on top. I thought this looked like a fancier, better version of the Nails Inc Sprinkles! I love this polish so much for jelly sandwiches!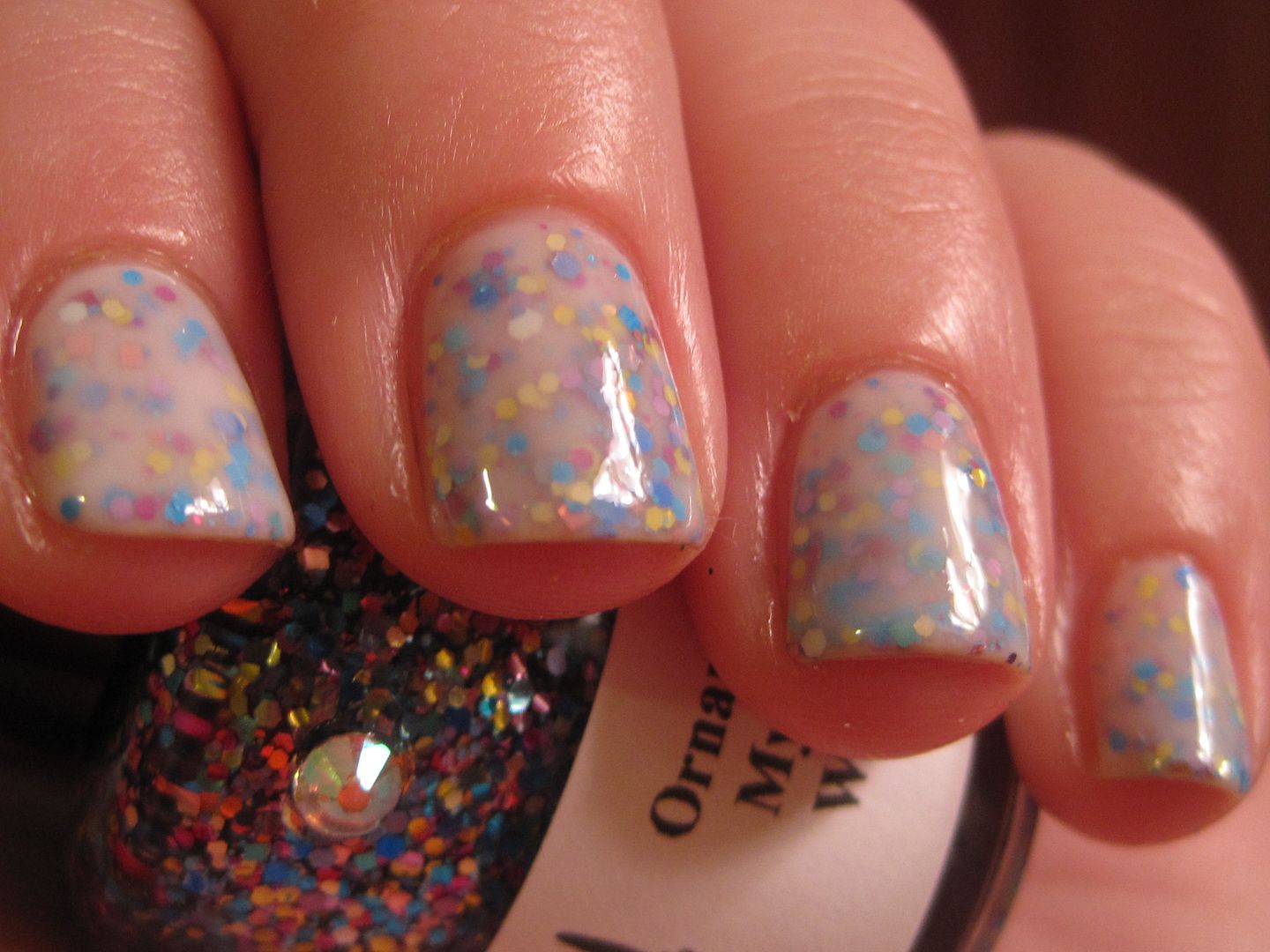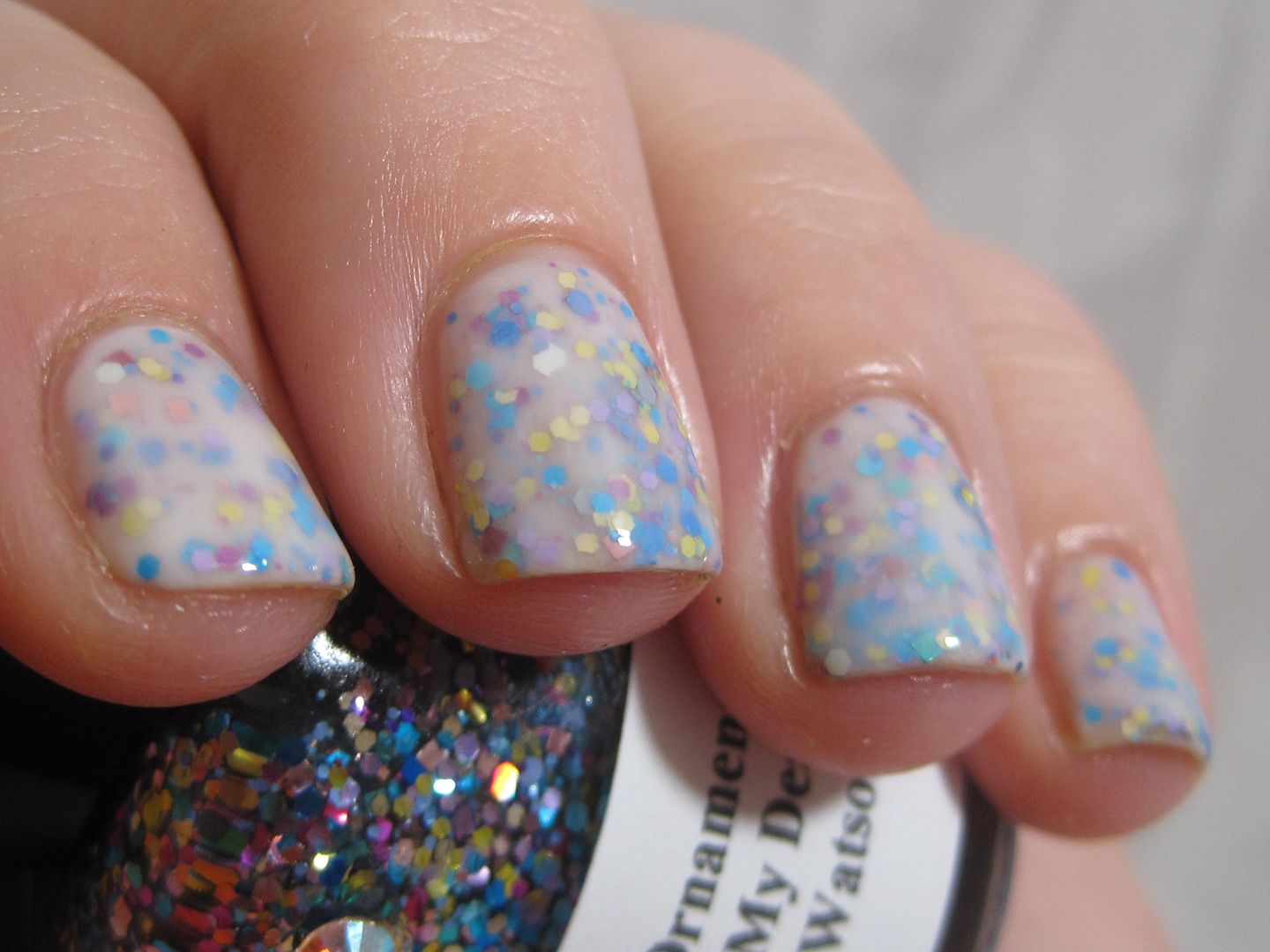 Girly Bits polishes are available from Pam's
big cartel store
,
Llarowe
,
Overall Beauty
,
Harlow & Co
, and
Mei Mei's Signatures
. The other polishes from the Season of Sparkle collection look gorgeous as well, so be sure to check those out! Thanks for looking everyone!