So for this mani I did some Christmas lights on my nails. Someone asked me how I made my Christmas lights and it was pretty simple. I took a piece of painter's tape and folded it in half. Then I cut a "parenthesis shaped" notch out of the tape, sort of like I was making paper snowflakes. So when it is folded, the notch should look like this: ( But when you open it up, there should be a hole in your tape that looks like
this: () You just want to make sure that the hole is a good size for your nails (not too big or small). Then I placed the tape at different angles on my nails and dabbed on sparkly colors for the lights.
Blue: Hits Gato-mia with Jordana Blue Bash dabbed on top
Red: Zoya Kimmy with Dollish I Wanna Do Bad Things to You dabbed on top
Green: Zoya Ivanka with Orly Here Comes Trouble dabbed on top
Orange: China Glaze Riveting with L.A. Girl Glitter Addict in Flamboyant dabbed on top
Pink (on my thumb, but not pictured): Hits Cirandinha with Orly Bubbly Bombshell dabbed on top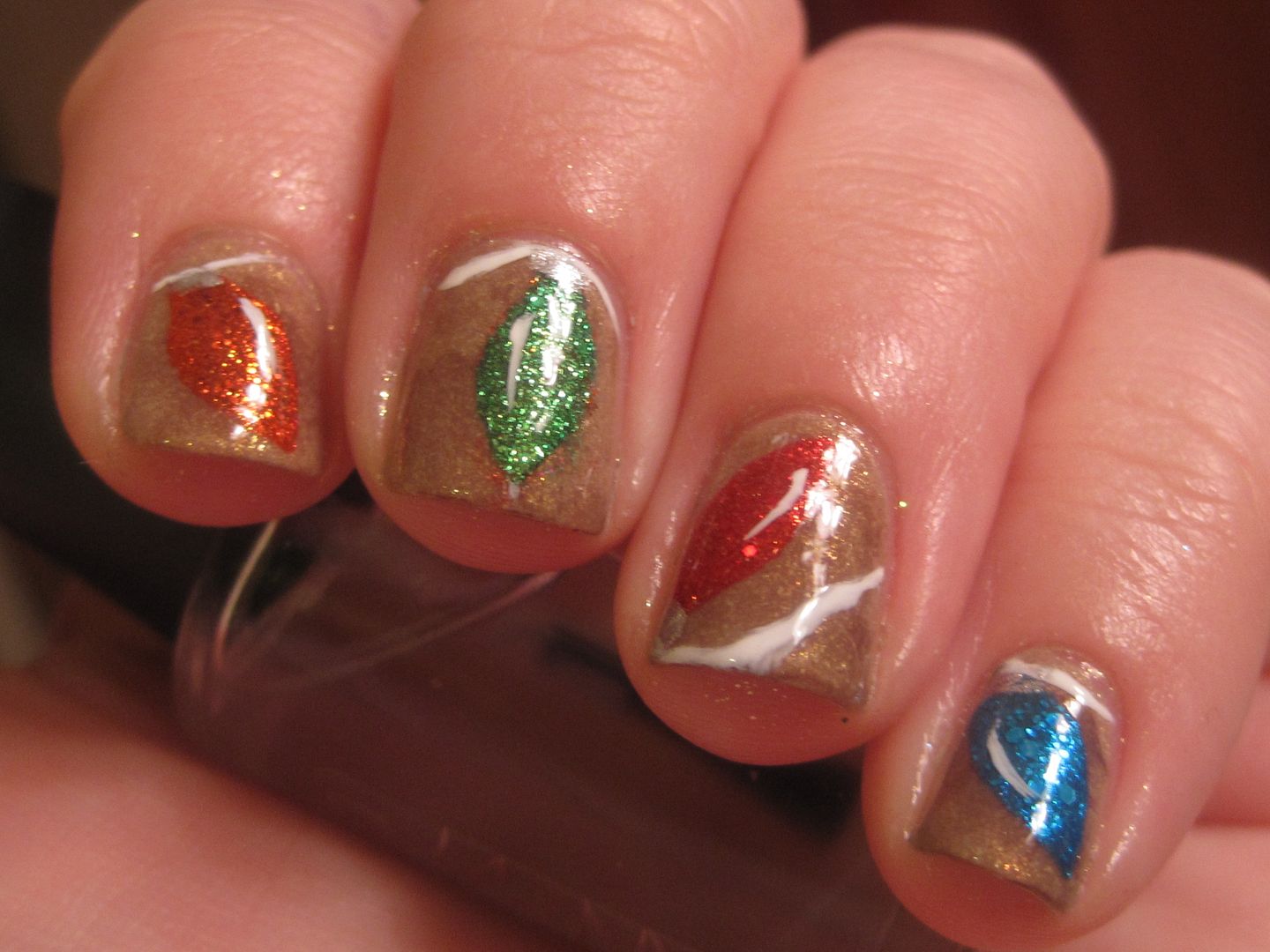 For the base of the mani, I used China Glaze Fast Track with China Glaze Fois Gras dabbed on top with a makeup sponge to create a marbled look. I actually forgot to post pictures of that by itself, but it was really pretty. I used a silver striper for the metal base of the lights and a white striper for the cord and accents on the lights.
I'm a little behind on the challenge, but I am still doing my manis. I had to take a few days off to do some non-Christmas manis so I will post those soon for you to give you (and me) a little break). Thanks for looking everyone!