*Press Samples*
Hi everyone! I have already shown you a few polishes from
Girly Bits 80's Girl Bands Collection
(
Conga and Man Size Love
), but today I have even more to share! I think Pam has hit it out of the park with this collection. There is such a variety of color and finish that there is surely something for everyone. Just keep scrolling to see all the pretties!
Supersonic
is a neon yellow jelly with a smattering of color shifting shimmer and blue flake shimmer (which looks green because of the yellow jelly base). This polish is so bright and cheery! Formula was fantastic and opaque in 3 thin coats.
Bette Davis Eyes
is a silvery white texture polish with fine holo bits and pink shimmer. This polish is freaking awesome. I love that it looks great in its textured form and then is completely transformed and wonderful with topcoat added (almost like diamonds on your nails!). Formula was good on this one and it was opaque in 2 coats. If you do decide to topcoat it, just know that since it is a textured polish it requires a thick topcoat plus quick dry topcoat to be smooth.
Without topcoat
With topcoat
Push It
has a silver holo base with gold, silver, copper and gunmetal glitters of different sizes. This polish is SUPER blingy! Glitters do make holos appear a bit more scattered, but this one is still very holo in real life. Formula was great and I had complete coverage in 3 thin coats. I love this twist on a classic silver holo.
Neutron Dance
is a neon pink crelly with bright yellow, pink, and green glitters and tiny holo silver glitters throughout. I thought the formula for this one was particularly lovely. It spread really easily and had perfect glitter distribution. I used 3 thin coats for this mani. Such a bright and fun polish!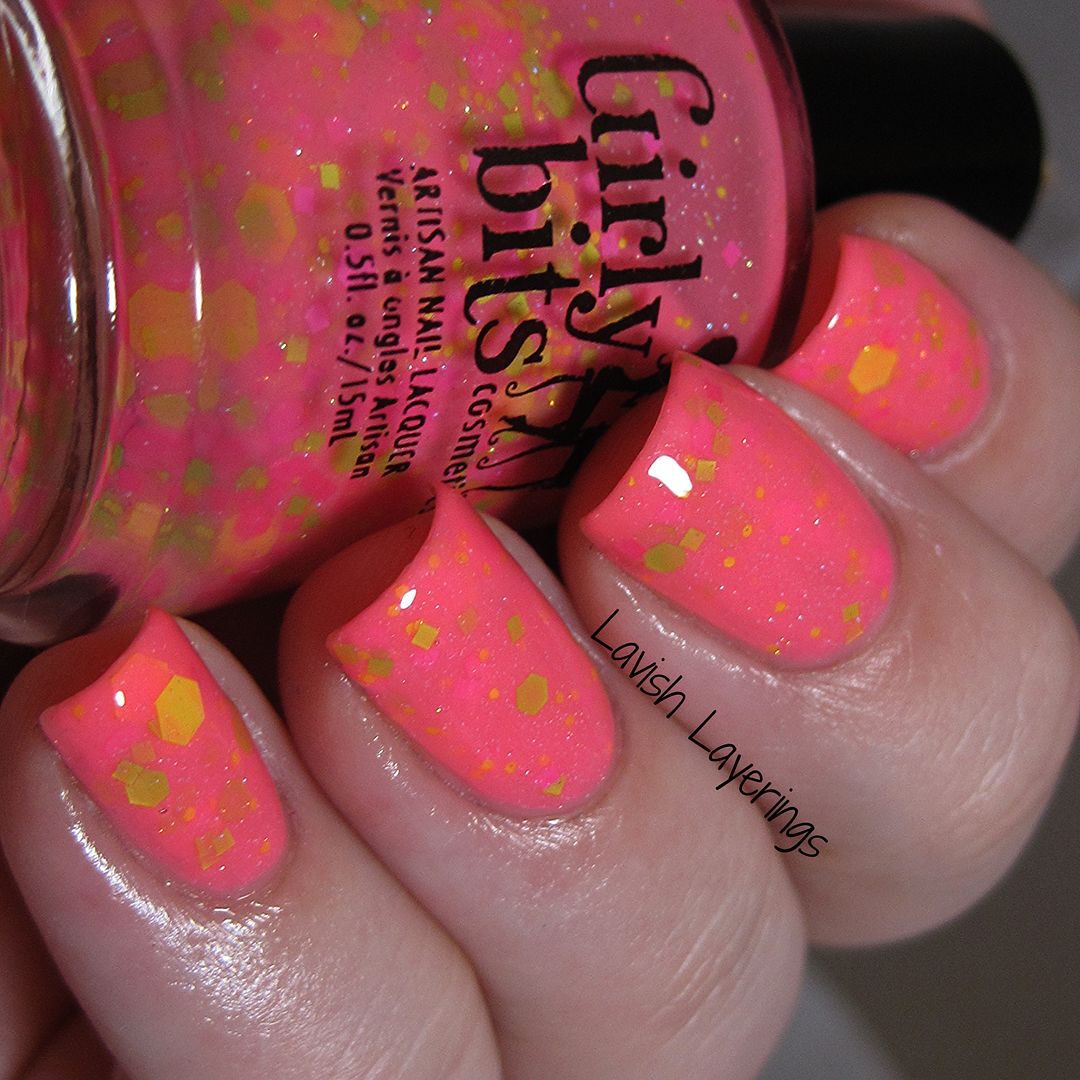 The Power of Love
is a soft lavender holographic polish sparked with sea green, lavender, and silver glitter. Formula was very similar to Push It in terms of application but the holo effect was a little softer with The Power of Love. I used 3 thin coats for this mani I think it is a very sweet and romantic polish.
Girly Bits Cosmetics' polishes are available from creator Pam's online shop as well as from
e-tailers around the world including:
Llarowe
(US),
Overall Beauty
(US),
Mei Mei's Signatures
(Singapore),
Harlow and Co.
(Canada),
Femme Fatale Cosmetics
(Australia),
Foxy Fingertips
(Denmark), and
Maria Gastadeira
(Brazil). Be sure to follow Girly Bits on Facebook and Instagram for news about restocks and new collections.