*French tip guides sent for review, polishes purchased by me*
Hi everyone! It's officially fall now and it's finally starting to cool off just a teensy bit here in the deep South. Well...at night at least. Vampy colors are classic for fall and I really look forward to this time of year when I can dust off all of my vampy polishes (although I have been known to wear them pretty much whenever). Another thing I LOVE to do with a vampy polish is matte it...especially if it has some sort of amazing shimmer or flakies in it. This mani pretty much encompasses all of these things.
Pahlish An Caisteal Ruadh
(from the new fall
Royal Reverie Collection
) is a deeeeeep Oxblood jelly with gold and silver flakies and copper shimmer. I used 3 thin coats here, but you could easily get away with 2 coats. This polish is so deep and rich with the gorgeous flakes shining through. Such a wonderful vamp for fall!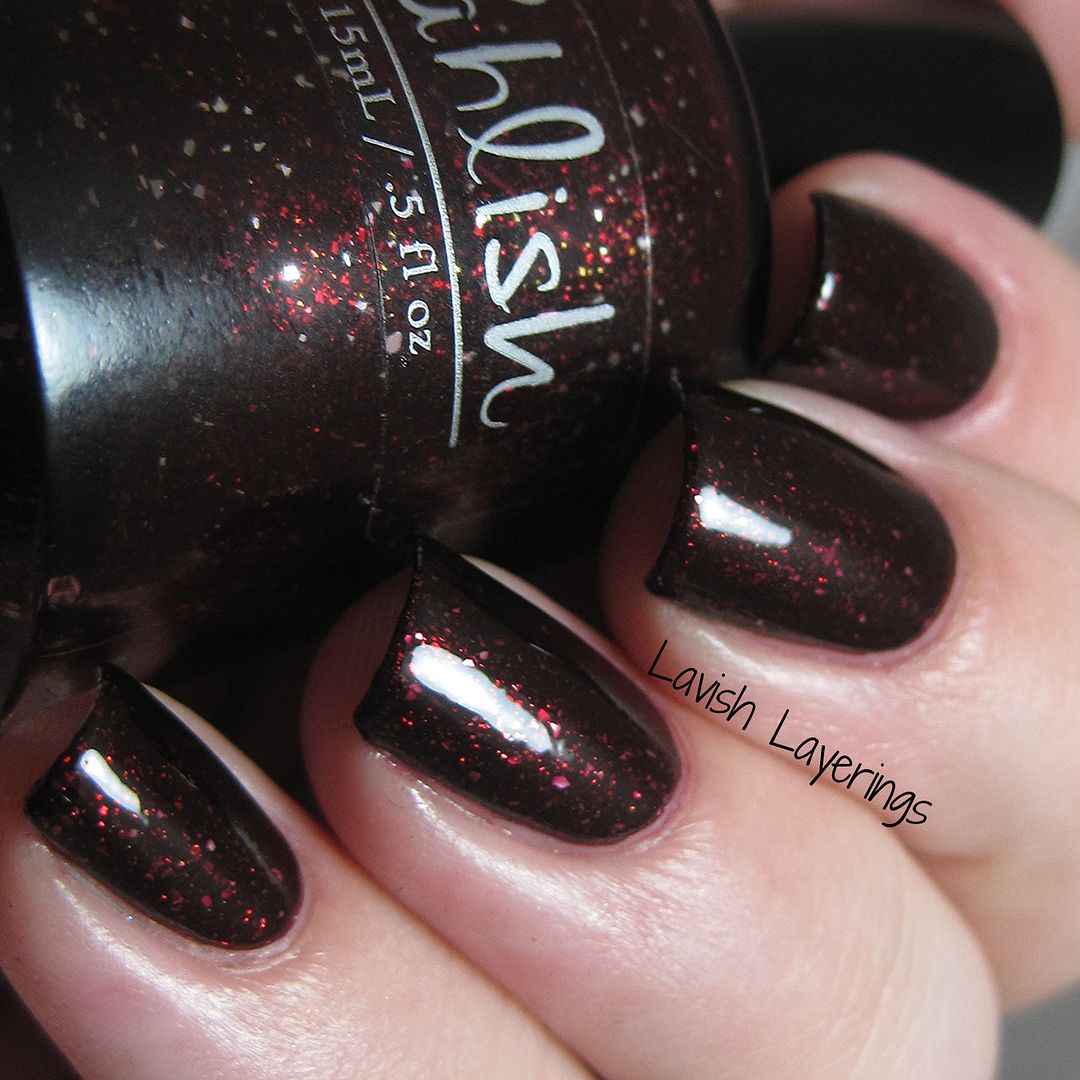 After my base polish was completely dry, I used
these French Tip guides
(Item 15653, #2) from
Born Pretty Store
to create the final mani look. These guides aren't the typical french tip guide, but instead have a curve in the middle to create a unique design. They can be used for tips, but you can also use them in all different arrangements on the nail to create different looks. These guides adhere well to the nail and then remove easily. They are also thin, which I prefer so the polish (that you paint over them) does not create a ridge when they are removed. After I got the guides in place, I painted OPI's matte topcoat on top of them and then removed them quickly (it's best to do this one nail at a time) and I was left with this cool shiny/matte look. I'm so in love with this mani!
Pahlish
is available from Pahlish's
Big Cartel Shop
.
Be sure to follow Pahlish on
Facebook
and on their
blog
for details about restocks (they are Fridays at 7 pm CST) and new polishes. Pahlish is also available from
Llarowe
,
Rainbow Connection
, and
Edgy Polish
. Thanks for looking everyone!
Be sure to check out
Born Pretty Store
for all of your nail art supply needs (you can use my coupon code JCX31 for 10% off your order). I've always had great experiences with ordering from them at very reasonable prices. Also, you can't beat free worldwide shipping! You can also follow Born Pretty Store on
Facebook
and
Instagram
.
What do you think of this look? Do you love vamps in the fall too? What about matting all the things...which I'm pretty much going to be doing now...I blame The Mercurial Magpie... Thanks for looking everyone!