*Press Release, Press Sample*
Hi everyone! Today I have a very special polish to share with you that KBShimmer has created for their annual charity event to raise money for Toys for Tots. First I will share the official press release with you and then I have a full swatch and review! (I figured I would just combine the two so all of the info would be in one place!)
Press Release:
KBSHIMMER 'TOYS FOR TOTS' CHARITY POLISH SET FOR RELEASE IN NOVEMBER
Four dollars from each bottle of 'Pine-ing For Yule' will be used to buy toys for children.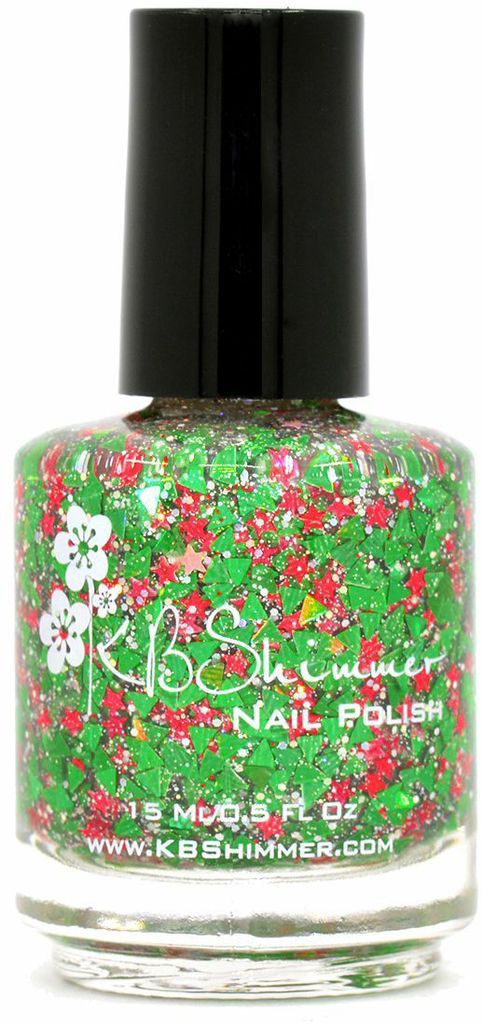 KBShimmer is excited to announce that the 3rd edition of their annual charity polish, Pine-ing For Yule, will go on sale November 1st, 2014. Owner Christy Rose says, "We here at KBShimmer are very fortunate, and we want to pay forward that good fortune by helping our local community. Creating a special Christmas themed charity polish is something I look forward to each year, and this year's polish is a new favorite."
All over the world, the evergreen, triangle shaped pine tree has become a symbol of the holiday season. This year, KBShimmer pays homage to the Christmas tree with the 2014 charity polish, Pine-ing For Yule. Holographic evergreen triangle 'trees' swim among red mini star 'tree toppers,' and holographic glitters in red and sliver light up this Christmas polish with their rainbow sparkle.
"As a mother, I know how important Christmas is for a child, and therefore choosing Toys For Tots as our charity was a perfect fit. This is the third year that we have donated to our local Toys For Tots group, a tradition I hope is in place for years to come" Rose said. From November 1st through December 15th, four dollars from the sale of each bottle of Pine-ing For Yule sold on
http://www.KBShimmer.com will be donated to the Terre Haute (the KBShimmer headquarters) chapter of Toys for Tots. Each bottle retails for $8.75.
Last year, KBShimmer raised about three thousand dollars to help ensure that every child had something to open during the holidays. Do some good this holiday season and get a fun polish for yourself (or buy a few extra as stocking stuffers or gifts).
______________________________________________________________________________
KBShimmer Pine-ing for Yule
is a clear based glitter topper filled with red holo stars and green holo triangles accented by smaller red and silver holo glitters. For this mani, I used 1 dabbed coat of Pine-ing for Yule over a white base (OPI Angel With a Lead Foot). The larger glitters came out nicely on the brush and spread easily. I did do a bit of glitter placement with my brush as I was going, but not too much. I would recommend 2 coats of topcoat to smooth out the glitters (like KBShimmer Clearly On Top). I think this is such an adorable polish for the holiday season with it's "trees" and stars (the cutest use of triangle glitter that I've seen thus far). Also, you are supporting a fantastic cause with your purchase, so it's a win-win!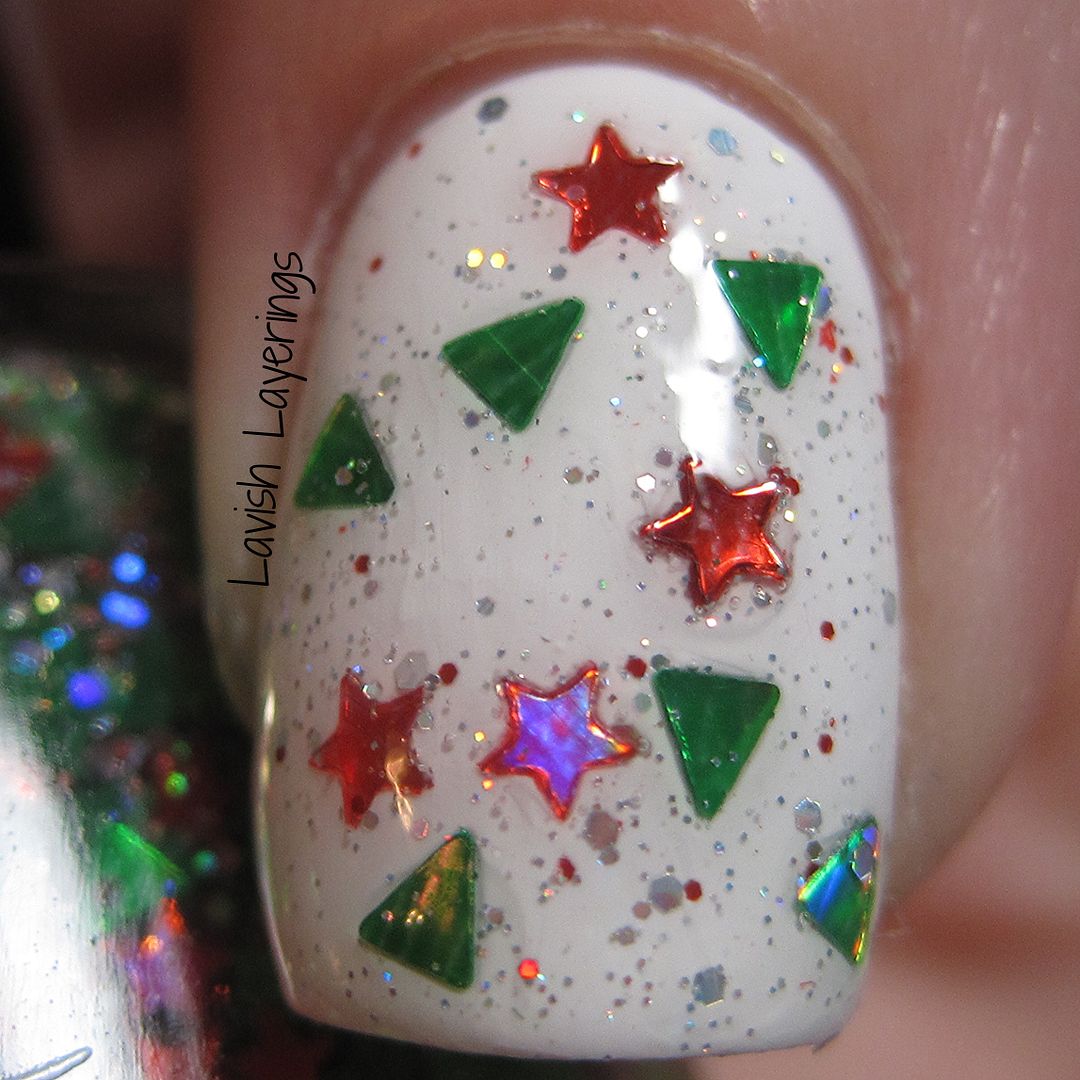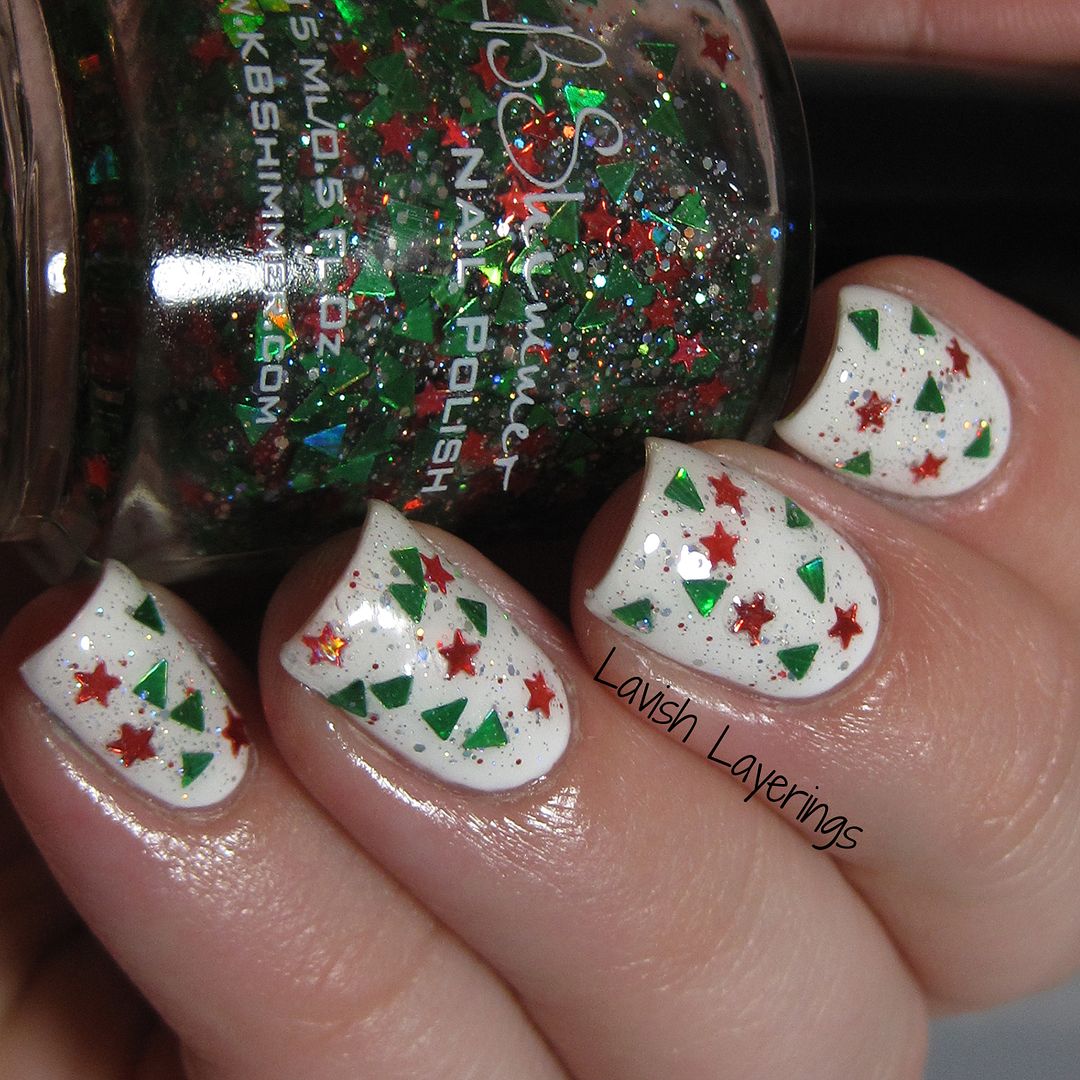 _________________________________________________________________________
For more information about Toys For Tots visit
http://www.toysfortots.org
. KBShimmer products can be found at
http://www.KBShimmer.com
. For sales outside of the US visit
http://www.HarlowandCo.org
.
KBShimmer was founded in 2008 by the husband and wife team of Jason and Christy Rose. KBShimmer offers unique and colorful nail glitter nail polishes that are Big 3 Free, with all glitter formulas being completely free of chemicals such as toluene, formaldehyde, formaldehyde resin and dibutyl phthalate (DBP). KBShimmer glitter polishes feature a flat glitter grabbing brush for easy application. KBShimmer also offers a 2-free quick dry polish top coat, olive oil lotion, sugar scrubs, lip balms, cold process soaps and other skin care products.
So what do you think about this glitter topper? Is your brain ready for Christmas manis yet? LOL...I know it is a shock to my system that we are getting so close! Thanks for looking everyone!