Hi everyone! I have been a big failure at doing Valentine's manis this year so far besides a few pinks and reds. I decided to go all out with some nail art to (try to) make up for it!
I did some crazy skittles which all started with a base of
OPI Sparrow Me the Drama
(pink). For the water marbled nails, I used
Sinful Colors Wisp
(white),
OPI Sparrow Me the Drama
(pink),
OPI Red Hot Ayers Rock
(red), and
OPI Funky Dunkey
(purple). The glitter accents were
L.A. Girl Sputtered
from the Splatter collection. Finally for the hearts, I used water decals from
Born Pretty Store
. It was my first experience using water decals, and they are very idiot-proof I think. I used tweezers to place them (the three hearts were one decal) and it was easy to readjust them on the nail if needed. I went back with my dotting tool and added a few dots of the different colors for accents to pull the whole mani together.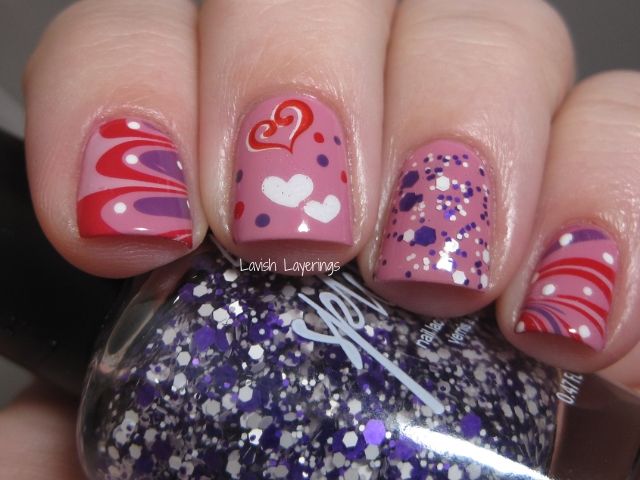 I have heard some people haven't seen the
L.A. Girl Splatter Collection
around at their Rite Aids, but they are available at
Cherry Culture
for those of you who can't find them.
I'm really pleased with the water decals and I've ordered a few more from
Born Pretty Store
. I've always had great experiences with ordering from them at very reasonable prices. Also, you can't beat free worldwide shipping!
Thanks for looking everyone and have a Happy Valentine's Day!
*Products purchased by me*