Hi everyone! I'm excited to show you a preview of one of the polishes that will be included in
March's A Box, Indied
(available exclusively from
Llarowe
). There is an exciting line-up of makers to be included in March's box including
CrowsToes
,
Hare Polish
,
Girly Bits
,
Glisten & Glow
, and finally
Contrary Polish,
whose beautiful polish I'm showing you today. So many of my favorite brands in one box? Be still my heart! The theme of this box is Mardi Gras which sounds like some fantastic inspiration.
Llarowe
is previewing these on
Facebook
tonight, and so far they all look amazing!
Contrary Polish Bal Masque
(which means masquerade ball) is a soft blurple jelly with a myriad of golden shimmers throughout. The color has a dusty quality to it that makes it very unique. This polish is a true jelly, so it is on the sheer side but builds up to such a gorgeous shade with wonderful depth. Carrie (the shimmer master behind
Contrary Polish
) says in her description of the polish that it is sheer enough to be layered but also builds up to opacity on its own and I completely agree. I really prefer it on its own. I used 3 coats for my mani, 2 thin coats and 1 thicker coat to finish. One of my tips for working with jellies is to be sure to allow a few minutes dry time between coats to prevent dragging. This shade is so soft and sophisticated which is consistent with Carrie's style. I love it!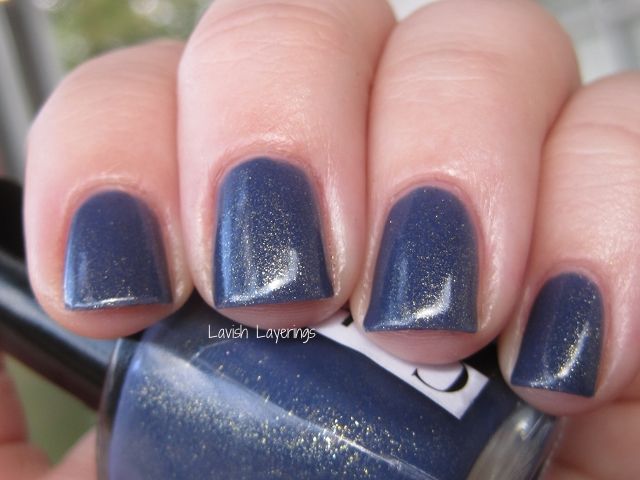 As I said, this polish will be available exclusively from
Llarowe
as part of March's
A Box, Indied
. You can sign up to receive a box each month or you can purchase the boxes individually when they are released. March's box will be released around the end of February (tentative release date is February 26th according to Llarowe's
Facebook page
). Be sure to follow there for updates on exact dates and times!
Other
Contrary Polishes
can be purchased direct from creator Carrie (details are on her
blog
) or they are available from several e-tailers including
Llarowe
(US),
Femme Fatale Cosmetics
(Australia),
Mei Mei's Signatures
(Singapore),
Norway Nails
(Norway), and
Rainbow Connection
(UK).
Thanks for looking everyone!
*polish sent for my honest review*