Hi everyone! The theme for day 2 of the
Falling for Nail Art Challenge
was
"Early Sunsets"
and I tried a sunset gradient using more fallish colors and then added some very abstract trees. My trees did not come out the best, but oh well. Also, I accidentally my paint stripes too wide so the yellow at the bottom got overtaken with the other colors. I used
American Apparel Manila (yellow), OPI A Roll in the Hague (orange), American Apparel Downtown LA (Red), and American Apparel Port (Maroon)
for the gradient and then
American Apparel Hassid (black)
for the trees. I used Manila as the base, but as I said, it got mostly covered with the other polishes. My abstract trees turned out looking a little spooky, so we will call them spooky trees. Also, sorry for the lack of pictures...apparently I didn't vary my hand pose at all when I was taking pics and they all looked the same.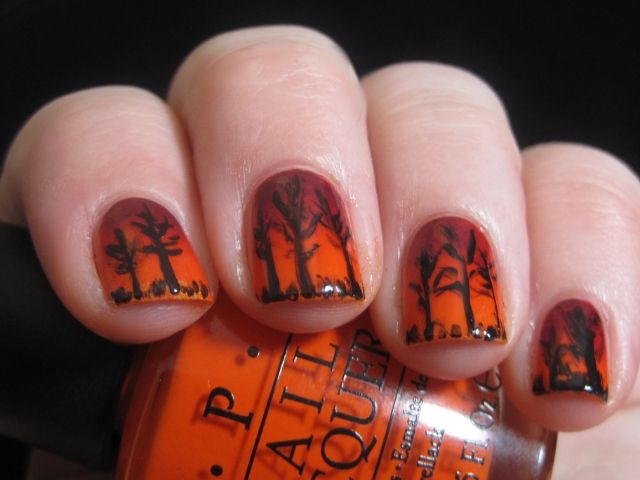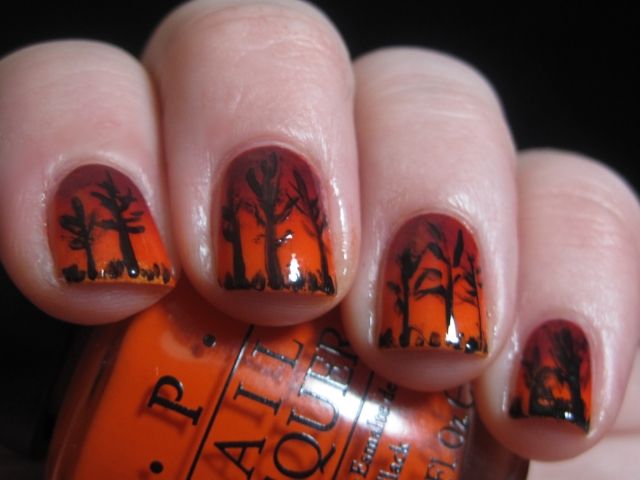 It definitely wasn't my best work, but I think it still looks pretty cool. Thanks for looking everyone!