So what better to do on Purple Shimmer Sunday than a purple shimmer plus a purple Shimmer? I think it is a match made it heaven!
Don't forget to check out what my girls Kathy (
Pied Polish Piper
) and Kristy (
The Polish Haven
) are doing today as well. Kristy has one of my favorite purple shimmers ever up today and Kathy is going to be featuring an awesome purple shimmer that was released this past year.
So I started off with one of my older favorites,
China Glaze Cowgirl Up
. Now this polish is from the Fall 2008 Rodeo Diva collection, but I found it hanging out at Publix. I have really had a few amazing polishes pop up from time to time at my Publix, so always give those polish racks a look when you are shopping. (I found 3 bottles of OPI Man of La Mancha this past year at mine!). Cowgirl Up is a warm purple shimmer that actually has a very fine sprinkling of blue sparkles throughout (I've never noticed them until this time when I was painting my nails).
Then I topped it with
Shimmer Polish Caroline
. I absolutely ADORE this combo! It might not necessarily be a combo that highlights the glitter so much, but more a combo where they meld together into one magical looking polish (or so it appears). Caroline is a mixture of purple glitters(some more pink leaning, some more grapey) with a few holographic sparks and my favorite addition, a smattering of teeny disco glitters. This polish is glowy perfection on my nails.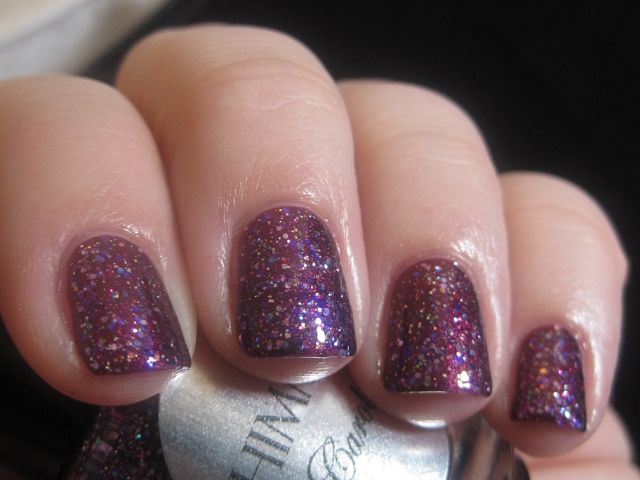 Blurry pic...but it shows how glowy this combo is!
Shimmer Polish is available from creator Cindy's
Etsy Shop
and you can find a tons of swatches on her
blog
of all of the Shimmer Polishes. Thanks for looking everyone!