Hi everyone! So...the favorites thing has TOTALLY taken much longer than I anticipated. I am still diligently working on it and I will get done hopefully some time this month! I have a LOT of blue, green, and purple favorites that needed decent pics, so swatching all of those is a TON of work. Also...I haven't forgotten about the giveaway! I promise! I just have a few things in the works that are taking a little time, but I promise it will be worth the wait! I do have a vacation coming up, so I might not be posting as much at the beginning of July, but I promise I will make up for it in the last half.
And back to our regularly scheduled programming...
So today I have one of the new Lush Lacquers from their neon collection called
Splish Splash
. This is a blue and green neon glitter in a clear base. The glitters in the Lush Lacquer neons are all a little translucent, so they look best layered over a light base color so that the colors really pop. For this mani, I layered 2 coats of Splish Splash over a white base (Sinful Gel Shine Wisp) and on the accent nails, I have used Finger Paints Inkblot Blue and Silkscreen Green to make the dots.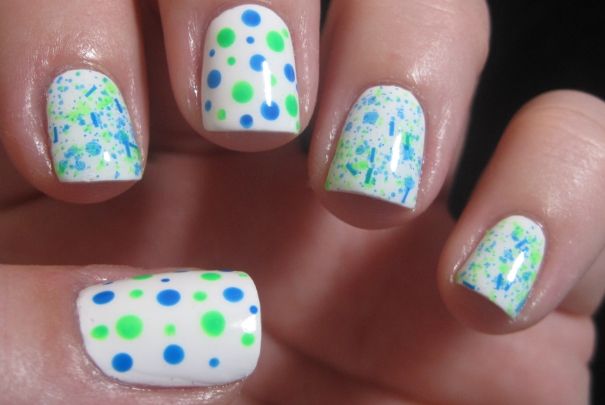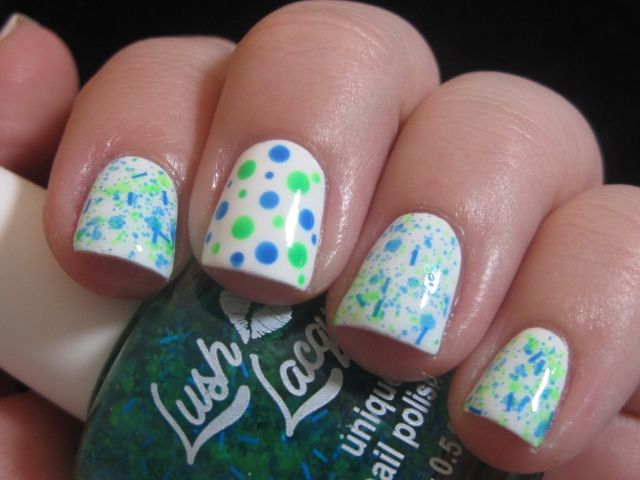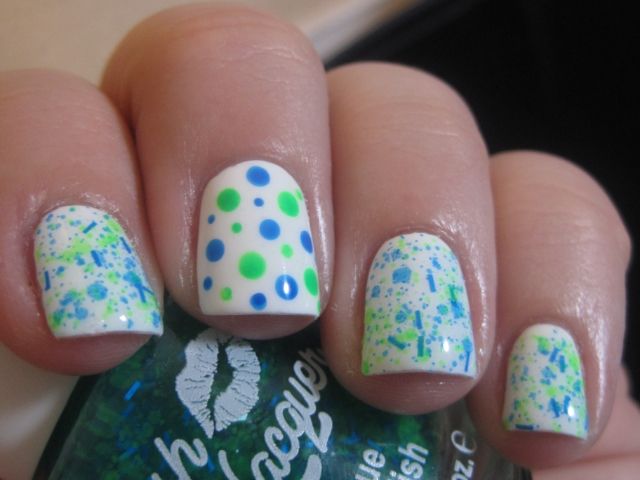 NOW...Sinful Gel Shine
Wisp.
This polish is from Sinful's new Gel Shine line so it won't be with all of the regular Sinful polishes at the drugstore. I have seen them in a separate, tower-like display at several Walgreens. All of my white cremes are getting low and I tend to use it a lot in the summer, so I picked this polish up at Walgreens on a whim. I am VERY pleased with it as a white. the formula was excellent and was actually pretty opaque and streak-free at one thick-ish coat. I did 2 coats for good measure. It is also cheap, so hey...pick it up and give it a try. Comment back here and let me know about your experience with it if you decide to get it. I'm curious if it was just a fluke that it worked so well for me.
Lush Lacquer is available from creators' Karin and Lexi's
Etsy Store
as well as from
Llarowe
. Thanks for looking everyone!