Hi everyone! Today I have a late summer trio from
Oopsie Daisies
that is themed around camping! I always love creator Cathryn's inspiration behind her collections. She always manages to bring her very literal ideas to life in polish and I dig it.
The Back to Nature Trio
has two brand new polishes and one that is a reformulated (and renamed) version of a current polish.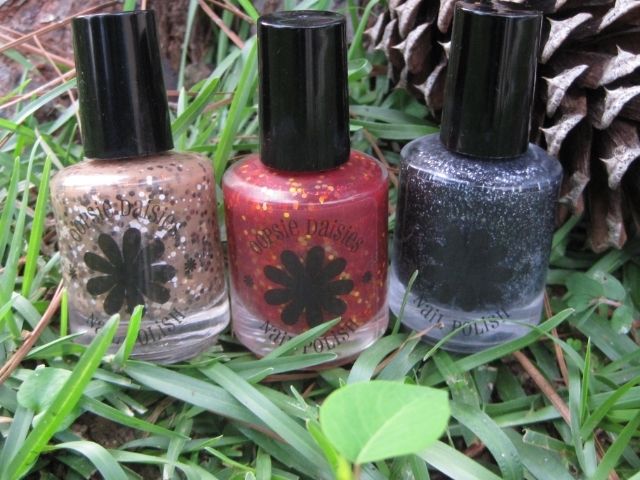 Campfire Tales is a juicy red-orange jelly with red, yellow, and orange glitters. The color of the jelly base is really gorgeous and is very campfire-esque. I used 2 coats for this mani. Glitters dispersed very evenly during application and gave me no trouble at all. This one is a winner for sure!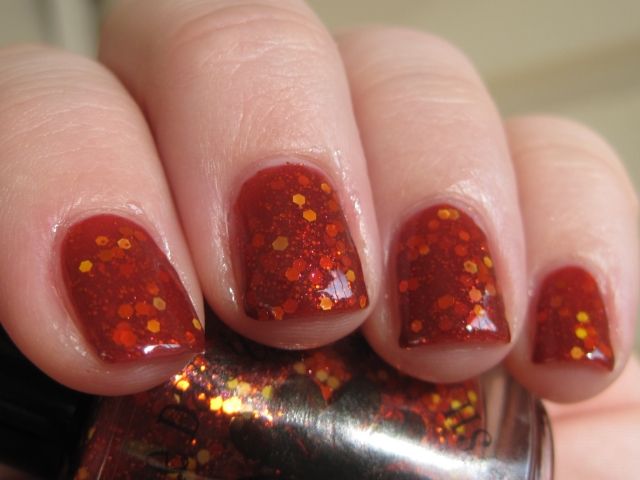 Cloudless Night was a surprise favorite for me in the collection (because I thought for SURE it would be the red since I'm such a red hoor). The silver shimmer in the base is what makes this polish so special and also the surprise small white glitters. When I first saw it, I just thought it was silver glitter in a black jelly base, but those additions make it super special. I used 3 coats for this swatch. Definitely let it dry between coats to eliminate dragging to help you build it up to opacity. I think you have to see this one in real life to really appreciate how gorgeous it is.

S'mores
is a reformulated version of Fawn from the spring collection. I remember when that collection came out, Cathryn mentioned that after she made it, this polish always reminded her of s'mores, so she made it happen! The addition of white "marshmallow" squares really make it a perfect s'mores polish. This is 2 coats plus topcoat. This polish is really packed with glitter, so I did have to be sure to spread them around evenly when applying to get an even look, but I have to do this with a lot of glitter polishes so it was nothing out of the ordinary (I think it is related to my tendency towards heavy handed coats vs thin, dainty coats when polishing).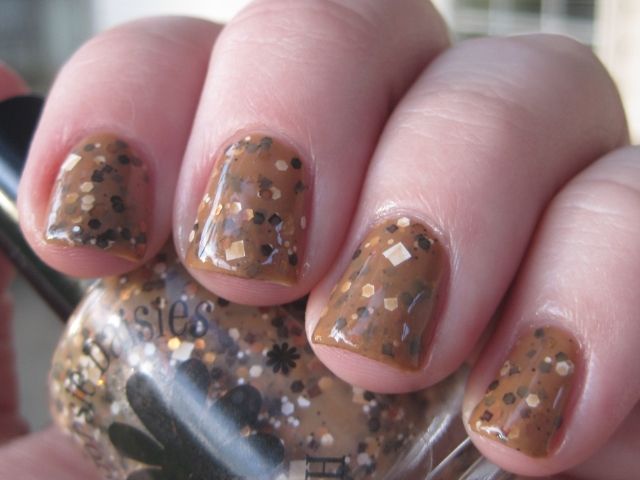 The Back to Nature Trio went on sale today in Oopsie Daisie's
Etsy shop
so be sure to check it out! For international customers, be sure to check out
Edgy Polish
because hopefully this collection will arrive there soon. Thanks for looking everyone!
*products provided for my honest review*