*Press Samples*
Hi everyone! I'm so proud to show you my first post as part of Team Elevation! I adore Lulu's amazing polishes (I have featured them here many times) and getting to show you guys new Elevation Polish collections is just an honor. Today I'm going to show you some swatches of the upcoming
A Journey Told Through Music Collection
that will be released on January 7. This collection is a very personal one for Lulu and is inspired by songs that bring back memories of certain times and journeys during her life. She has a wonderful
blog post
describing the specific inspirations for all of these polishes, so be sure to check that out!
The Sea Was Red
(inspired by Led Zeppelin - Going to California) is a linear holo with a red to orange/gold duochrome flash. Formula was smooth and fantastic and built up easily in 2 coats. The holo effect is really stunning and I adore the duochrome flash. The added holo with the duochrome pigment gives this polish an overall coppery look that is so beautiful. This polish is actually based on a SBP called Red Sea with a few adjustments (I have some comparison pics below). Red Sea is actually the only SBP that I own and it was one of my favorite polishes of 2014, so I'm so glad that everyone will have the chance to own The Sea Was Red!
And for those of you who want to see how it compares to the SBP: Red Sea, here are some comparison shots. They are very similar, but SBP: Red Sea has a slightly more vibrant color shift and I believe that The Sea Was Red has more holo pigment added.
The Sea Was Reed (left), SBP: Red Sea (right)
Quarter Past Midnight
(inspired by DJ Shadow - Midnight in a Perfect World) is a multichrome that shifts from navy blue to purple with a golden shift at extreme angles (you can see it in the bottle corners here, it was hard to capture the gold on camera). The base of this polish is really dark and opaque, so there is no need for layering to get a great color shifting effect and it can easily be worn at just 2-3 coats (I used 3 thin coats here). Such a beautiful multichrome and perfect to wear during dreary winter days like we've been having lately in Alabama (multichromes pops so well when it is overcast!).
Just Like Night Time
(inspired by Harry Nilsson - Life Line) is deep blue holo with tons of blue/aqua shimmer. Formula on this one is great and builds up easily in 3 thin coats (or 2 regular coats). The shimmer is absolutely amazing in this polish and tries very hard to hide from the camera. It is a little more apparent in the more shaded pictures.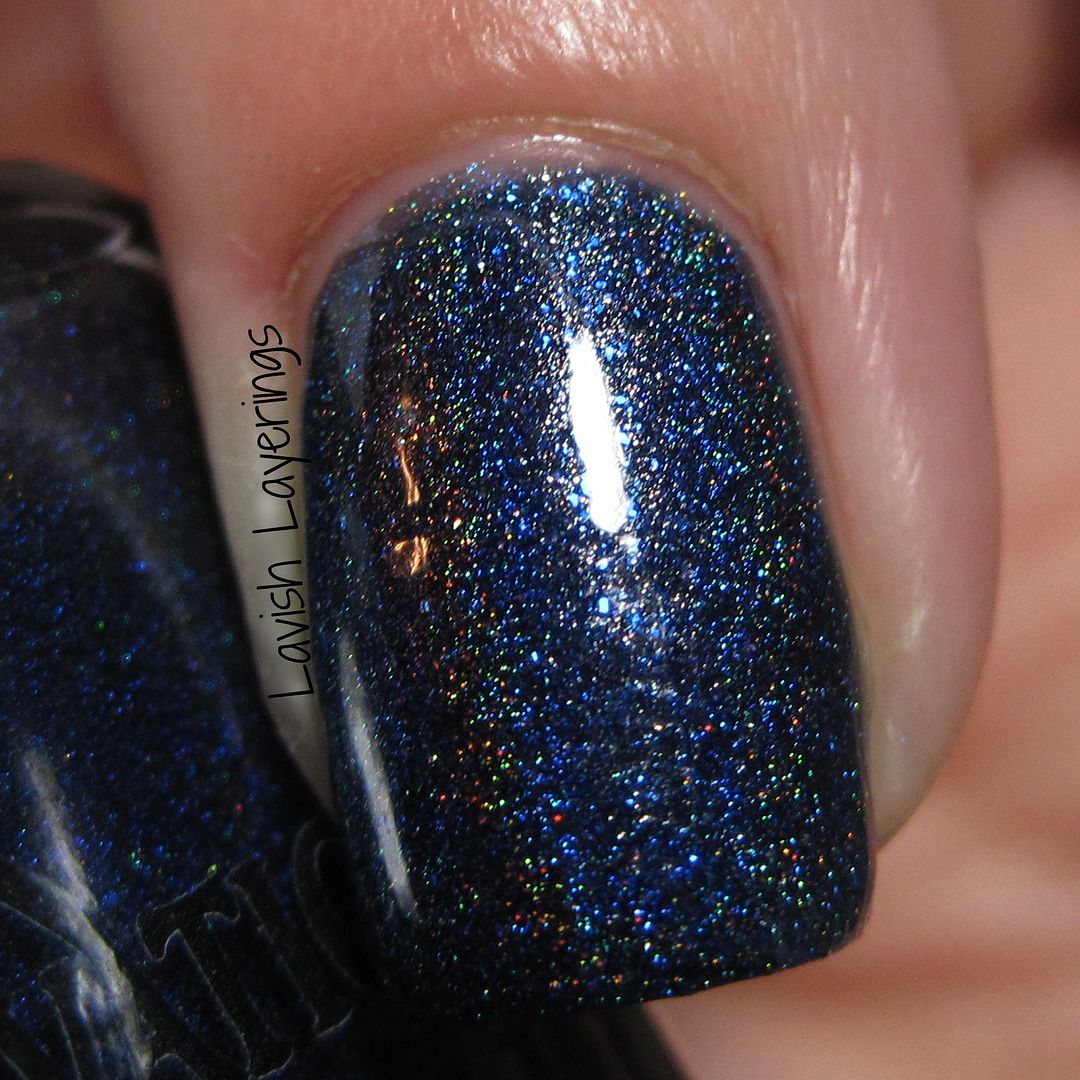 Definition: The Vivid Unknown
(inspired by Phillip Glass & Yo-Yo Ma - Definition and The Vivid Unknown) is a teal tinged navy blue creme. Formula on this polish was totally dreamy and it applied in 2 thin coats (probably a 1 coater if you were careful). When I put this polish on, I had not read Lulu's description of it, but my first thought is that it had a slight teal edge to it and that is exactly as she described it. It is a terrific staple polish that is great on its own or could be used to layer a myriad of shimmers, flakes, and glitters over (important thing to point out for a layering hoor).
Storm in the Morning Light
(inspired by Portishead - Roads) is a light greyish blue creme. As per usual, the formula on this creme was creamy and wonderful and it was perfectly opaque in 2 coats. This color is very soothing and would be a wonderful palette cleanser because it is neutral being a nude. The shade is so beautiful too and unique in my collection.
Walk a Little Farther
(inspired by Modest Mouse - The World at Large) is a light blue creme with tons of fine bright blue shimmer throughout. Lulu said this one is very similar to an older Elevation, Alphubel (which I do not own so I can't do a comparison). Formula on this one was on the thick side so care was required when applying it. It didn't cause me too much problem since I found it leveled pretty well and I used thin coats, but Lulu says she is going to reformulate it slightly before its release to make application easier. I used 3 coats for this mani. The shimmer in this polish is gorgeous and almost ethereal looking with the blue base. Another lovely and unique polish in my collection.
Yeti Hugs: Feel So Close
(inspired by Calvin Harris - Feel So Close) is the gorgeous Yeti polish being released with this collection and it is a slightly grey tinged white crelly with blue, pink, and violet flake shimmer. Formula was good on this polish and it had complete coverage in 3 thin coats. The shimmer was really hard to capture, but it adds wonderful depth and interest. The bit of grey in the base prevented it from being a stark white (which can be harsh) and the shimmer makes it extra special. White polishes are my favorite palette cleansers so I was very excited about this polish and it did not disappoint. Be sure to snag this one during the month of January because Yeti polishes are limited edition and will only be restocked during the month they are released)
Elevation Polish
is available from creator Lulu's
Big Cartel Store
. She has a lot of info on restock dates and availability on the Big Cartel site as well as on her
blog
. Her shop is restocked on the 7th and 22nd each month unless otherwise noted. Elevation Polish is also stocked at
Llarowe
.