*Press Samples*
Hi everyone! Today I have two
Femme Fatale Cosmetics
exclusives from
Hare Polish
to share with you. These two squishy and sparkly Hare creations are even Aussie themed, so they are extra special! They are currently sold out on
Femme Fatale's website
, but keep watch for restock notifications from them because you don't want to miss out on these pretties!
Mermaid Sighting in the GBR
is a tealy-blue jelly filled with pale pink dots and hexes, gold iridescent hexes and flakies, and lots of blue/purple shimmer. There is a ton of glitter in this one, so I took care to wipe one side of my brush with each coat so I would not overload my brush with glitter. I used 3 thin coats for full opacity and 2 coats of a thicker topcoat to smooth out the glitter and give it a glassy smooth surface. I think when Nikole went for a mermaid polish, she really hit it out of the park! Everything about this polish screams "ocean" and it is just gorgeous! The blue/purple shimmer is so glorious in real life and really pushes this polish over the top.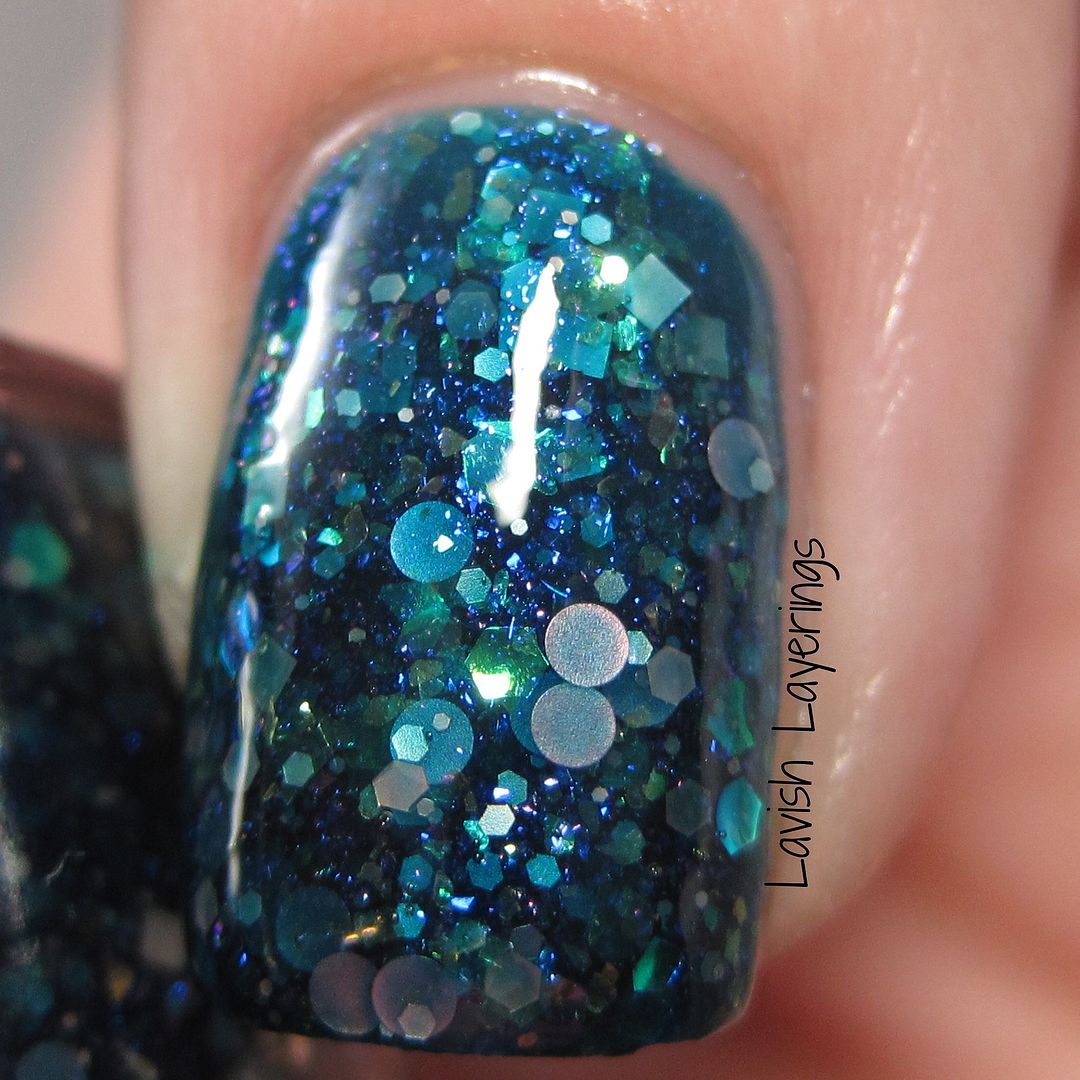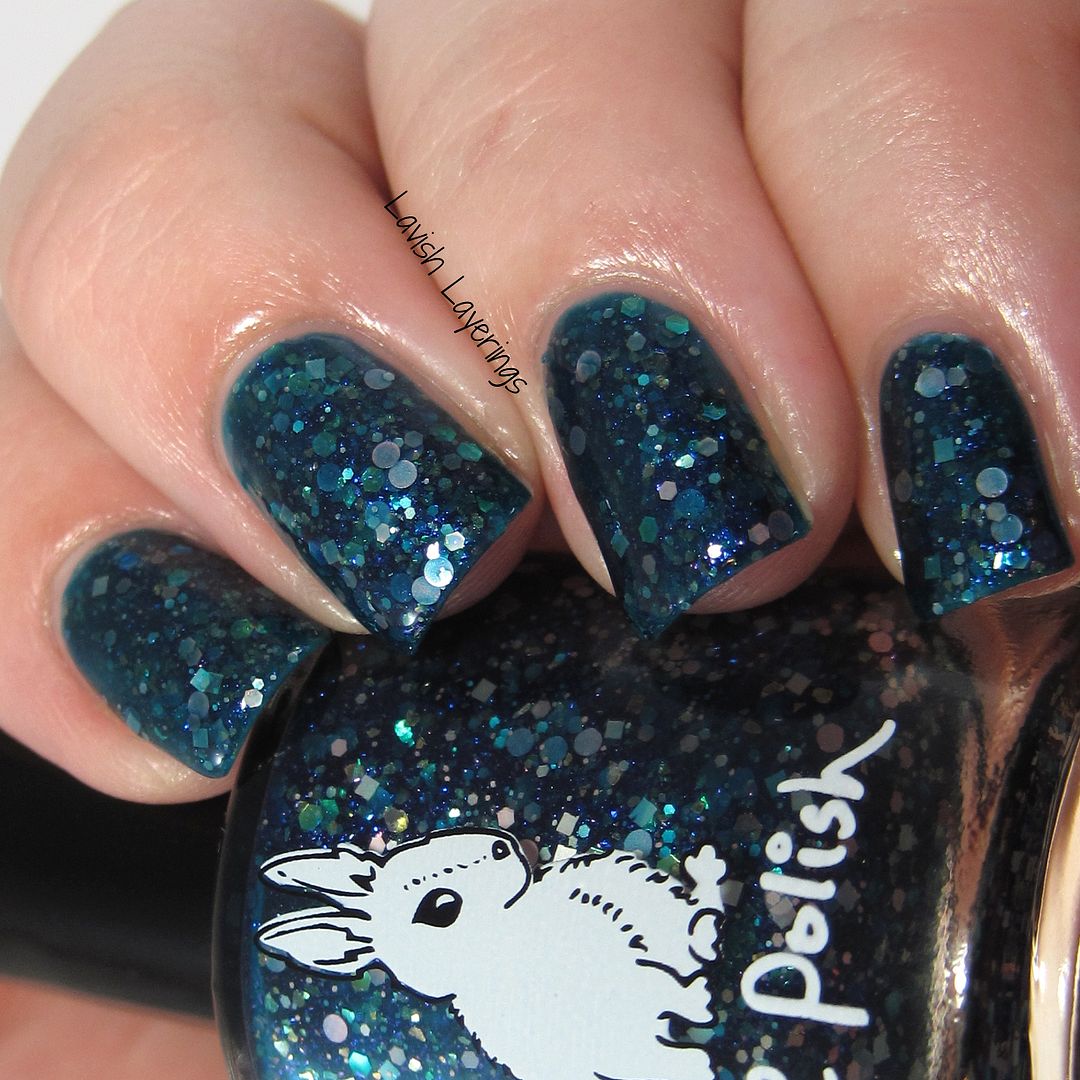 Kracken Vacations on Kangaroo Island
is a neon pinky-purple jelly with small black hexes and squares and iridescent blue/purple glitters and iridescent blue shimmer. This one starts out sheer, but builds up nicely to opacity in 3 coats. Formula flowed easily with good glitter load/distribution. Because they are smaller glitters, this one didn't need a ton of topcoat to smooth it out (I used 2 coats of a thinner topcoat, NYC Grand Central Station, but I bet you could get away with one coat of a thicker topcoat). This polish is all sorts of stunning! The blue/violet glitters and shimmers just glimmer and glow in the base and the black adds a nice contrast. I agree with Valesha from
Peachy Polish
, this is definitely among my favorite Hare Polishes now!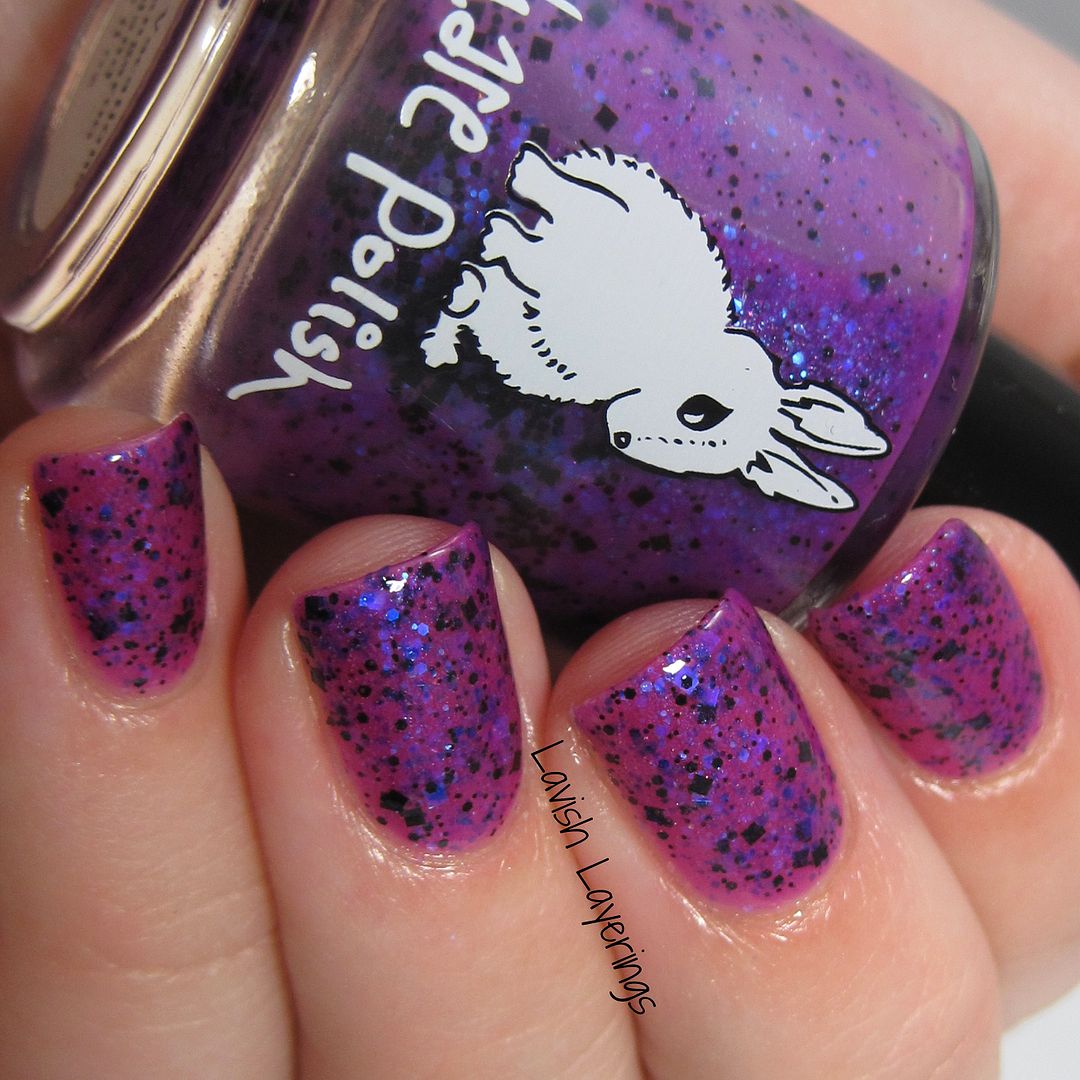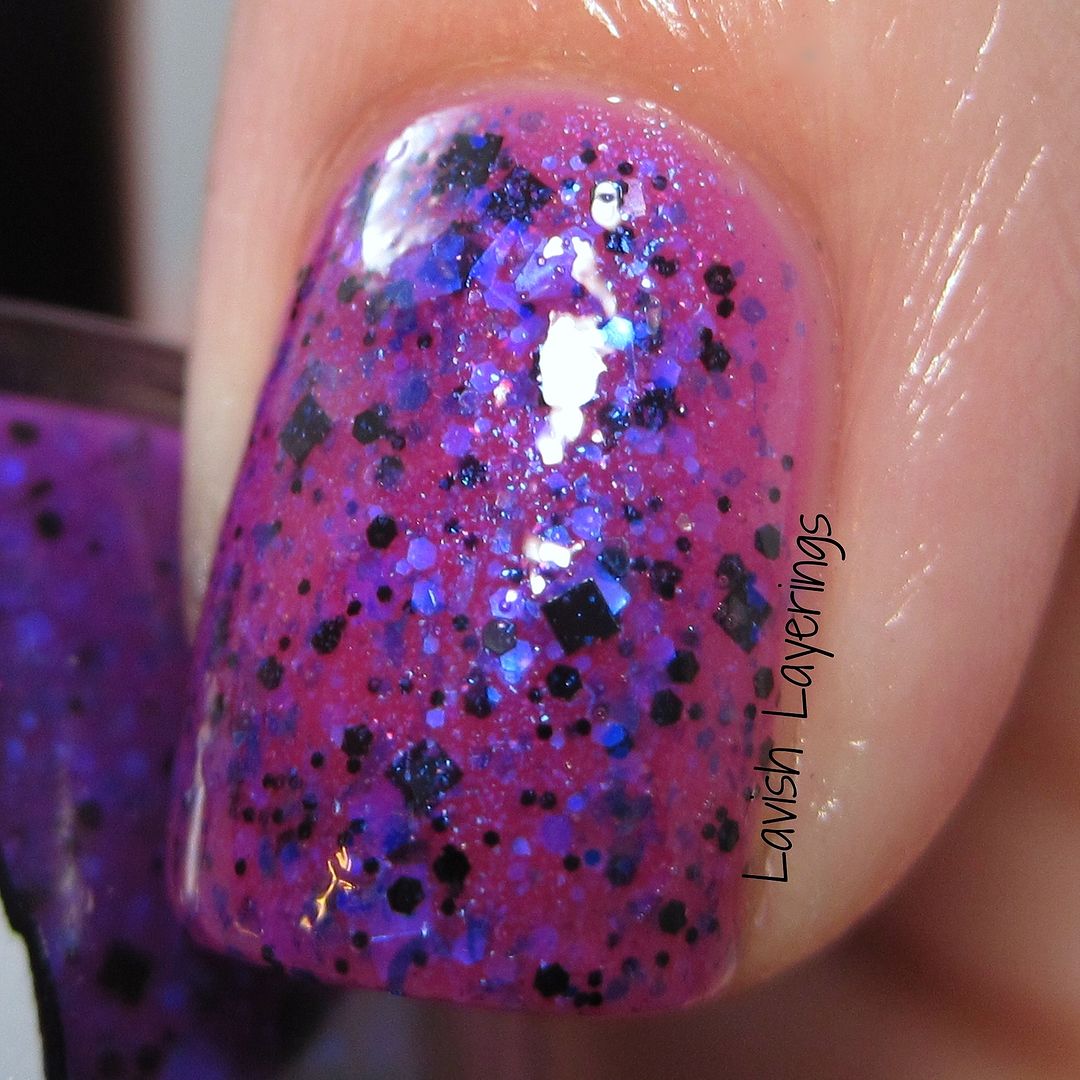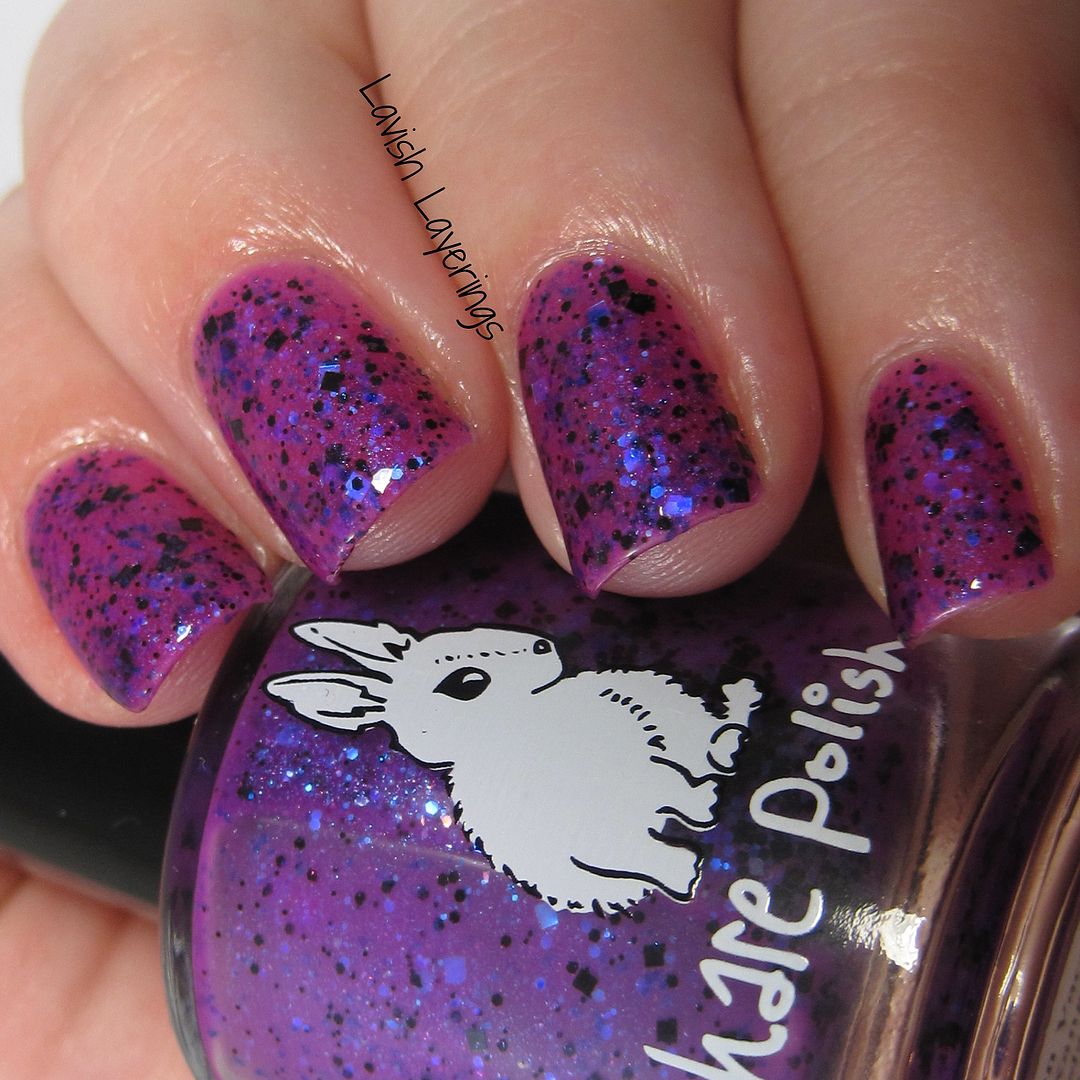 These two polishes are exclusives for
Femme Fatale Cosmetics
, but other
products from Hare Polish are available from Nikole's
Etsy Shop
as well as from several other e-tailers around the world (complete list found here)
. Be sure to check out Hare's website, Instagram, and Facebook for updates on new collections and restock info.