*Press Sample*
Hi everyone! Today I have a simple mani for you featuring some pretty
Born Pretty Store
feather decals that I ordered ages ago. I was fondly remembering a
feather mani
that I did last summer using some different bright feather decals from Born Pretty Store, so I decided to pull these out to liven up my day. Water decals are my kind of nail art because they are super simple to use and they look like you put a lot of effort into your mani. I keep a stash of them around for when I don't want to stamp, but want to spice up a nice creme mani.
For my mani, I started off with a base of
FingerPaints Yellow Out Man
(from the new
Tie Dye Revolution Collection
, which I will be reviewing later this week). I used the
Fancy Colorful Feather water decals (item 1739)
. After my base was fully dry, I arranged the individual decals on my nails. I found that these adhered to the nail well and I didn't have any issues with them being too stiff or folding during application. The one strange thing I encountered was that the tips of the feathers on a few of my nails seemed to have a little bits of pigment or something that sort of disintegrated off onto the nail during application, but it brushed off the nail easily while it was still wet. It didn't affect the way that the decals looked either so it wasn't problematic, just worth mentioning. I really loved how bright and colorful this mani was. I was having a bit of a down week, so these cheered me right up!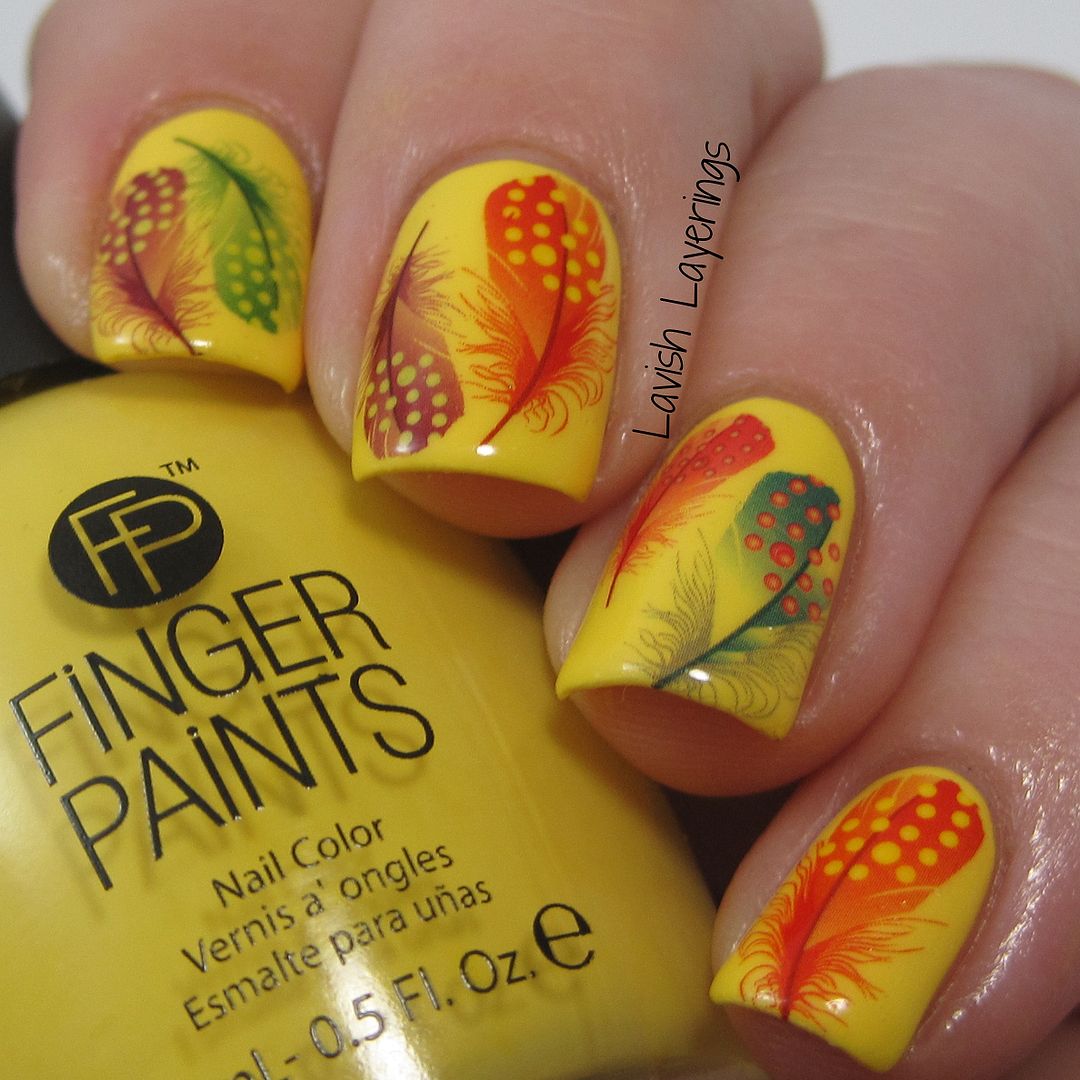 Be sure to check out
Born Pretty Store
for all of your nail art supply needs (you can use my coupon code JCX31 for 10% off your order). I've always had great experiences with ordering from them at very reasonable prices. Also, you can't beat free worldwide shipping! You can also follow Born Pretty Store on
Facebook
and
Instagram
. Thanks for looking everyone!