Hi everyone! I'm not sure how it happened exactly, but I guess I've turned January into "Holo Month" here on Lavish Layerings. I guess I'm just in a holo mood lately. Today I have a beauty from
Enchanted Polish
to show you. My pal Linda gave me
Green Goblin
last year in a secret swap because I had been lemming it for ages. Unfortunately, it has been long discontinued so it's really hard to find now (and if you do...it's pretty pricey).
Enchanted Polish Green Goblin
is a bright, grass green holo. The color is even brighter in certain lights than it appears in my photos. The holographic effect is pretty middle of the road (not the strongest linear, but not the weakest). The formula is smooth and pretty opaque with this one and has a more metallic finish vs a jelly finish. No special base or topcoats are needed. Isn't it a beauty?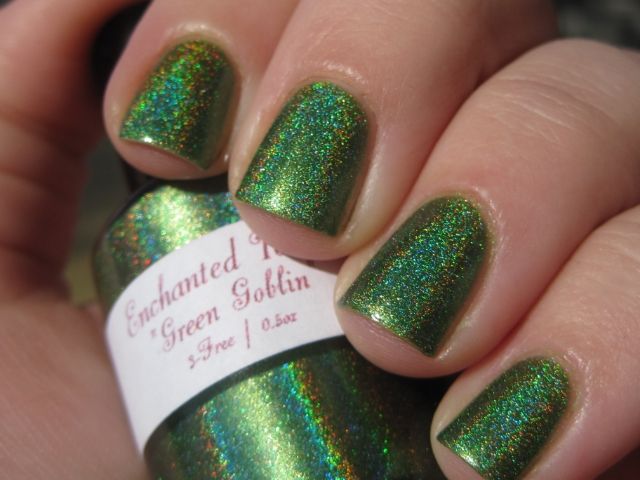 Enchanted Polish is available from their
Big Cartel shop
as well as from Nail Polish Canada (Canada), Mei Mei's Signatures (Singapore), and Femme Fatale Cosmetics (Australia)
. As I said, Green Goblin is discontinued, but creator Chelsea makes lots of gorgeous holos. These polishes sell out really quickly, so be sure to check out restock times so you can snatch them up when you can! Thanks for looking everyone!