I know the textured trend is in full force and I'm not a huge fan. Some I have liked ok, but for the most part I prefer my manis glossy and smooth. BUT (huuuuuge but) some of them are absolutely magical with topcoat added. Now the ones that pretty much just have colored or silver glitter in them are sort of meh with topcoat, like the Zoya Pixies, for example. I do like those in their gritty form for the most part. But the ones that have some super special magic hiding under the surface, topcoat just lets all of the magic come out to play.
My original love of topcoating these started with OPI Get Your Number which I posted back in January
here
. I have also found that some of them aren't very opaque once topcoated, so layering them over a coordinating color as I did in the case of Get Your Number is helpful. I used this same philosophy when wearing another polish from the Mariah Carey Liquid Sands, The Impossible. I used a base of OPI Too Hot Pink to Hold Em and then 2 coats of The Impossible and added topcoat. I have a mini bottle of this, so there are no stars in mine. This was magical in person. It has tiny holographic glitters in the base that I did not capture well in my photos, but they really bring this polish to life.
And yes 3 of my nails decided to break last week, so back to nubby nubs :/ Be sure to click on my pictures so you can see the detail of the shimmery base better. It is to die for!!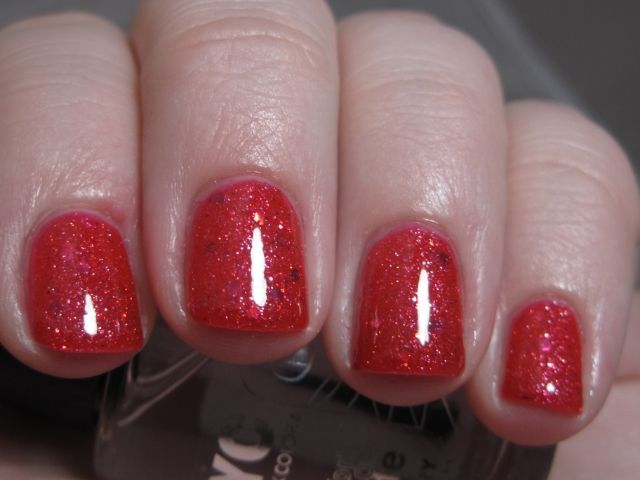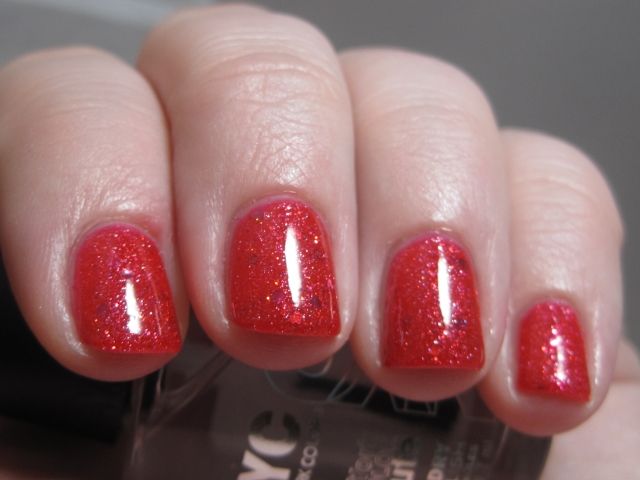 Next, after seeing Scrangie's
swatches
of OPI Jinx from the Bond Girl's Liquid Sand collection topcoated, I became obsessed with acquiring it. Then, I happened to stop in at Rite Aid and saw a display of the Julie G Sugared Gumdrops collection and grabbed Sugar Rush immediately. It looks quite similar to Jinx I think (perhaps more orange leaning) but it has the amazing golden sparkle in the base like Jinx. HOLY CRAP!! I can't stop staring at my nails with this on. There were some more in that collection with shimmer in the base and I will be going back to get them ASAP. This is 2 coats of Julie G Sugar Rush with topcoat.
(Here are waaaaaay too many pictures) ---> click the pictures for more detail!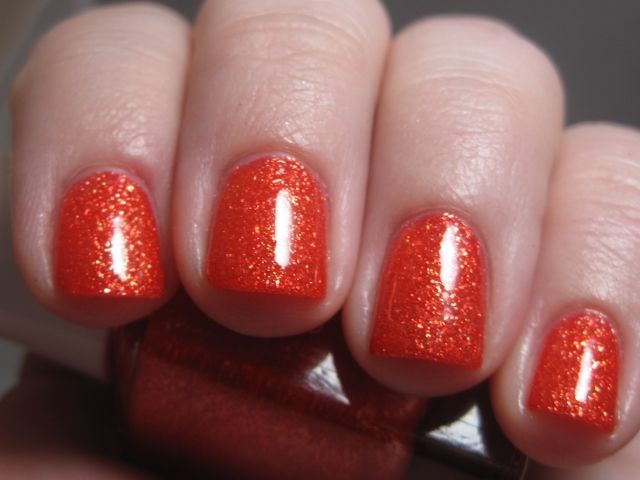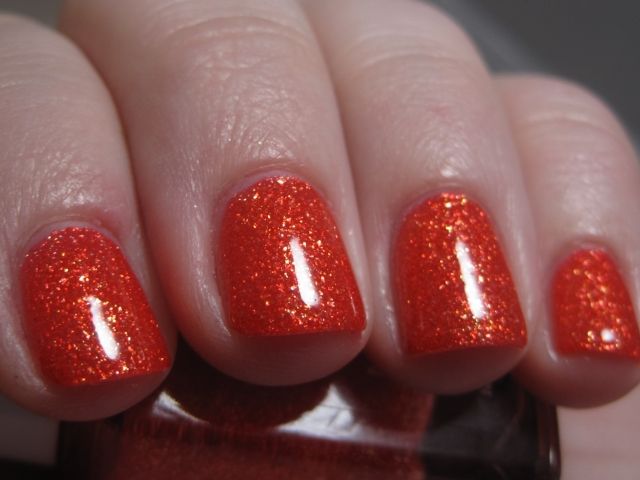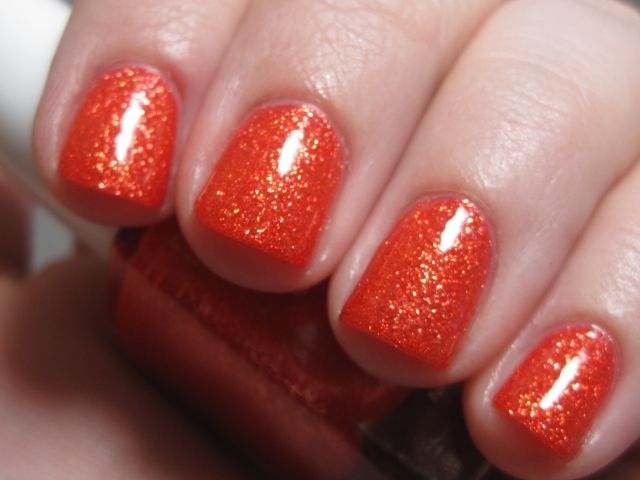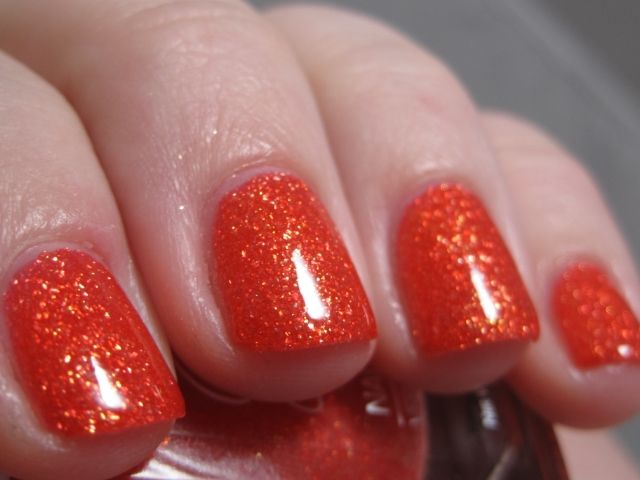 And I will have to admit...I actually love the way this looks without topcoat too. Of the textured polishes I have tried so far, it is by far my favorite look without topcoat.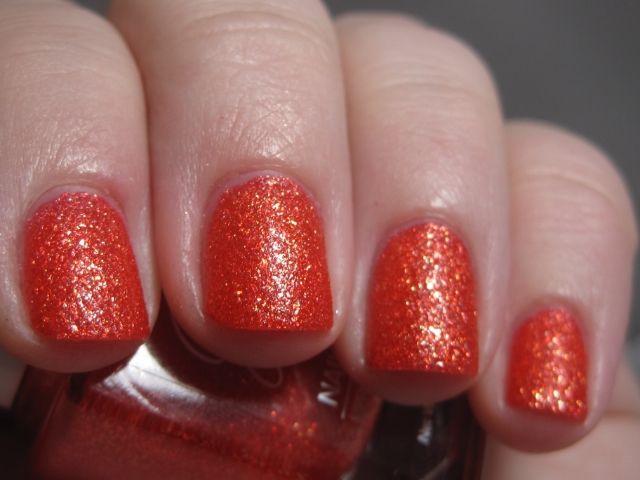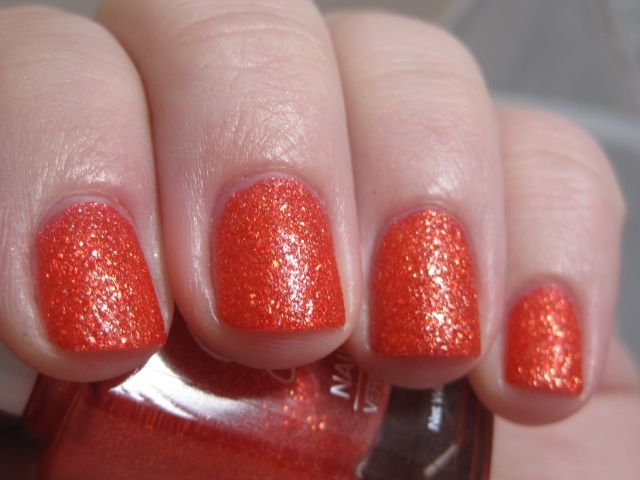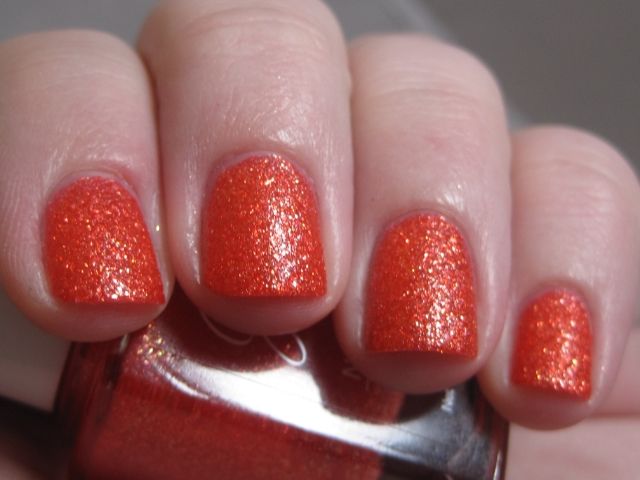 So what are your thoughts on the textured polish trend? I've found that most people either love 'em or hate 'em. For me, it really has depended on the individual polish whether I have cared for it or not. And the ones I have liked I usually like with topcoat...and then they've been elevated to some of my favorite polishes EVER! Thanks for looking everyone!