Hi everyone! Today I have some swatches of a few lovely
Femme Fatale Cosmetics
polishes for you. I remember when this brand first launched and they were only available in Australia. I was so thankful to have Aussie friends that could get them to me in the US because I had some major lemmings. Creator Sophie makes lovely (and sometimes unexpected) glittery mixes and she is churning out new polishes all the time (there are even some new holos that have recently been added to the line.) Now they are available at shops around the world, so you shouldn't have any problems being able to get your hands on the ones you want!
Snowy Bramble
(2 dabbed coats over Illamasqua Nudge). When I initially saw this polish I didn't know how I felt about the abundance of bar glitter, but once I put it on I decided that it was adorable. It makes me think of being a kid and my grandmother had this huge fake white Christmas tree that she would hang all sorts of colorful ornaments on. The iridescent glitter in the base really adds a lot of interest to this polish as well. I felt like the smaller dots came out of the bottle and spread out easily, but I did end up dipping my brush in a placing a few of the stars and larger dots where I wanted them. You do have to mind the bar glitters though, as they tend to go crazy sticking over the edge of the nail, but that can easily be remedied by running your finger along the edge of your nail right after polishing (when it is still very wet) and pushing them back into place.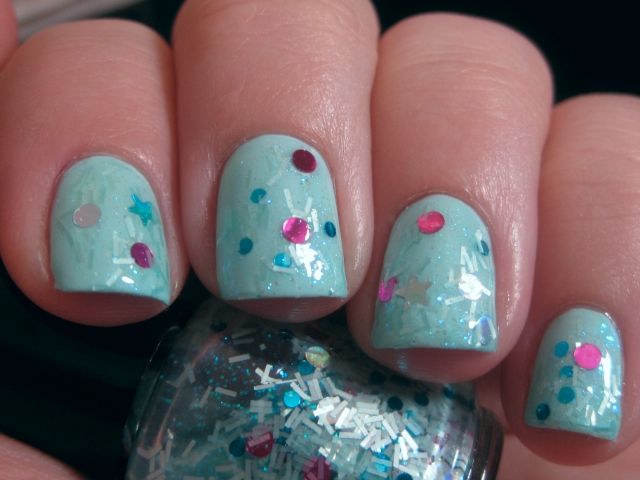 Hydraxia
(2 coats over American Apparel Malibu Green). I remember this was one of the first polishes that drew me to Femme Fatale. I have worn it in the past, but my pictures turned out horrible (I made a really poor base choice for photos...and my lighting was terrible). This has an assortment of blue and turquoise glitters (some holographic) along with tiny yellow glitters. The yellow glitters are my favorite part! They really add a lot of interest. It does have a green jelly base, but I feel like it looks best layered over a base color. The glitter is gorgeous, but definitely requires a thicker topcoat to help smooth it out (I like to use Essence Gel Look Topcoat topped with my favorite quick dry topcoat, NYC Grand Central Station).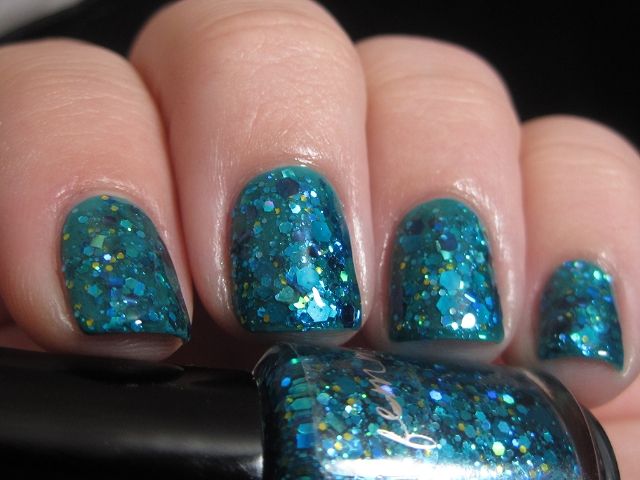 The Other Side of the World (2 coats over Essence Break Through). This polish has a sheer base that is filled with purple shimmer. There are purple, pink, and red glitters throughout the polish. I think this polish is definitely suited best for layering, and choosing a darker base color really makes the shimmer pop. I typically don't like glitter polishes with shimmery bases, but I found in this one that the shimmer didn't overwhelm the glitter and was quite nice.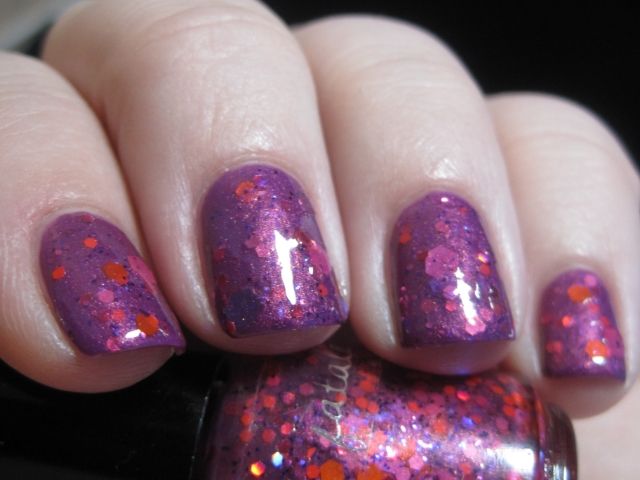 Burning Blossom (2 coats over American Apparel Palm Springs). This is a peachy orange jelly with some neon orange and pink glitters as well as burgundy glitters scattered throughout. The formula on this one was excellent and flowed smoothly over the nail. I was concerned that I would hate the color on my skintone, but I actually ended up liking it. I think it is a fun, summery looking polish.
*Products provided for my honest review*