Hi everyone! Something crazy has happened...I have found textured polishes that I LOVE without topcoat. I have avoided the textured "creme" polishes since they were released because I was sure I would hate them. Even said some not-so-nice things about them. I recently stumbled upon some released from LA. Girl, the Sand Blast collection, and I decided to give them a try because I loved the colors (and hey...they were cheap!). I picked up a purple, blue, green, and a gold glitter that reminds me a vaguely of OPI Honey Ryder, but I like it much better. For today's mani I decide to play with the blue and green.
Sandy Beach
is a saturated, Royal blue polish "creme" polish with texture. There are no sparkles in it at all.
Green Sand
is a light green texture polish that does contain a few sparkles, but they aren't super obvious and sparkly upon drying like some I have encountered (such as OPI Jinx, Julie G Sugar Rush and Julie G Hot Cinnamon). It is a gorgeous shade of green and because it does have sparkles, I will eventually topcoat it I'm sure. These are both shown at 2 coats. The formula was pretty nice on them, with the green having a slightly thicker formula, but neither gave me any problems. I decided to stamp these with Konad White and a design from the Cheeky XL Musical Nails plate. I love the look of the textured polishes stamped!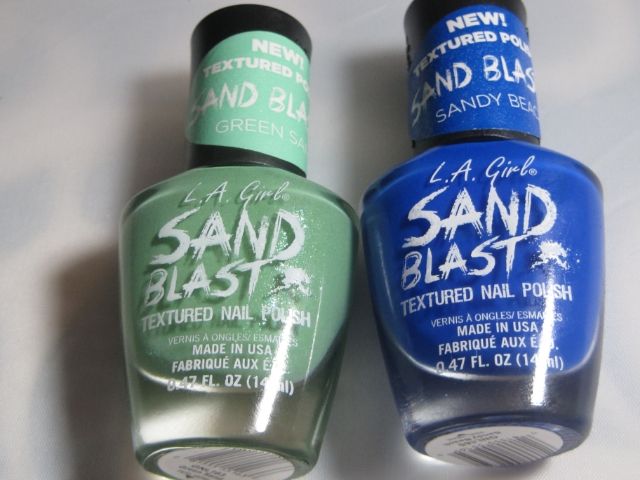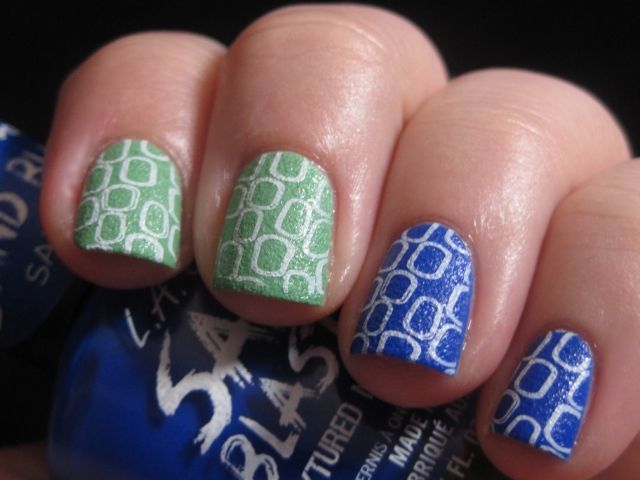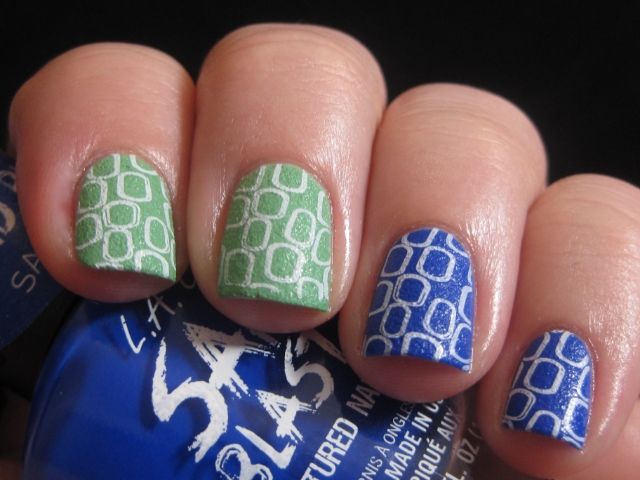 L.A. Girl polishes are available from Rite Aid and online from Cherry Culture. I haven't seen these out at my local Rite Aid yet, so I picked them up from Cherry Culture. What do you guys think about the textured "creme" polishes? I have heard a lot of people aren't too into them, but I would have never in a million years thought I would like them. It might not hurt to at least give them a try either way! With the L.A. Girl, Milani, and Sally Hansen ones around there are some good inexpensive alternatives to try just for fun. As always, thanks for looking!