So, I don't know about you guys, but I think one essential thing to have in your nail polish collection is a holographic topcoat so that you can HOLO ALL THE THINGS! I have yet to purchase any Spectraflair or suspension base for myself, so the ones that I have are all commercially available (although some, unfortunately, are discontinued).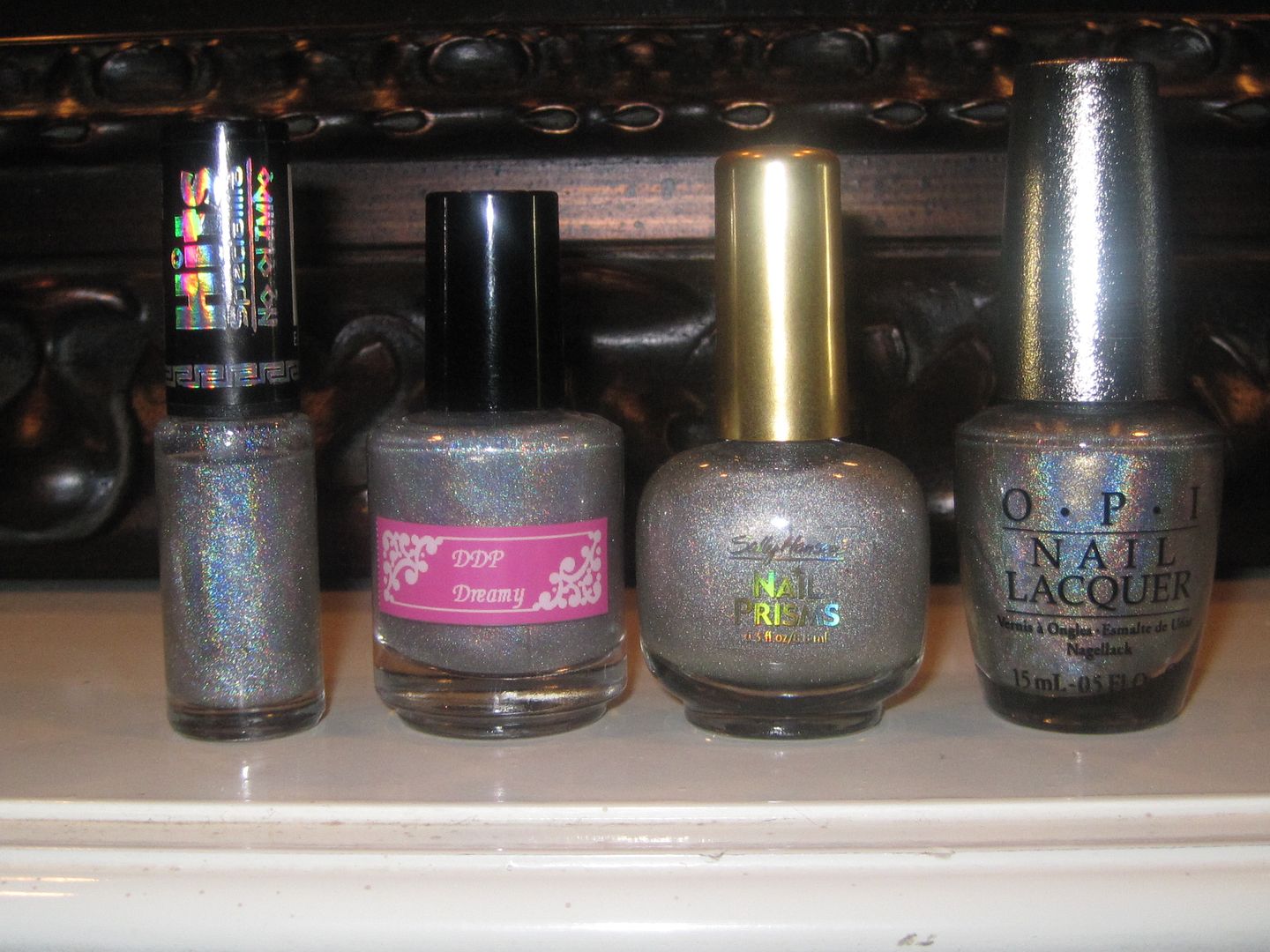 L-R Hits Hefesto, Darling Diva Polish Dreamy, Sally Hansen Nail Prisms Diamond, OPI DS Shimmer
OPI DS Shimmer
is the holy grail of holo top coats in my humble opinion. I was very lucky that a friend recently found a brand new one for me in a salon since it has long been discontinued and is going for some pretty hefty prices on Ebay. It is dense and linear and fantastic!
Hits Hefesto
, luckily, is a very good dupe for DS Shimmer that is available at e-tailers like
Llarowe
that carry the brand (it is Brazilian). The cons of Hefesto are that it comes in a tiny bottle (I have only used it twice and you can see the usage in the bottle already) and the brush is horrific.
My bottle of
Sally Hansen Nail Prisms Diamond
gives a nice scattered holographic look if it is layered over other colors. This one has also long been discontinued, however it has been popping up in combination packs with other Nail Prisms at discount stores like Ross in the US recently. I have also heard that the taller (11 ml) bottles of Diamond have a more linear holograpic effect than the short (8.8 ml) bottles like mine.
Darling Diva Polish Dreamy
is a recent acquisition from Etsy and it is a really cool holograpic topcoat. It is a little different because it not only has the finer linear holographic particles, but also has some larger holographic particles sprinkled in which gives it a fun, sparkly effect. If you want to purchase it, you can visit her shop
here
.
I also have Spectraflair franken that was given to me by a sweet friend as a gift. So if you decide to get your hands on some spectraflair, you can make a really nice one for yourself!
For today's mani, I decided to layer DDP Dreamy over my existing Ozotic 504 mani. I originally got the idea to layer a holo topcoat over multichromatic polishes from the lovely Kristy over at
The Polish Haven
when I had an insatiable lemming for the impossible to acquire Dollish Polish Toxic Avenger. I layered Hits Hefesto over Orly Space Cadet and it looked amazing and totally dupey to Toxic Avenger. So if you have a lemming for some of the Ozotic Mish Mash Polishes or Toxic Avenger, try layering a holo topcoat over some multichromes. You will not be disappointed! Anyway...on to the mani...
1 coat DDP Dreamy over Ozotic 504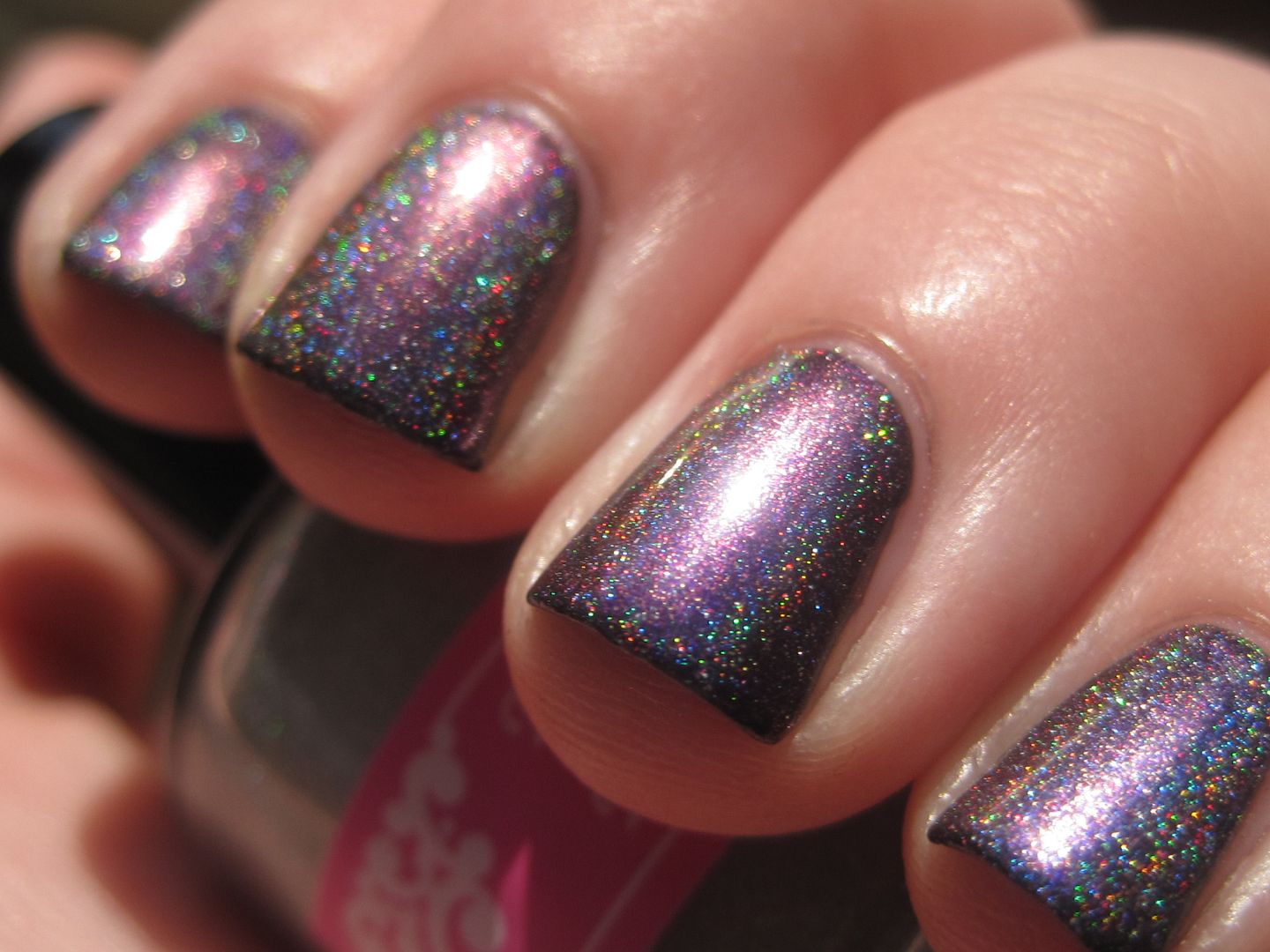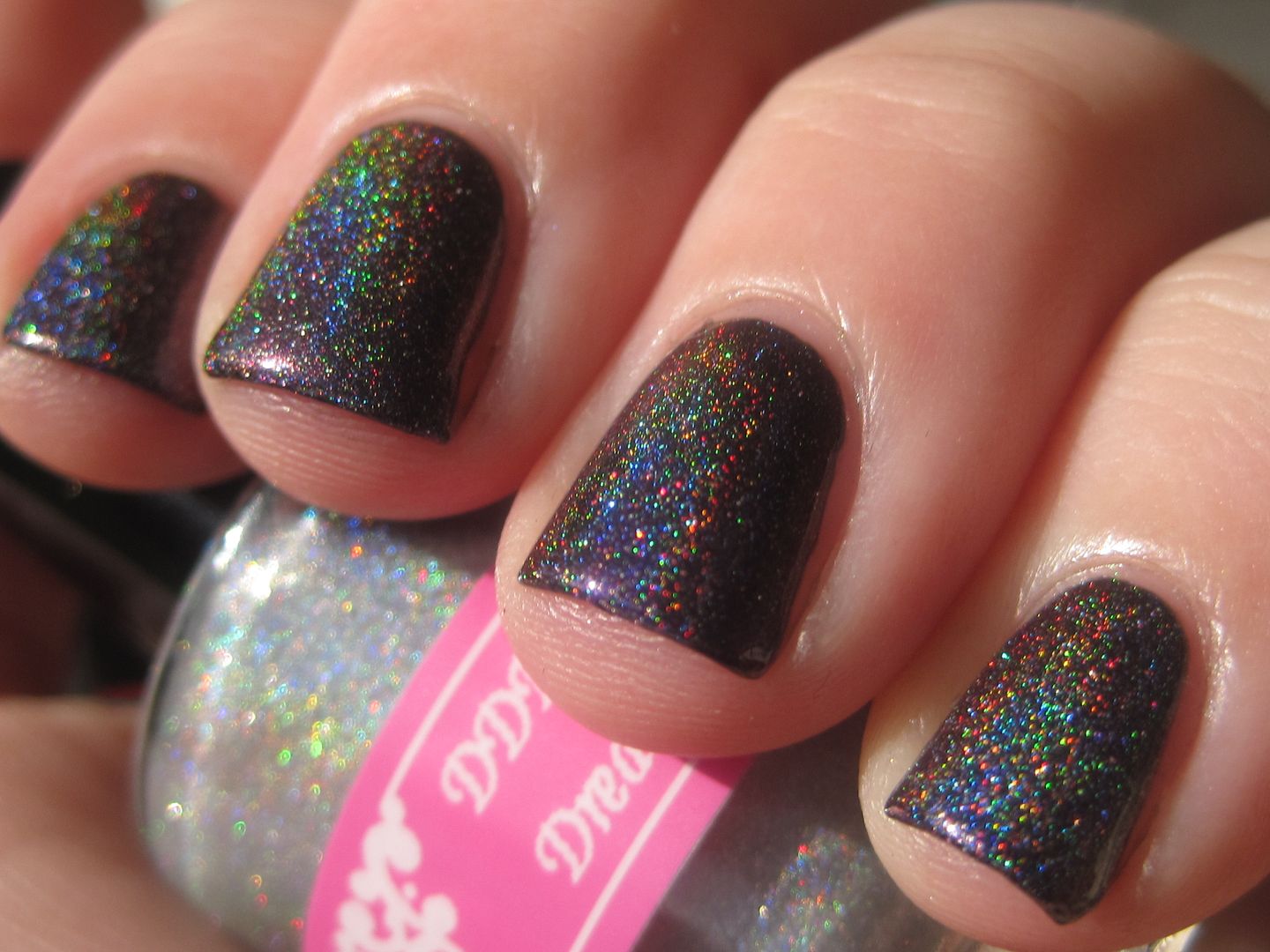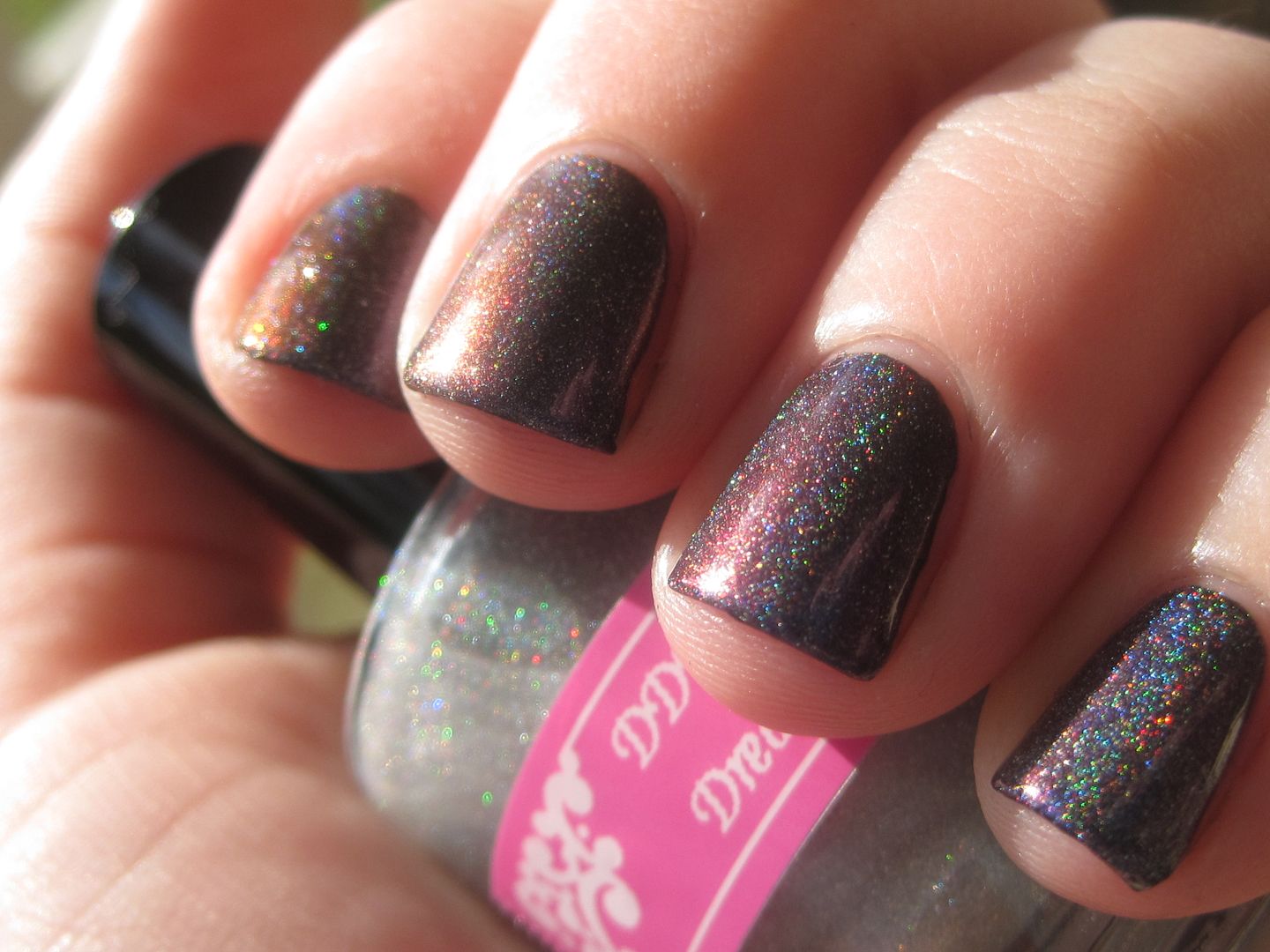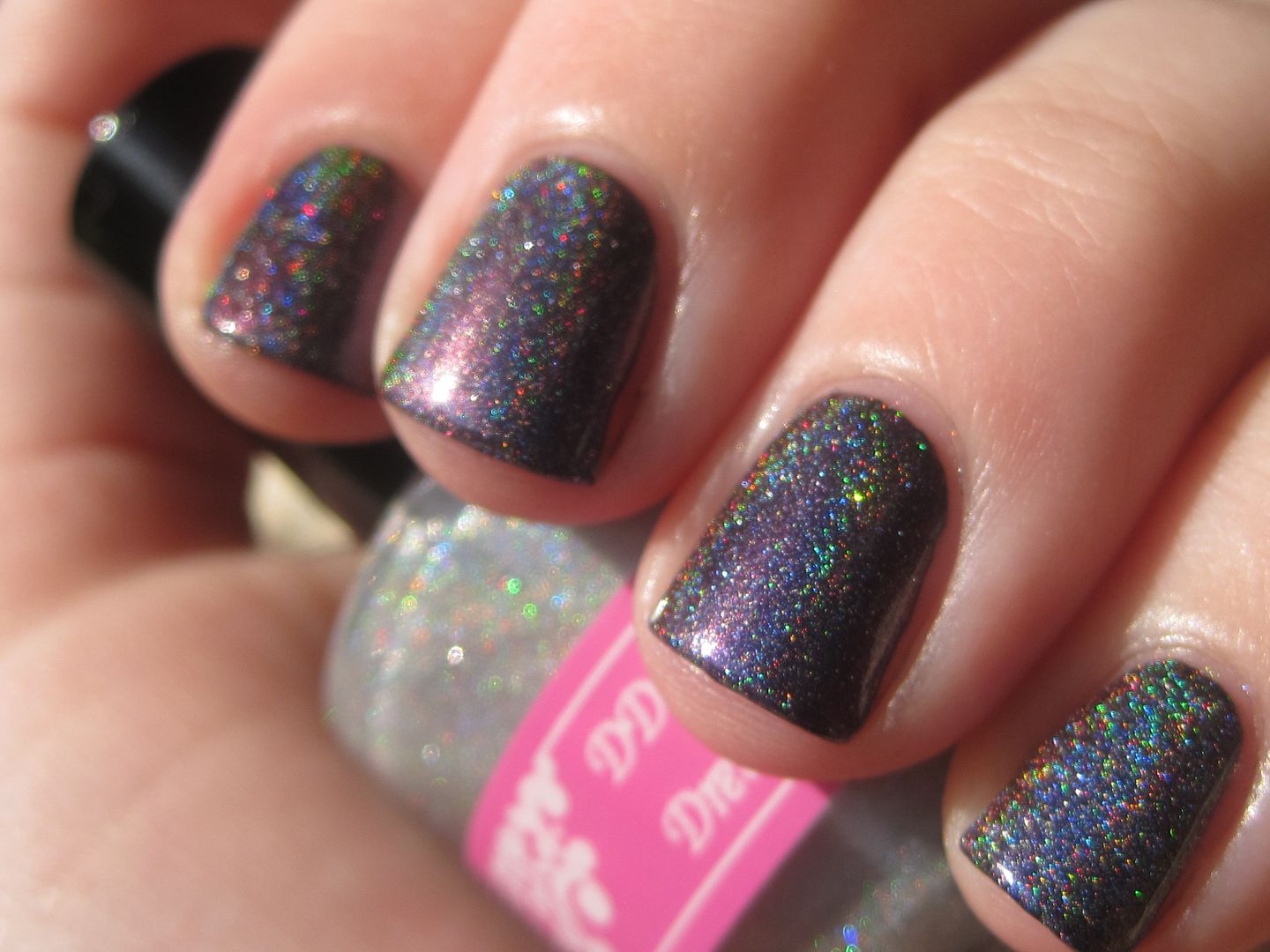 I recently did another mani similar to this using Hits Mari Moon Cutie Pie and Hits Hefesto.

I will spare you guys the really terrible picture of my mani with Space Cadet + Hefesto, but believe me when I say that it rocked!
So...multichromes + holo topcoat? Just do it guys!