*Press Samples*
Hi everyone! Today I have
Great Lakes Lacquer's The Friends Collection, Part 2
to share with you! Once again, Mariah has paid homage to her fabulous friends with these gorgeous polishes! I was cracking up laughing when I saw the descriptions for these polishes because I pretty much knew who almost all of these friends were right off the bat! The Friends Collection, Part 2 will launch in the
Great Lakes Lacquer shop
on September 27th at 3 PM EST, along with the
October LEs that I showed you on Monday
.
The Evil Enabler
is a deep, dark purple jelly filled with orange holo flakes, orange microglitter, and golden orange hexes. Formula was super easy to work with and I got full coverage in 3 thin coats. I didn't find this one to be gritty at all, so 1 coat of my regular topcoat (NYC Grand Central Station) worked perfectly. This is so dark that it tended to look black in my photos, but it's definitely a blackened purple in real life. The orange sparkles through in this polish and gives it incredible. depth. I love purple and orange together, and the combo is perfect anytime, but especially for Halloween.
No one is safe from this lady's swatches. Perfect nails, perfect polishing, and gorgeous nail art hardly covers it. I know I've bought many bottles of polish based on her pictures. Good thing she has awesome taste. I hear she is a mean mixologist and will ear bug you bad but I haven't fallen victim to that yet. You can always trust her to give you the truth while considering your feelings. A true friend with the ability to make you empty your wallet.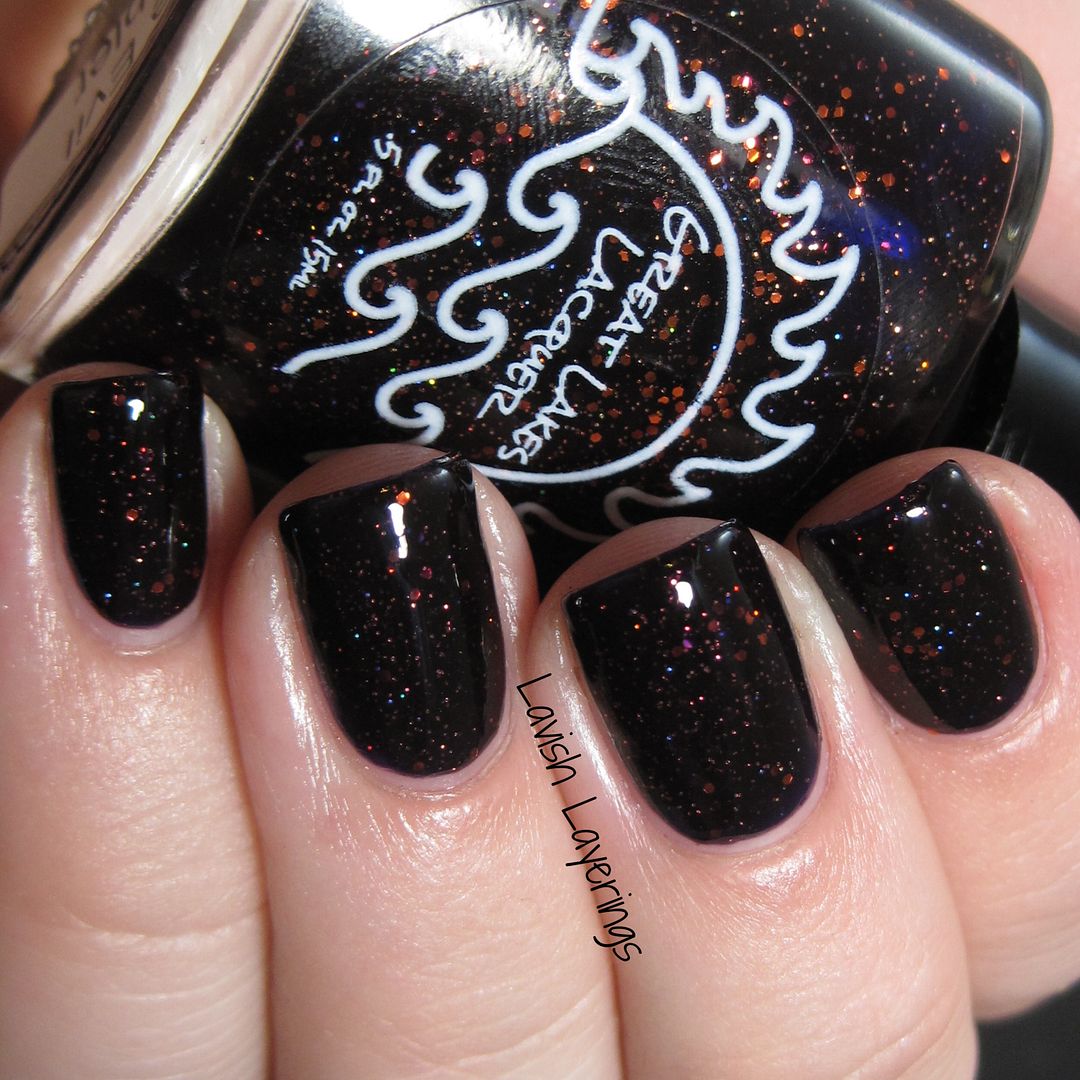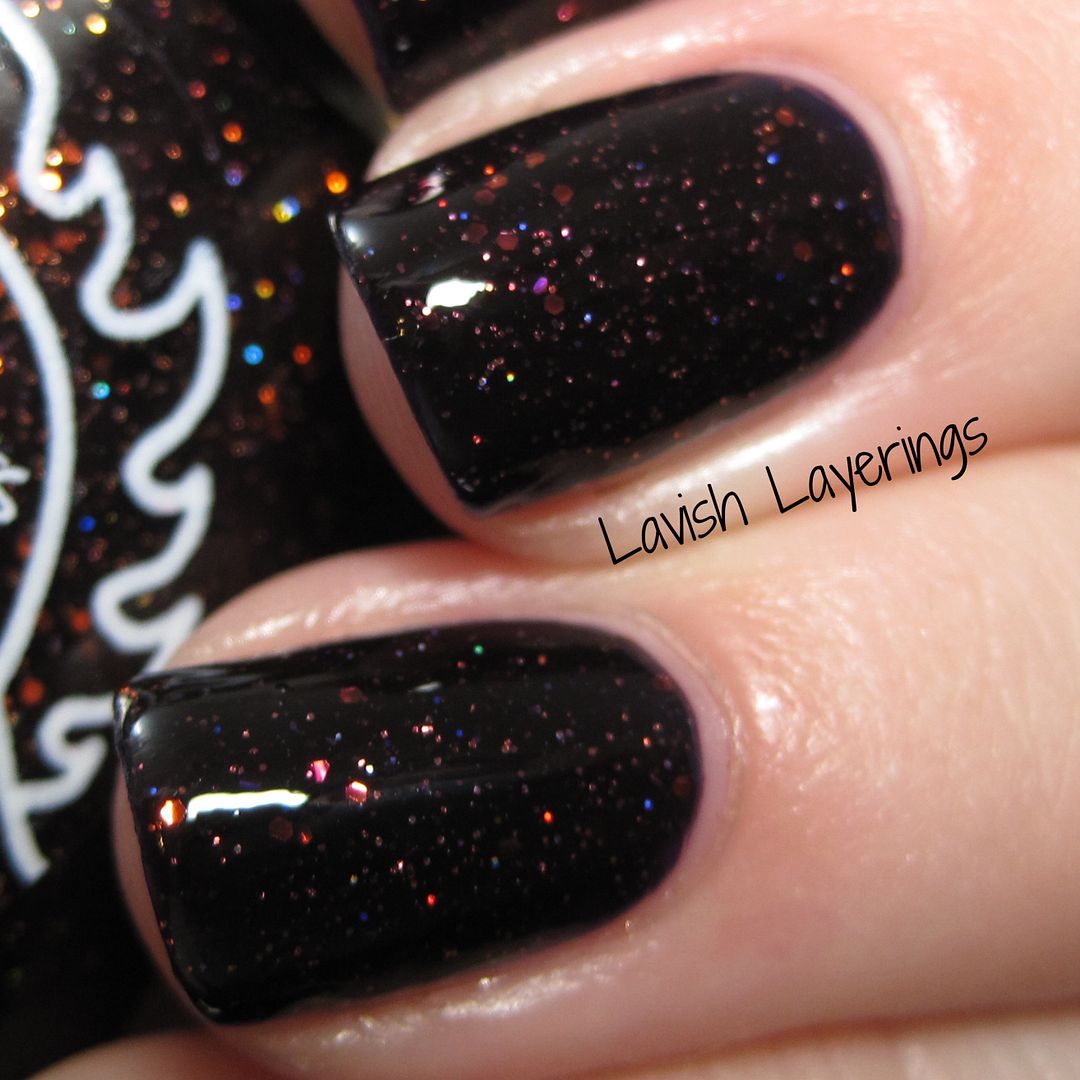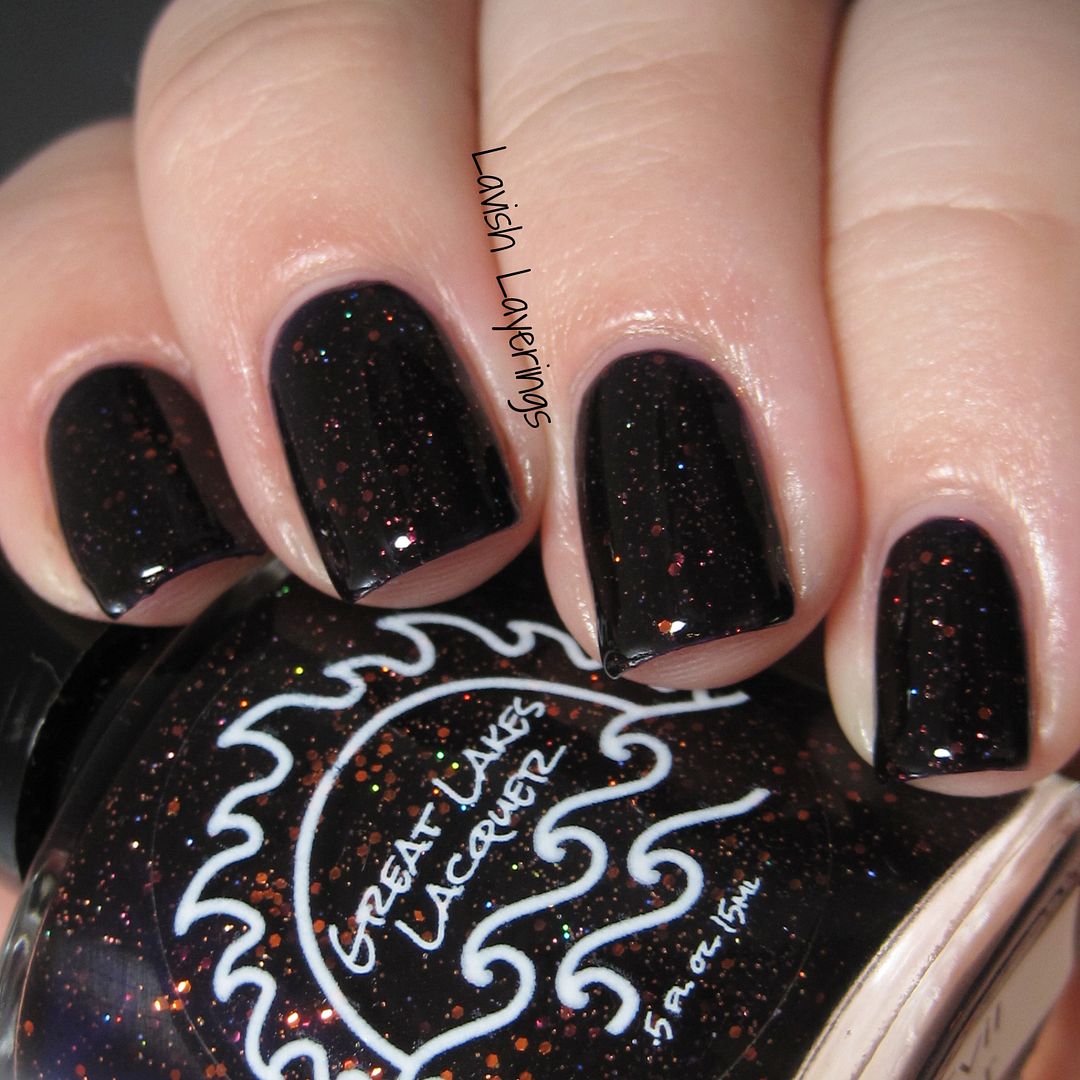 The Animal Advocate
is a warm, reddish purple linear holo filled with gold shimmer and fuchsia ultra chrome flakies. Formula was excellent with full coverage in 2 easy coats. The flakies in this tend to blend with the base in certain lights, but when the light catches them they pop and sparkle. My pictures SUCKED at capturing them, but they are really beautiful. I'm wearing this polish as I type right now, and trust me...if you are a purple lover...you NEED it!
A woman with a heart of gold and the mind of a 12-year-old boy, this lady is quick with the sass and can make a sailor blush. Still, she is a great friend who is always there with a helping hand, especially for those who can't speak for themselves. She does amazing things for animals in need, even fostering for those who would be forgotten otherwise. Her huge heart and voracious vocabulary are a huge inspiration to me.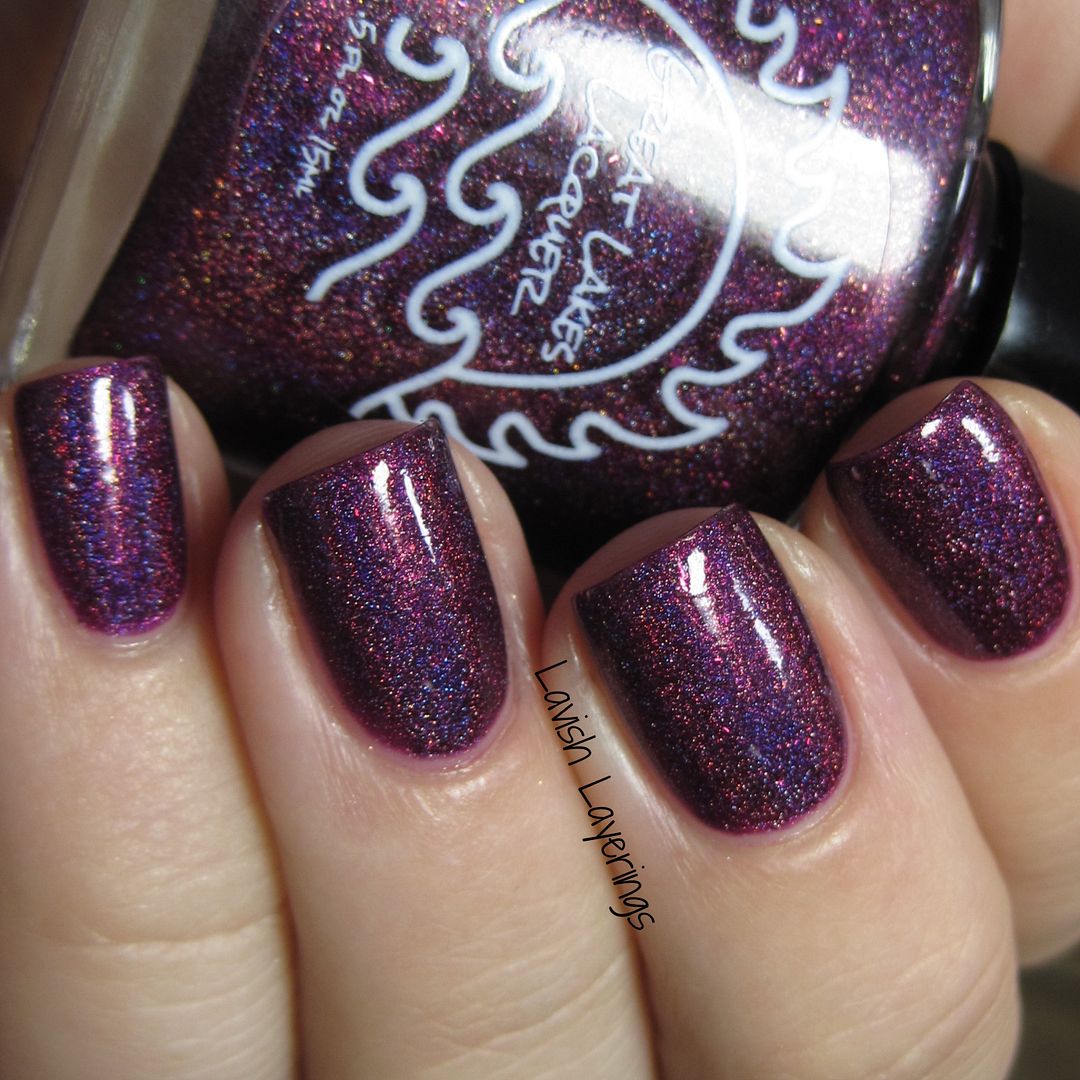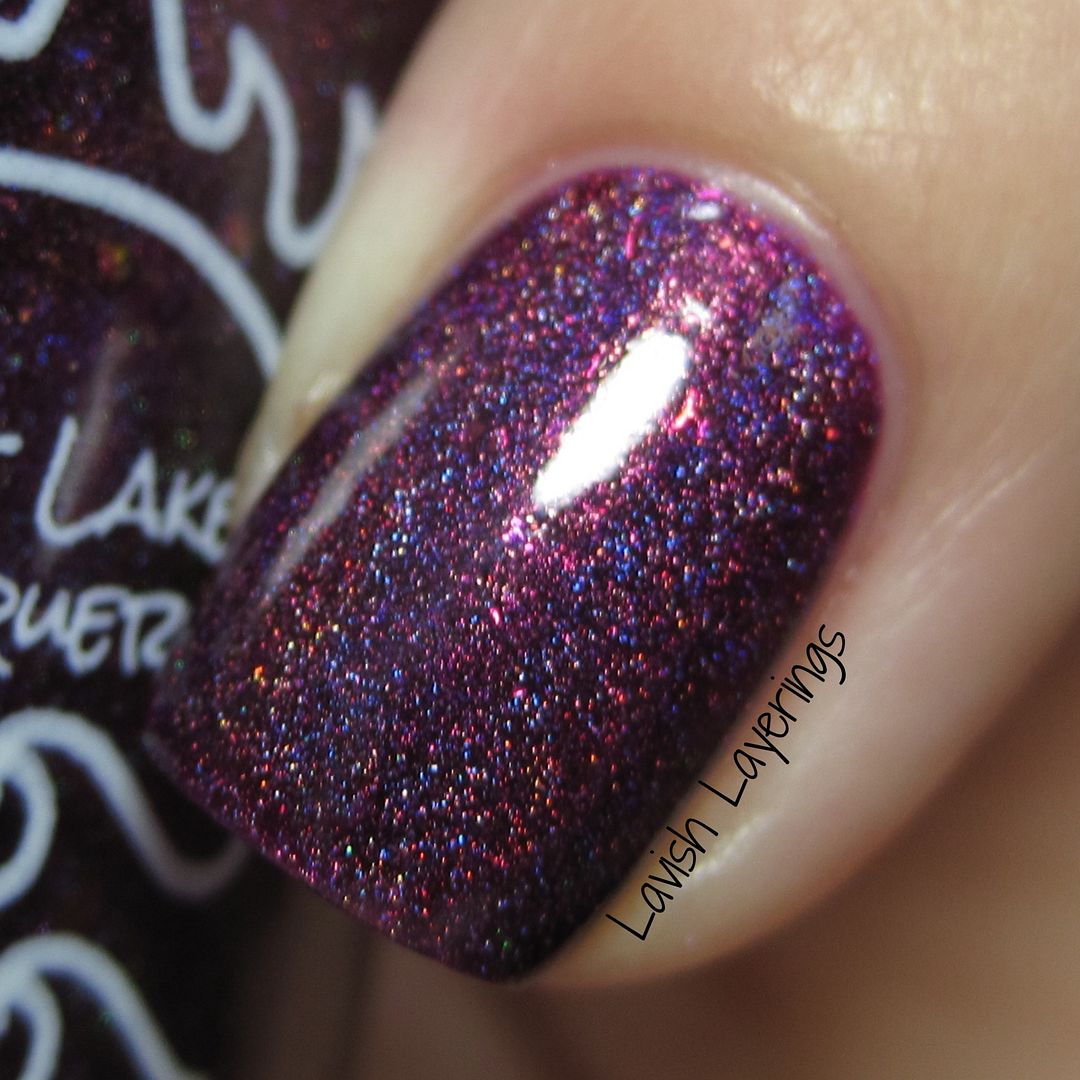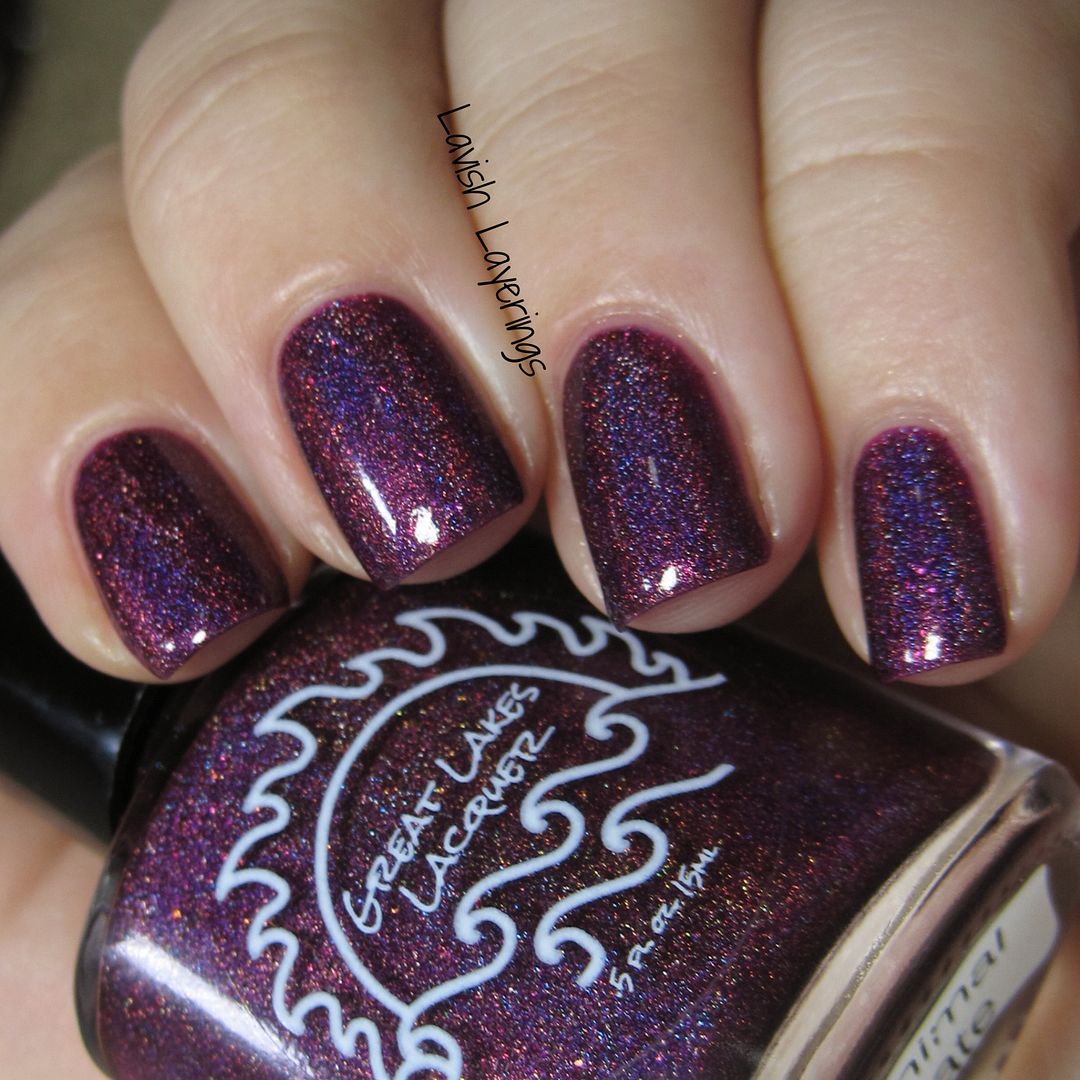 The Enigmatic Soul
is a cobalt blue jelly with purple and copper shimmer as well as tiny green microglitters. Formula was very nice to work with and I got full coverage in 2 coats. In real life, this polish really sparkles from within and the glitters have a nice iridescent look. but for some reason (I'm blaming the crazy ultramarine pigment...which is pretty but a pain to photograph) it looks sort of flat in pictures. It is absolutely breathtaking in person. Also, another caveat to the ultramarine pigment is that is looks slightly brighter in photos that in real life, so just know that this polish is a tad darker in person.
There is more to this one than there seems, at first. At the surface, there is quiet but underneath the depths are limitless and rolling, almost like a river. You would never know that she has all the amazing talents that she does if you don't take the time to get to know her. From making nail polish to architecture to the culture she cherishes, the multifaceted side of this lady never ends.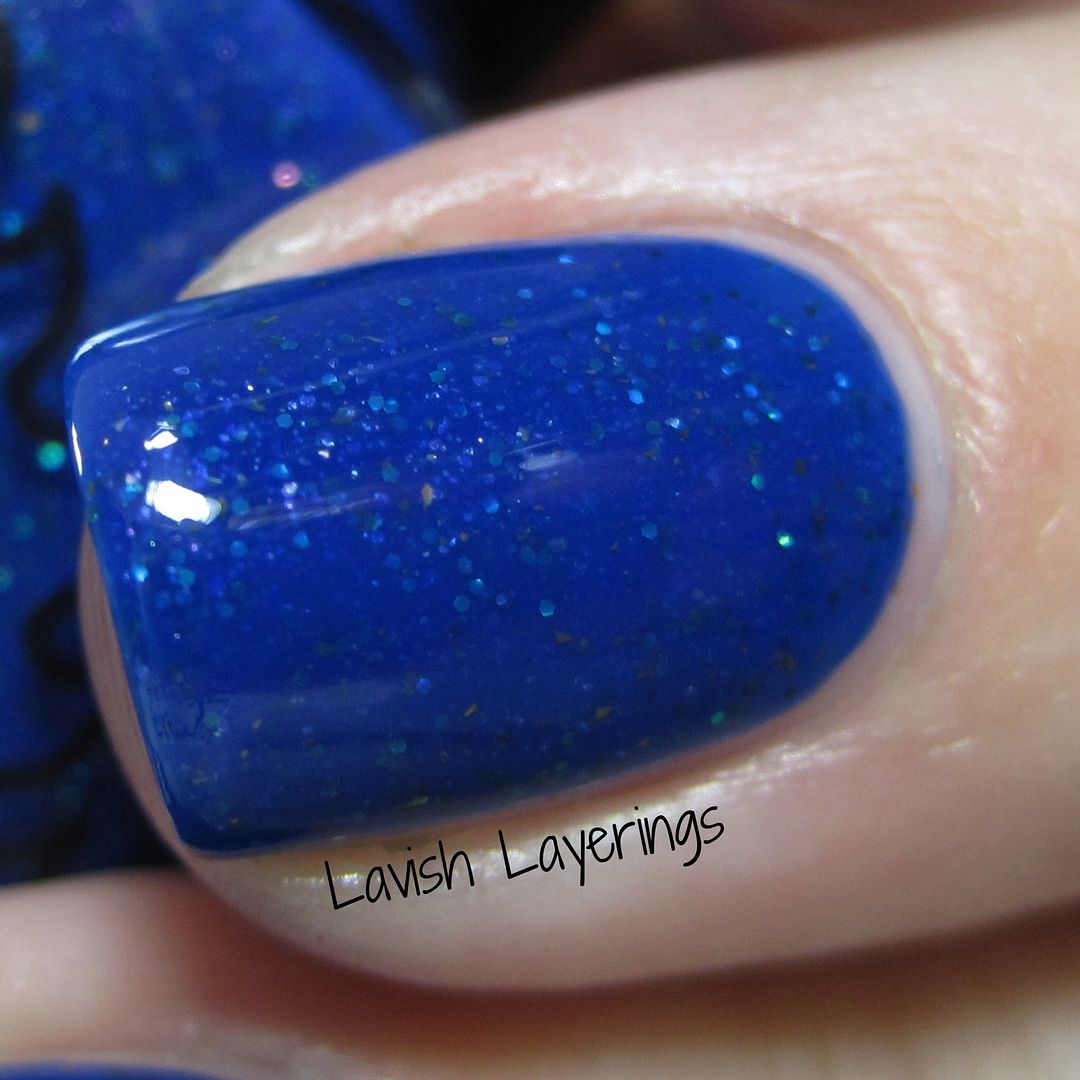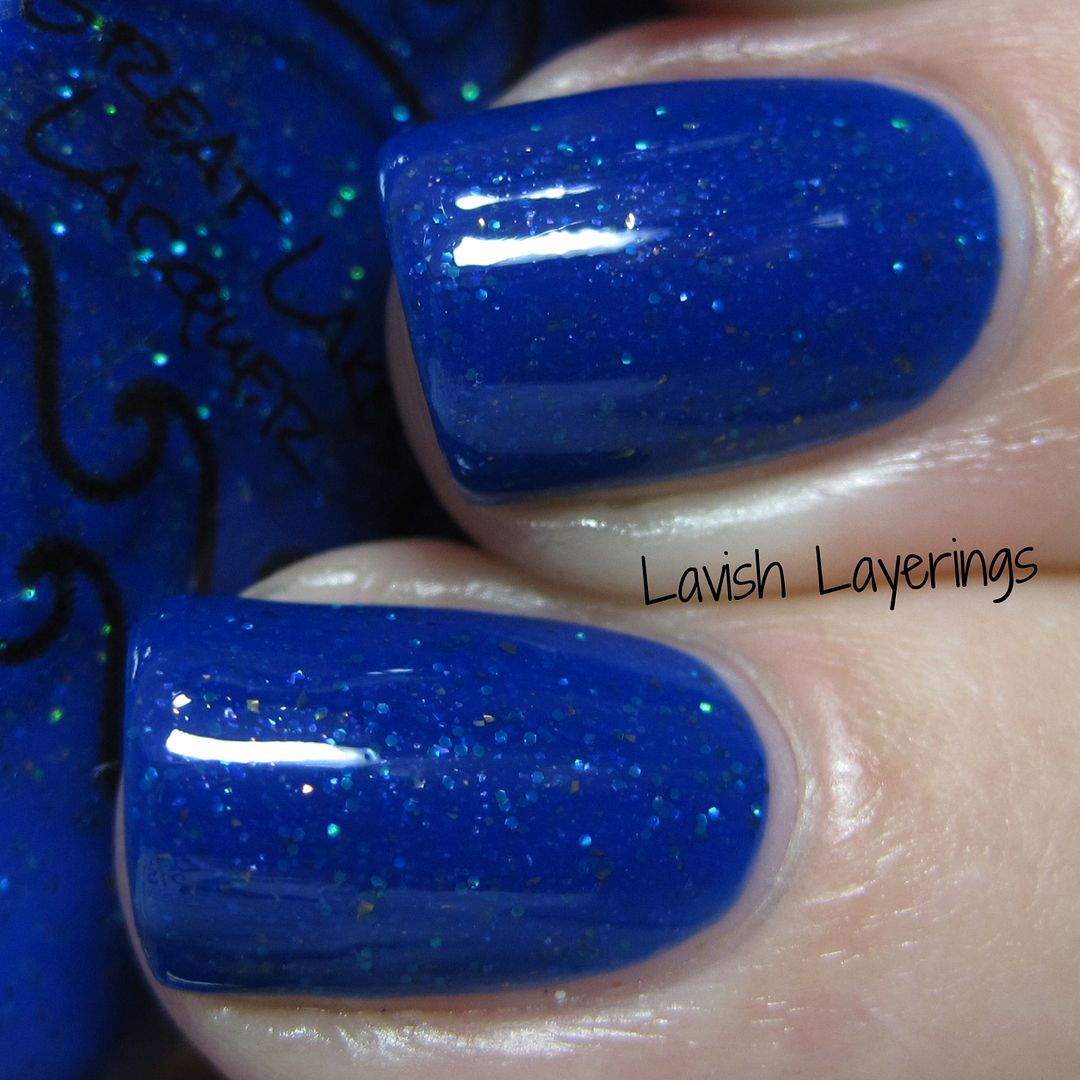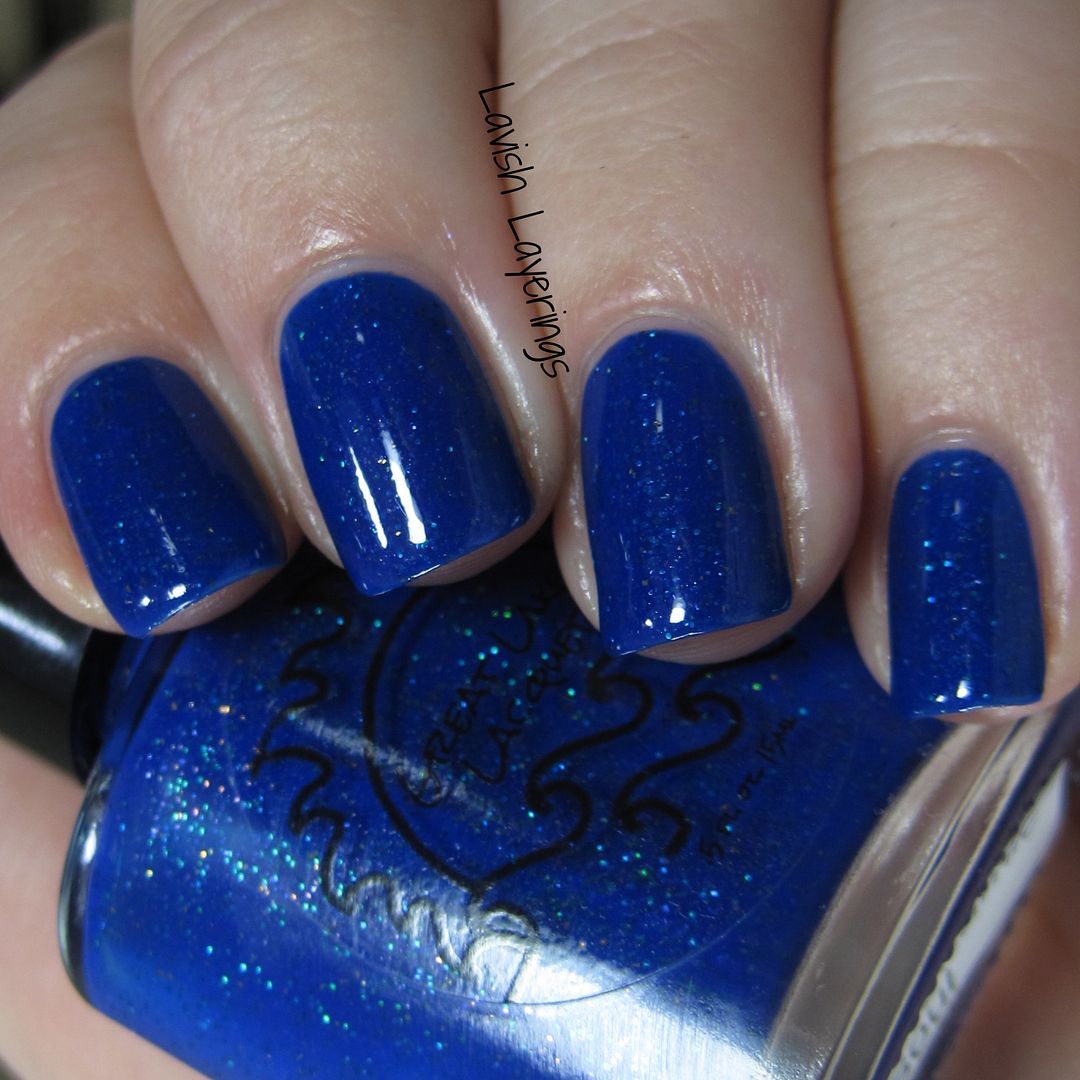 The Polish Fairy Godmother has a corally base with a highly contrasting blue shimmer. Formula was on the thicker side, but easy to use and I got full coverage in 3 thin coats. The finish is slightly frosty, but as you can see it wasn't overly brushstrokey. Mariah mentions her her description that this one is sort of a chameleon depending on your skintone, and I would have to agree with that. I think it reads sort of terra cotta-ish on my skintone. This polish reminds me of vintage OPI where they would often do a blue sheen with a warm shade like pink or coral.
A more apt name could not be found for this one. When I first met this lady, the first thing she did was send me a bunch of nail polish that I had on my wishlist. I have gotten to know her since and she is as sweet as the goodies she sends. She is also tough as nails. To this day, I know of hundreds of people that she has visited her kindness upon. You, too, may have her to thank for your keen interest in indie nail polish.



The Traveling Linguist is a reddish

-

brown jelly filled with tons of gold shimmer and flakes. Formula on this one started out on the sheer side but built up nicely to full coverage in 3 coats. Be sure to wait between coat to let this one dry a bit to avoid dragging. Who would have thought a brown would be one of my favorites, but boy is this a nice brown! It has enough red in it that I think even a non-brown lover might be converted if they just tried it! I know the brown-loving muse for this polish would approve

.
This lady is a world traveler and has the language skills to go with. She is also a huge nature lover. Her idea of a vacation is taking you out camping and making you climb things while she's at it. I tell you though; the views when you wake up are worth it. Did I tell you she'd give you the shirt off her back as well? One thing is for sure, when I cross Patagonia off my bucket list, she's for sure coming with me. That way I'll always have an extra pair of clothes and be able to ask where a bathroom is.