*Press Samples*
Hi everyone! Today I have the second half of
Zoya's Fall 2015
offerings, the
Flair Collection
. This collection contains 6 metallic polishes in rich fall colors. These are available now on
Zoya's website
and should be hitting stores soon!
Tris
is described as a blackened brushed nickel liquid metal. The formula was slightly thinner on this one that most of the others in this collection, so I used 3 thin coats for full opacity. This one did have some brushstrokes when applied, but not as bad as I anticipated. I think this would definitely be an color that a Dauntless would wear, so I was glad about that. I would not have been impressed with a girly pink named Tris.
Cinnamon
is described as a classic bronze liquid metal, originally designed for Zang Toi NYFW F/W15. Formula was very nice to work with and I had full opacity in 2 coats. There were some visible brushstrokes with this one as well (probably the most brushstrokey of them all). I didn't expect to like this one too much since brushstrokes aren't my thing, but the rich color really wowed me so I really enjoyed it.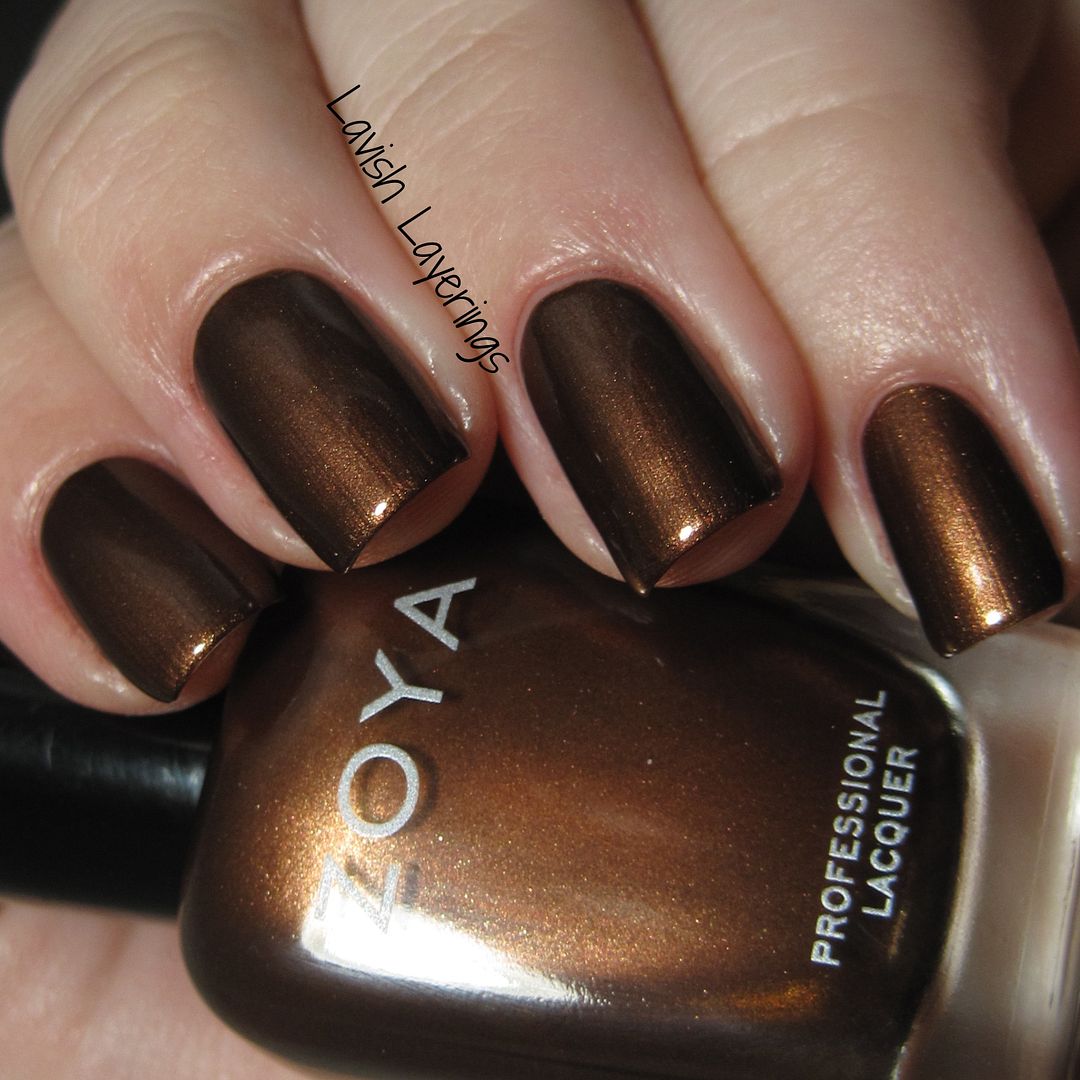 Aggie
is described as a gold holo-flip liquid metal with bronze microglitter. Formula was a bit different from the others and more on the sheer side, but it built up nicely in 3 thin coats. The "holo-flip" aspect of this one was a slight duochrome shift from gold/bronze and there are also tiny bronze glitters in it, which makes it a unique finish from the rest of the polishes in this collection. Zoya mentions in the press release that it is sheer enough for layering, but I think I prefer it on its own because I found it a bit opaque for layering.
Ember
is described as a deep, fiery red liquid metal. Formula was absolutely fabulous with full coverage in 2 easy coats. I know that I have said time and time again on this blog that I'm not usually a hug fan of metallic finishes for full manis, but a great red metallic is to die for, and this is a GREAT red metallic. It's so bright and shiny...perfect to get you all the way through fall and on to Christmas!
Giada
is described as a purple liquid metal with a hint of fuchsia pearl. This is more of a classic shimmer finish to me vs a metallic, but it has a great formula that reaches full opacity in 2 coats. This purple leans a little warm and my regular camera just wasn't having it, so I reached for my iPhone to get some color accurate photos. I wasn't expecting to love this one so much, but it just glowed on my nails. I guess my inner purple shimmer lover has never gone away!
Estelle
is describes as a blue on blue liquid metal with a blackened base. Formula was easy to work with and I had opacity in 2 coats. This one was pretty brushstrokey, but I still really love it because it is a wonderful, vibrant blue. This was another surprise favorite for me.
Overall, despite not usually being fond of metallics, I was really pleased with this collection. My picks are Estelle, Giada, Ember, and even Cinnamon gets my vote!
Zoya
polishes are available at
Zoya.com
and other retailers that carry Zoya polishes. Be sure to follow Zoya on Facebook, Instagram, and Twitter for updates on new collections and deals. Thanks for looking everyone!