*Press Samples*
Hi everyone! Today I have two different nail art looks to share with you that utilized some of
KBShimmer's
newest nail vinyl additions. Along with their new spring collection and spring decals, KBShimmer released two new sets of everyday nail decals including a set of thick and thin connected line vinyls and swirl vinyls. These are available now for purchase now on
KBShimmer's website
. I will also be doing some nail art very soon with the spring vinyls, so stay tuned for those!
This first mani was inspired by #dressgate. I was dying laughing at the hysteria on the internet last week, so I had to do a mani to commemorate the occasion! Since the dress was striped, I knew KBShimmer's new
connected thick and thin nail vinyls
would be perfect to create the look! These vinyls are connected so you don't have to worry about getting perfect line spacing, it's already done for you! Silly me forgot to take a picture of the vinyls I had before using them, so I pulled this photo from KBShimmer's press release to show you what the vinyls look like (It would be better than anything I would take anyway). The actual piece that you place on your nail is removed in these pictures, so it looks like the white space that is left here. As you can see, the lines are connected all the way around to give you perfectly even spacing.
For this mani, I started with a base of
KBShimmer Low & Be Bold
(blue) and then used
KBShimmer Eclipse
(black) on top. I sponged Eclipse on over the vinyls using a make-up sponge because that is my preferred method when using nail vinyls, but you can paint it on if you like. The thick vinyls were used on my middle and ring finger and the thin vinyls on the pointer and pinky. I had no issues to report with these vinyls at all. They stuck very well and removed cleanly. With these connected vinyls, be sure to press really firmly around the edges of your nails to make sure that the vinyls do not lift and to ensure that you get a clean line all the way to the edge. I did accidentally grabbed a bottle of topcoat that was a touch thick, so you can see I had a little bubbling, but it really wasn't noticeable in real life.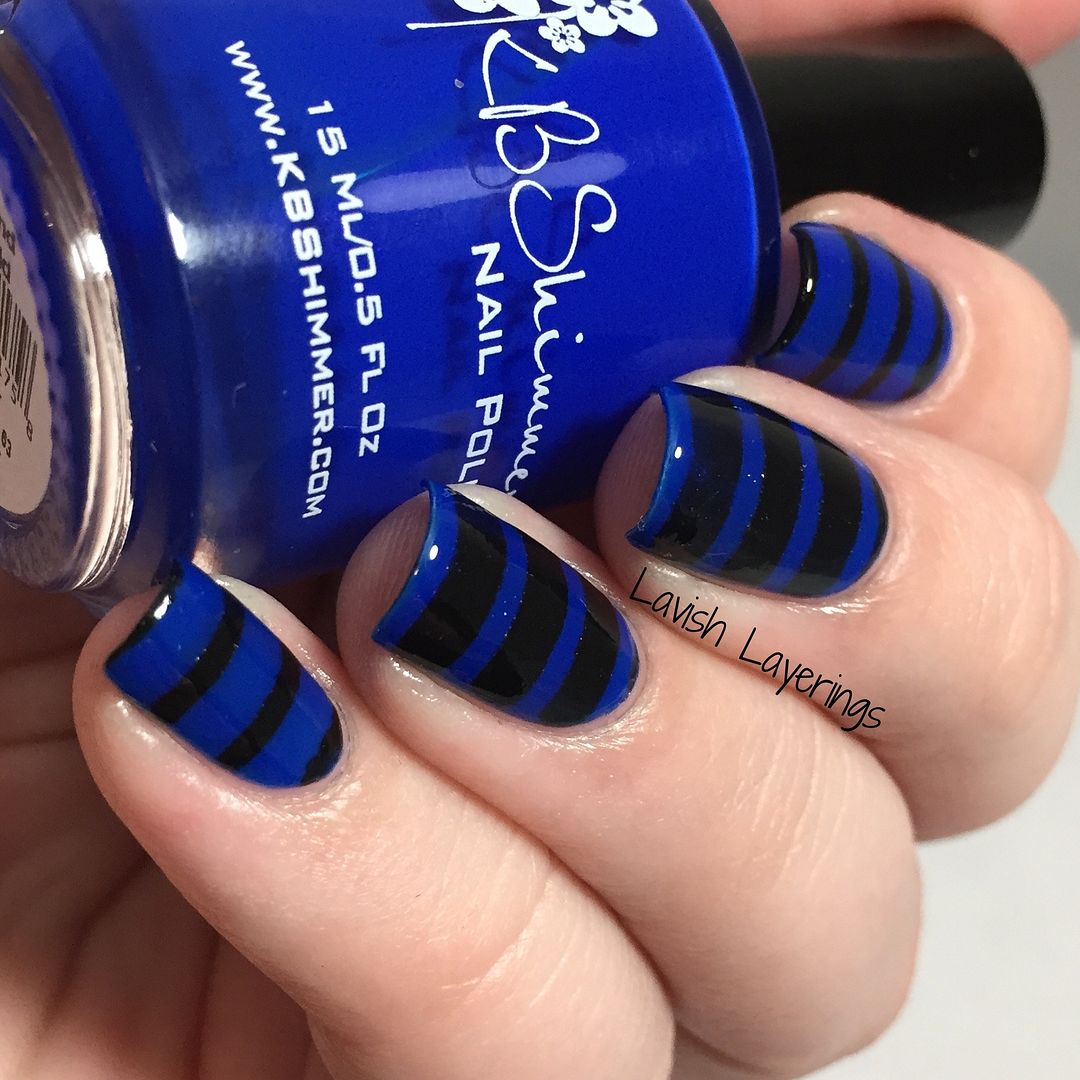 My next mani utilized the new
swirl vinyls
. There are actually three types of swirl vinyls included with this set, a tight concentric spiral swirl, a looser concentric swirl, and then some free-form swirls that have multiple sizes. Again, here is the PR photo that KBShimmer released so that you can see the different types of swirl vinyls that are included.
This mani utilized the free-form swirls. I started off with a base of
Pahlish Bespoke Batch Prelude to Spring
and then I placed the free-form swirl vinyls randomly on the nail. Again, using a make-up sponge, I applied
KBShimmer Sky Jinks
on top. I really thought this mani was fun and I wore it for a few days! Like the thick/thin vinyls, these stuck very well and removed cleanly giving you a crisp design. These swirls are probably my favorite nail vinyls that I own so far!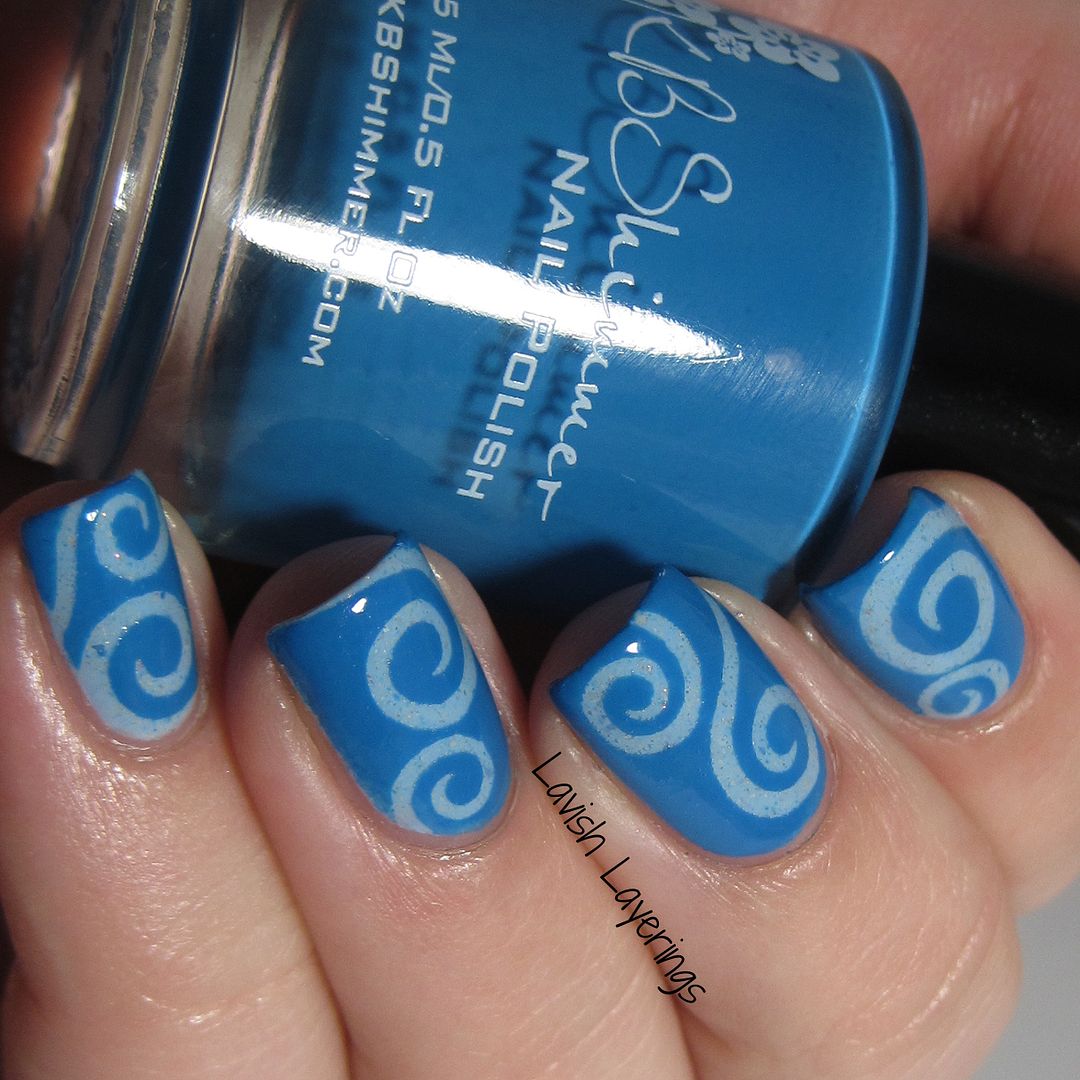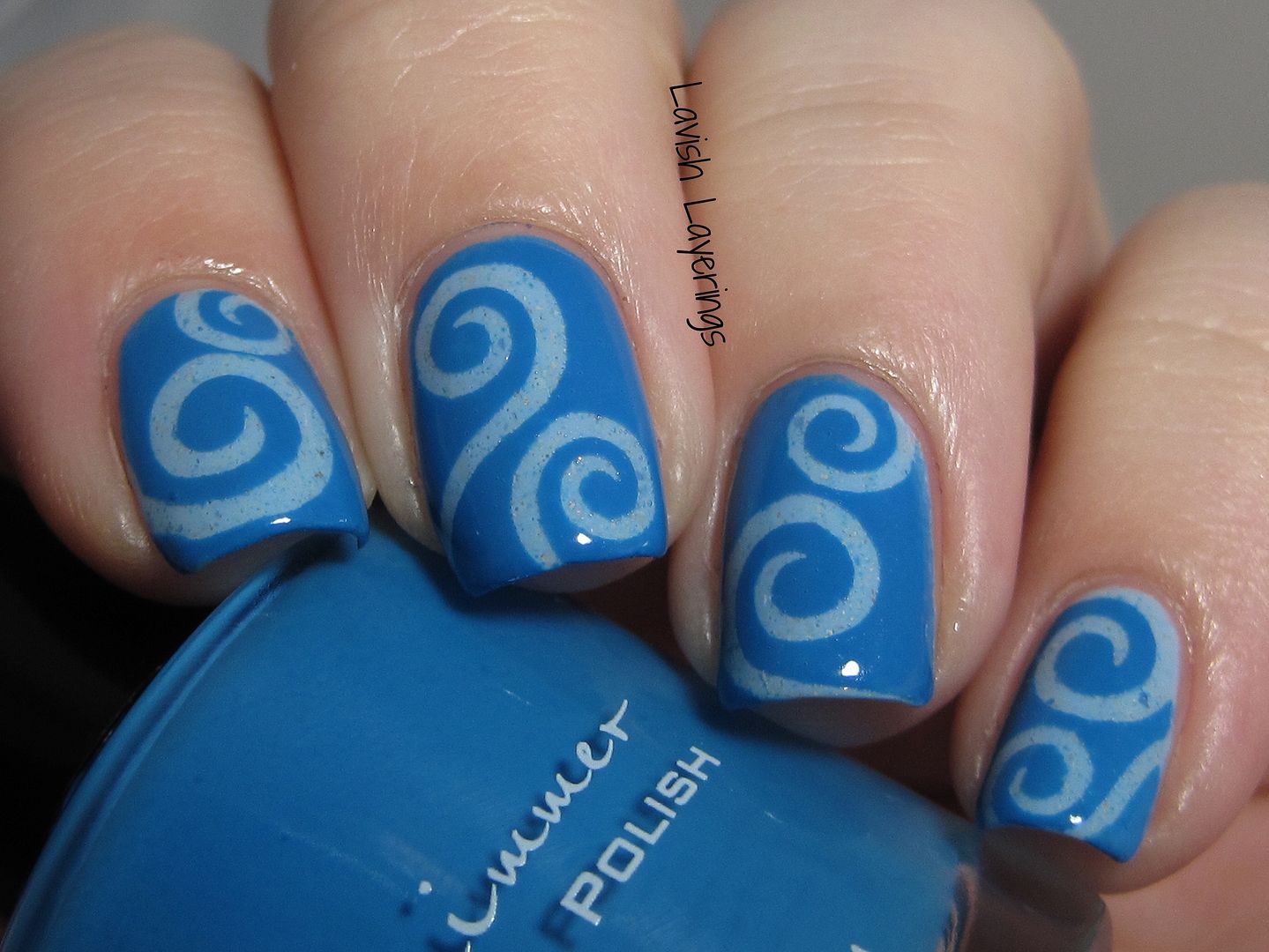 KBShimmer
products are available from their
website
as well as from
Harlow & Co.
(Canada) for international customers. Be sure to follow them on Facebook and In
stag
ram for updates on new collections and to see swatches of all of their polishes.
What do you think of KBShimmer's new vinyls? Do they look like some that you would use? Thanks for looking everyone!