Since I am just starting up my blog, I decided to include a few entrys here and there of some past manis that are among my favorites. I hope that you will indulge me in sharing them with you, because they just make me happy!
Here is one of my favorite manis that I have ever done. I decided after collecting nail polish for about a year that I was going to pull the trigger on one of the most coveted polishes in the nail polish community: Clarins 230. Thankfully, there have been several polishes that are good imitations of the elusive 230 in the past year or so, both by indie sellers and commercial brands (Max Factor Fantasy Fire). I do have several of these dupey polishes and they are gorgeous, but the collector in me still wanted to add the real deal to my collection. So, for my birthday this year, Clarins 230 was finally mine!
We'll take a moment to admire a few bottle shots. It truly is fantastic in the bottle. The red/green/gold color shifting pigment stands out against the sheer purple base.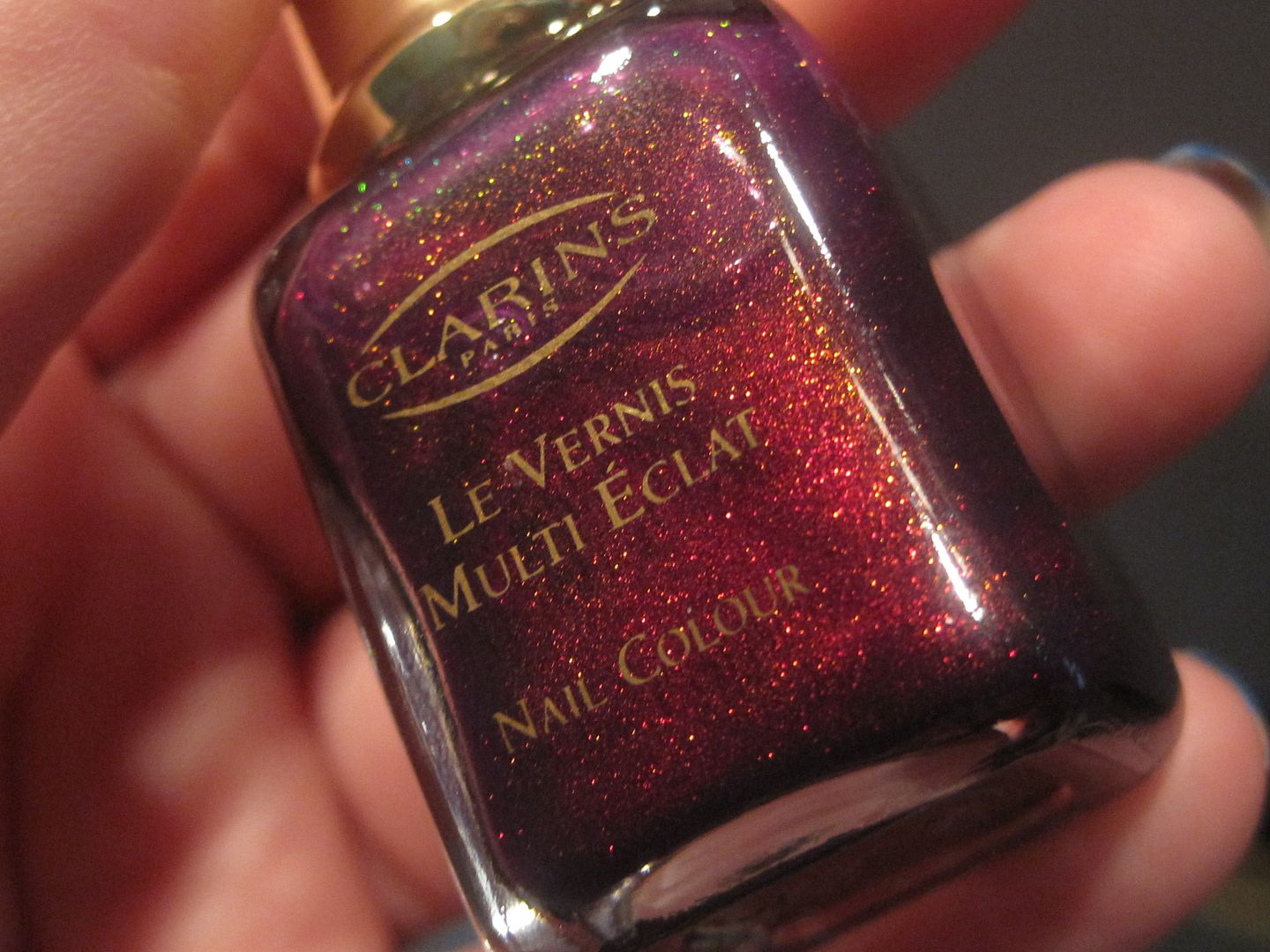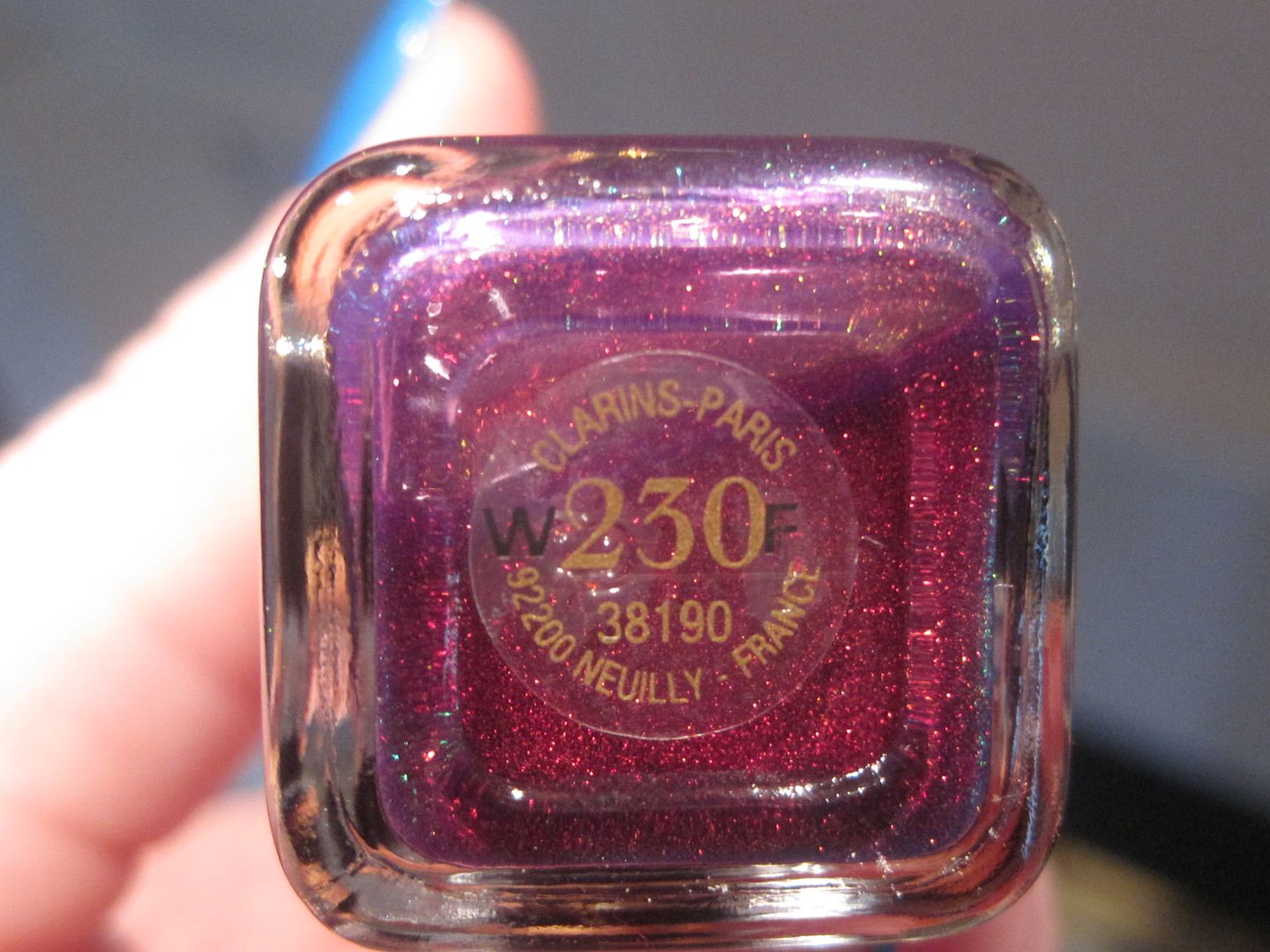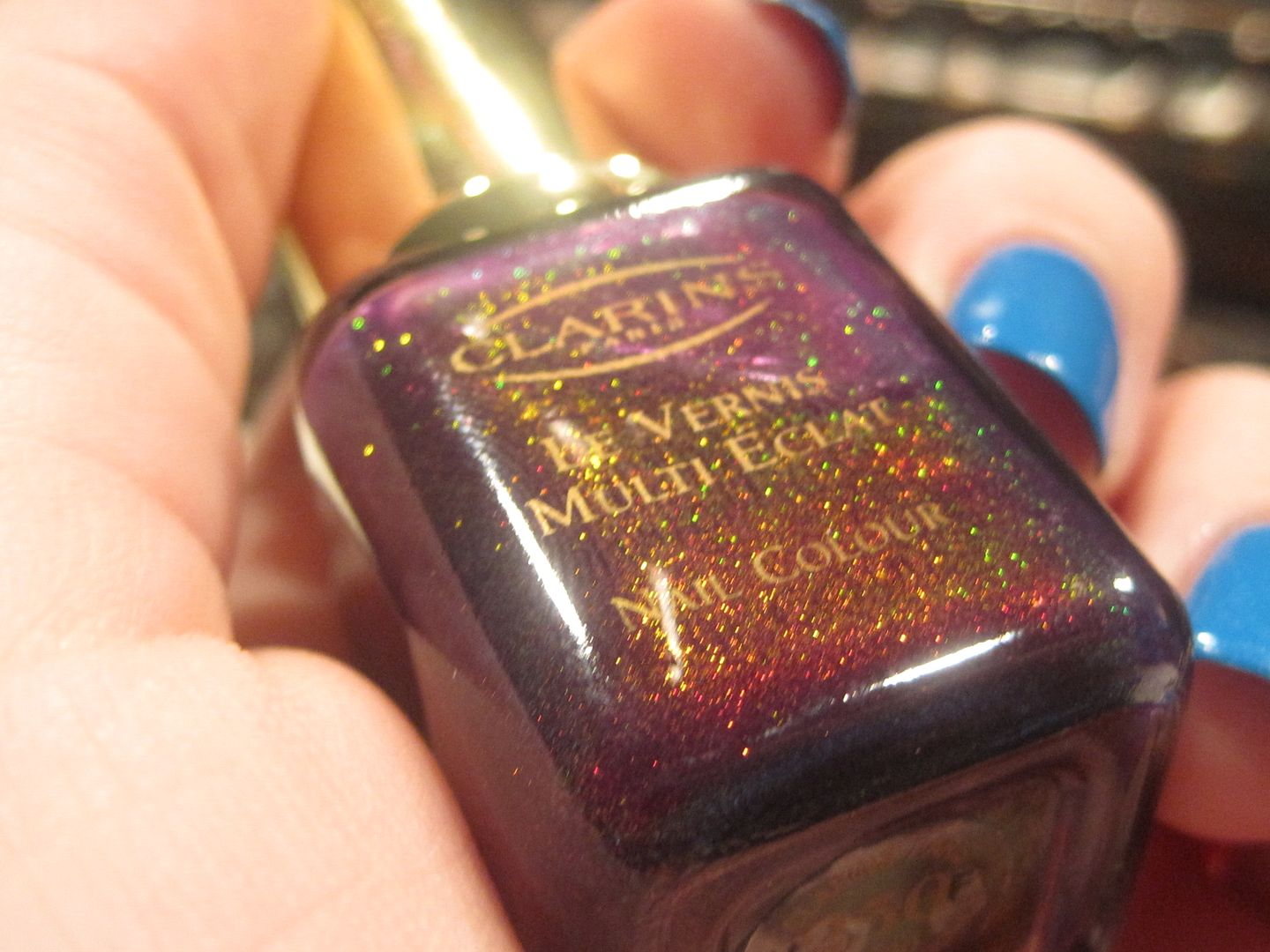 I've found that it is true of most of these polishes with color shifting pigments that they really come out to play over a dark base color. For this mani, I chose to layer 230 over Nails Inc Belgrave Place, a dark blurple creme.
Here is 1 coat of Clarins 230 over 2 coats of Nails Inc Belgrave Place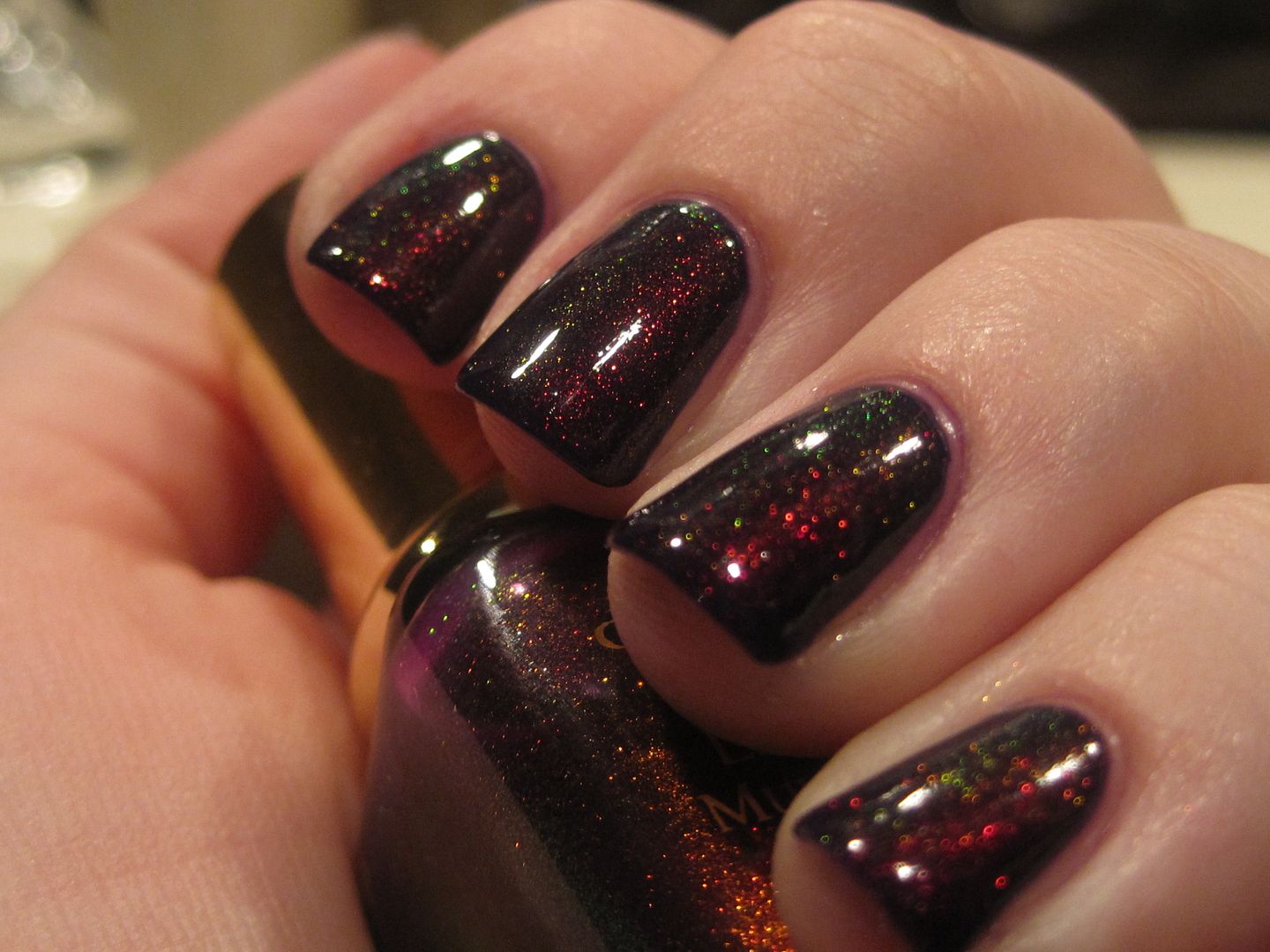 Next I decided to see if I could take this mani even further with MORE LAYERING! I recently ordered Seduction, a fabulous flakie from
Cult Nails'
recent Divas and Drama collection. I am a huge Cult Nails fan, so I always jump on the bandwagon when new shades are released. Their formulas are always top notch and they have some really unique polishes. This one did not disappoint.
Look at the awesomeness in the bottle! It has a purple jelly base with predominantly blue, red, and orange flakies that have some color shift to green and even yellow. The flakies here remind me somewhat of Fingerpaints Asylum, but they are larger and more dense (and, of course, are in a colored base).
I layered 1 coat of Seduction over my existing mani with 230 and Belgrave Place. Oh man...I loved this mani so much!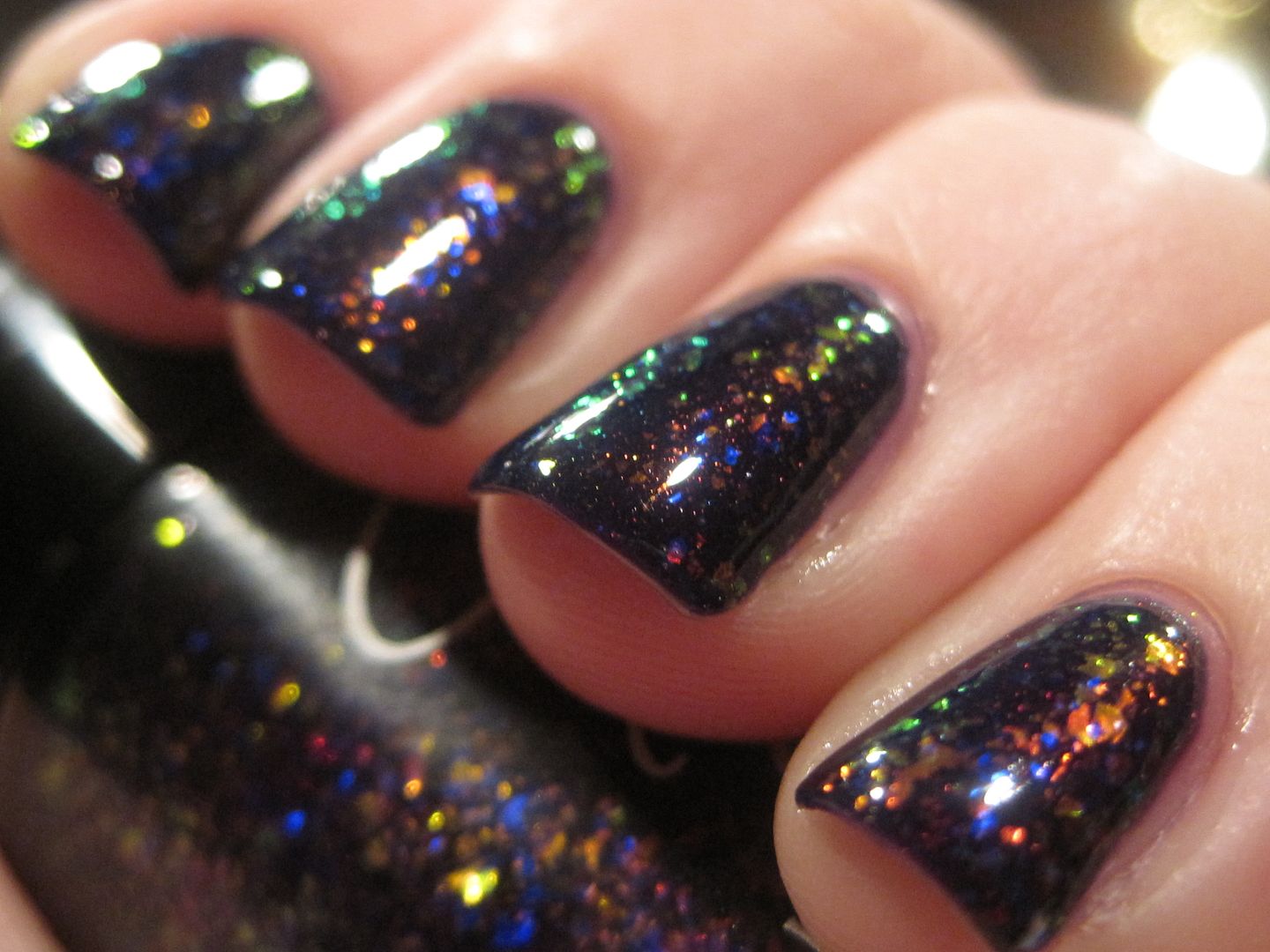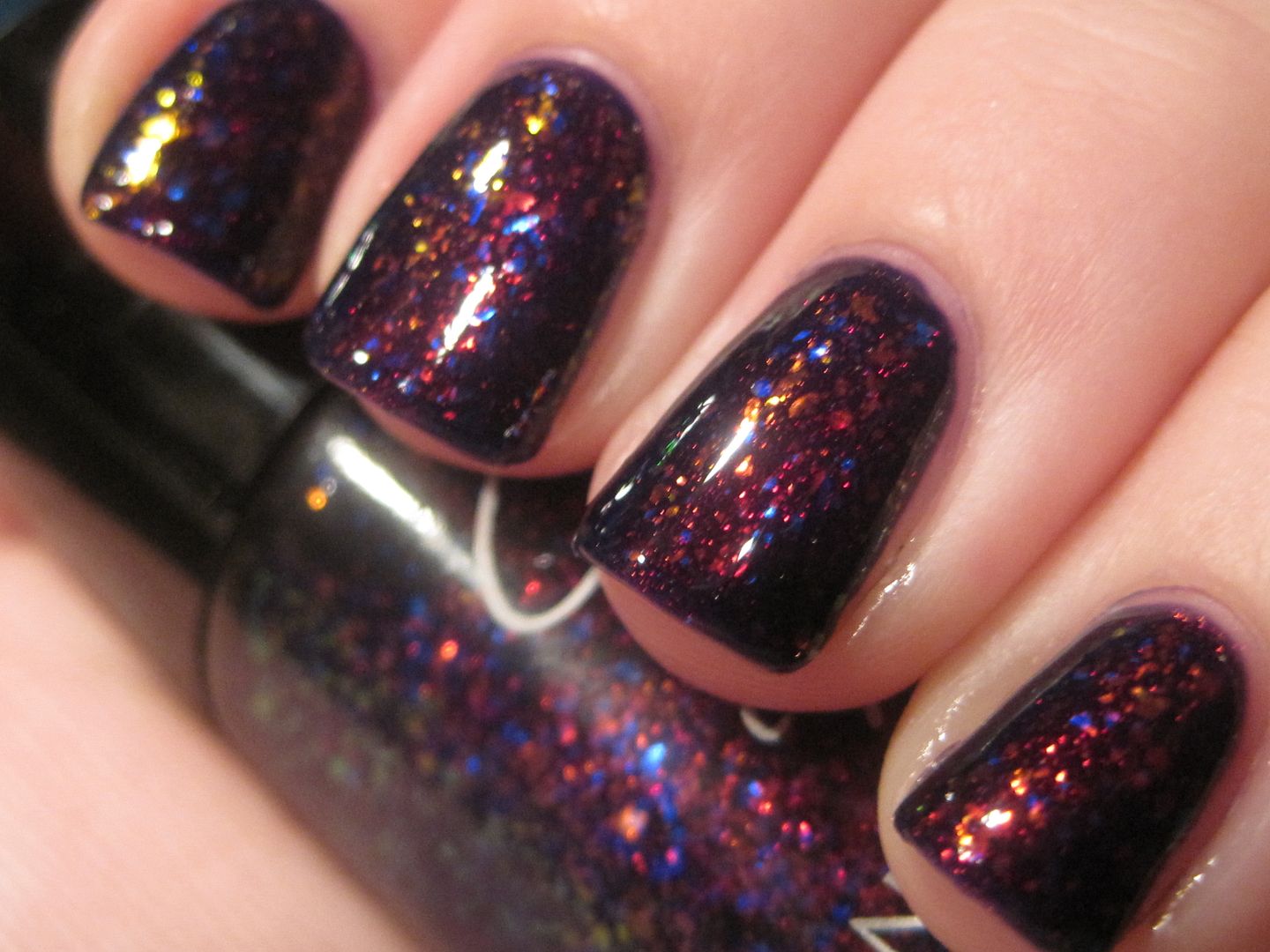 Cult Nails Seduction is a limited edition polish, but fortunately it is still in stock and available
here
. Be sure to get it while you can! You will not regret it!